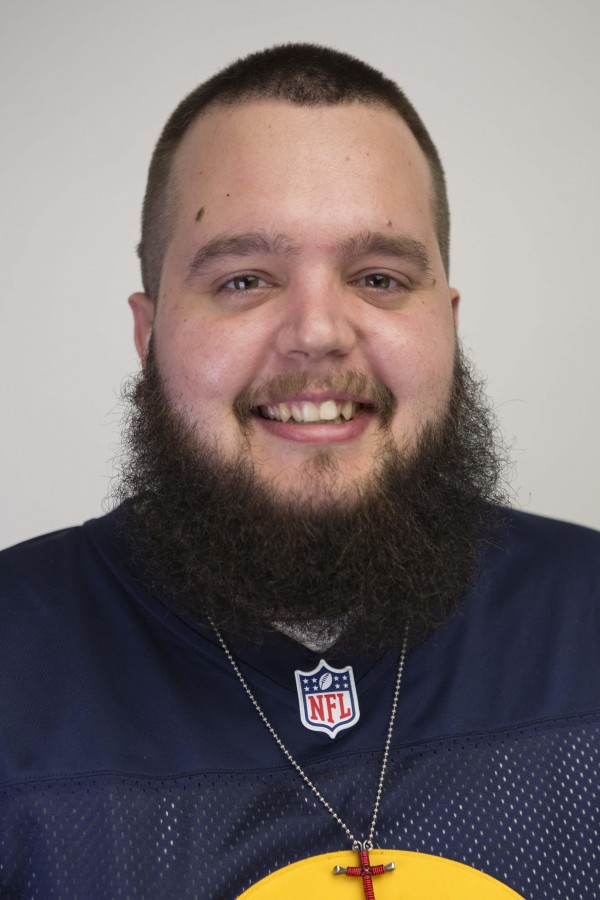 What do you like to write about?
My first love in life is sports, so that is what I love to write about first. Overall though any story that comes my way is a story I'm interested in.
What Disney (or fictional) character are you?

I am Darth Vader because without him Star Wars would be nothing.
What are your plans after EvCC?
My plan after EvCC is that I want to attend the Washington State communications program here on campus. Then after that I plan to get a job in that field.
How can people contact you with any news tips? 
I can be contacted by phone or e-mail.
E-mail:
[email protected]
Ricky Hester , Sports Editor
Nov 29, 2016
Nov 03, 2016

Pulling Back the Curtain

(Story)

Nov 02, 2016

Bigger, Faster, Stronger

(Story)

Nov 01, 2016

New Season, New Coach

(Story)

Oct 11, 2016

Everett Silvertips

(Story)

May 31, 2016

From Player to Coach

(Story)

May 26, 2016

The Clipper News: Softball

(Story)

May 11, 2016

Bellevue Sweeps Trojans Softball on Sophomore Night

(Story)

May 10, 2016

Serbian Refugee and Sensational Athlete

(Story)

Apr 25, 2016

Jake Nelson: Working His Way Back to Major League Form

(Story)

Apr 23, 2016

EvCC Baseball Splits Double Header with Bulldogs

(Story)

Apr 11, 2016

Trojan Softball Split Doubleheader with Douglas

(Story)

Mar 14, 2016

EvCC Mens Baseball Season Preview

(Story)

Mar 10, 2016

Clipper News: March 10th

(Story)

Mar 10, 2016

Clipper News: Extended Sports Coverage

(Story)

Mar 07, 2016

Coming Soon to EvCC: NWAC Basketball Championships

(Media)

Feb 28, 2016

Trojan Women Drop Final Game but Remain Optimistic

(Story)

Feb 25, 2016

Clipper News: February

(Story)

Feb 24, 2016

EvCC Women Clinch Playoffs with Win Over Shoreline

(Story)

Feb 20, 2016

Trojan Women Beat Olympic In Huge Road Game

(Story)

Feb 20, 2016

Trojan Men Steal Must Win Game In Olympic

(Story)

Feb 17, 2016

Trojan Women Lose Big Game At Skagit

(Story)

Feb 14, 2016

Trojan Women Slashed At Home Against Peninsula

(Story)

Feb 10, 2016

Trojan Men Down Tritons Take Must Win Game

(Story)

Feb 06, 2016

EvCC Men Drop Crucial Game to the Orcas

(Media)

Feb 06, 2016

Orcas' Honeycutt Sinks Trojans

(Story)

Feb 04, 2016

EvCC Women's Soccer Athlete Signs to Saint Martin's University

(Story)

Feb 01, 2016
Jan 30, 2016

Trojan Men Lose Third League Game to 0-6 Bulldogs

(Story)

Jan 30, 2016

Trojan Women Lose Hard Fought Game Against Bellevue

(Story)

Jan 27, 2016

Trojan Women Finish Strong Late Against Shoreline

(Story)

Jan 26, 2016

Kicks On Court at EvCC

(Media)

Jan 23, 2016

EvCC Takes Third League Win On Back Of Breezy Shore

(Story)

Jan 20, 2016

Derek Brown Jr. Scores 24 in Flu Game

(Story)

Jan 17, 2016

Trojan Men Drop First League Game on Road Against Pirates

(Story)

Jan 17, 2016

Trojans Take First League Loss at Peninsula

(Story)

Jan 11, 2016

EvCC Basketball Game Night: Presented by Trojan Nation

(Story)

Jan 09, 2016

Trojans Catch Fire; Take First League Win

(Story)

Jan 09, 2016

EvCC Women Outlast Whatcom Women's Basketball

(Story)

Dec 01, 2015

Frank Dauncey: Two-Time Regional Coach of the Year

(Story)

Nov 04, 2015

Trojans Take The Win: Next Stop Spokane

(Story)

Nov 04, 2015

EvCC Men's Basketball: Season Preview

(Story)

Nov 04, 2015

Preparing for the Unpredictable; EvCC Holds Active Intruder Training after Recent College Campus Scares

(Story)

Nov 03, 2015

EvCC Prepares for the Unpredictable

(Story)

Nov 02, 2015

EvCC Women's Basketball: A Preview

(Story)

Oct 15, 2015

Remembering MPHS: One Year Later

(Story)