Pacific Pipeline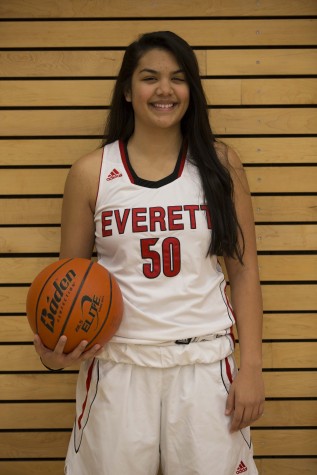 The most typical description of Hawaii to most people, whether it be in the movies or on TV,  is a place where people want to go and relax in the nice warm sun, along with the beautiful sandy beaches, in the warm weather. Crystal clear water for miles with nothing but the sea in front of them. People will say that they could live there forever carefree and no worries. Well not Chyann Gabriel, "Makamae" as she's called by those closest to her, which means precious in Hawaiian. She has lived on the Big Island of Hawaii her whole life.
Since Gabriel had lived on the island her whole life, she felt that with the advice of her mom, she needed to find a way to leave "Big Island"  and find more opportunities to see different places. Living in Hawaii for Gabriel was not a vacation as most people would see it.
While going to school last quarter at Kapi'olani Community College, Gabriel had to take the quarter off from playing basketball. Her mom, a single mother of four, needed help taking care of the household.   On top of that, it was hard attending Kapi'olani because this school was on a completely separate island, which was a plane ride away. Traveling to school was a two hour ride both ways, she knew Kapi'olani was not the place for her.
During this time, Gabriel had really started to miss basketball, realizing she needed to find a way to get back on the court. She began to send e-mails to various schools outside of Hawaii, looking to play basketball once again.
Gabriel had plenty of offers from other schools, but due to her mom taking on a huge workload with four kids she could not quite afford some of the schools that wanted her to play for them. Then, she had got in contact with Coach Chet Hovde, the current Women's head basketball coach here at EvCC. While talking to him, Gabriel realized after hearing some of the other school's tuition rates, that EvCC would be much more affordable. Plus, she could play the sport that she had desperately missed, basketball. She then knew she wanted to play for EvCC, but Hawaii is a long ways away from Everett. Gabriel only had a month to prepare before leaving Hawaii for Everett, this was a lot of planning that had to take place in such a short amount of time.
After making one of the biggest decisions in her life, Gabriel picked up and moved to Everett. Not knowing where she would live added to the adventurous risk she was taking. Teammates Jess Reiter, Lily Hilderbrand, and Cheyanne Laber all took her in as a roommate, just down the road from EvCC in the Cascade Apartments. Gabriel said, "Jess and Lilly play on the basketball team with me, they are very friendly. Pretty much everyone here at EvCC has been nice to me and very welcoming."
However, the living arrangements was the easiest part for Gabriel. Once she arrived for the first day of school, she found out some alarming news that may have sent her back to the Big Island earlier than planned. Financial aid was not available for Gabriel; she found out that it was already too late in the quarter to receive these benefits. Gabriel said that Anita from financial aid was tremendous help and also said that Anita felt for her and that she "jumped through hoops to make sure (Gabriel)  would get the money needed for this quarter." Gabriel added, "I didn't even have registered classes at the start of this quarter, I had to walk around to multiple classes with an add/drop form just hoping I could even get in. So it was a big risk for me to move up here."
There were a lot of issues for Gabriel's start here at EvCC, but there was still one more obstacle for her to overcome. That would be actually playing for the basketball team she traveled all the way from Hawaii to play for. Not only was financial aid trouble for Gabriel, but Kapi'olani, the college she used to attend, had lost her transcripts and that meant she couldn't play for the team until they found them.
It was nothing but one obstacle after another for Gabriel, however things would fall into place once more for her because just three weeks into the season her transcripts made their way to EvCC. She was finally able to play basketball once again after a horribly long wait, Gabriel was issued a jersey and inserted onto the roster. Coach Chet Hovde was also very relieved saying "Gabriel is important to this team, she was a good player in Hawaii and was a 2nd team All-American there I believe, also being a four year starter at her high school. She is off to a slow start, but she hasn't received much playing time yet and that will change in the coming weeks. Chyann is quiet and shy, but she is a real hard worker, doesn't get emotional on the court. Her potential will show as the season goes along."
Gabriel will finish out this quarter at EvCC, while continuing to play for the basketball team, but she said that moving back to Hawaii is her plan after this quarter. This is due to the financial aid being a  problem for her. Gabriel said, "I want to go back to Hawaii and get all my pre-requisites out of the way, then I plan on transferring to UNLV." Gabriel also mentioned that she wanted to pursue nursing, because her mom is a nurse. "I want to be able to take care of the children and be a pediatric nurse," she said. So, even though this big risk she took may be short lived at EvCC, Gabriel said, "I will never forget my experience here and the people I have met."