Kicks On Court at EvCC
Shoes and Basketball have had history since the inception of the televised sport back in the 1940's. This connection grew stronger with Jordan in the 1980's and into the 1990's. Performance in basketball sneakers has made leaps and bounds but style on the court is still king when ballers want to make a statement. From the NBA to our very own Community College, basketball players have reasons for the shoes they wear and they feel very strongly about what they choose to lace up.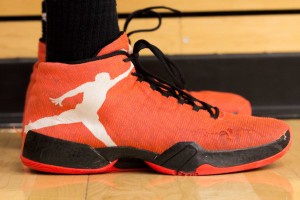 Quadir Williams
A lot of basketball players start to fall in love with shoes as they begin to play basketball. Quadir is no different as he started playing and caring about his shoes at the age of seven. Growing up he was always a Nike/Jordan fan and to this day he is sticking to lacing up Jordans on court. When asked about how he picks his shoes Williams said, "Performance is first, whatever my school colors are that's how I pick them out." Off court he likes to rock his collection of Jordan's which includes the recently re-released Jordan 11 "72-10"s and the Jordan 11 in the "UNC" (University of North Carolina) colorway.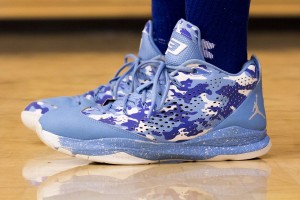 Chyann Gabriel
When the time came to pick out her current kicks Chyann's attention immediately went to the camo design and the bright blue color. On how she picks her shoes she said, "I like my shoes colorful and weird. I am into camouflage and my high school's colors were blue so I picked them." On court the preferred brand is Jordan because that's what she is currently in and they are her favorite shoes she has ever played in. Off the court, she likes to keep it more casual with a classic converse or comfortable Nike shoe.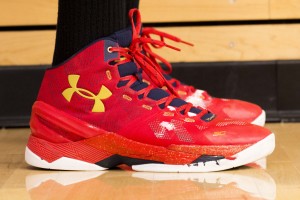 Derek Brown Jr.
Derek was led into shoe culture by way of his sister as he grew up with his sister already immersed in sneakers. When he plays he needs the shoe to perform well like most ballers but he always keeps in mind how the shoe looks on foot. In terms of shoe brands Brown Jr. said, "I'm a Nike type of guy mainly, Jordan, and now UnderArmour because [Stephen] Curry. The way he's been playing, why not?". In his collection a lot of his favorite kicks still fall back to the Jordan's. His favorite pairs in his collection are his multiple colorways in Jordan 11's (Concord, Playoff, Gamma, etc.), Jordan 2's "Playoff", and the Jordan 4 "Toro".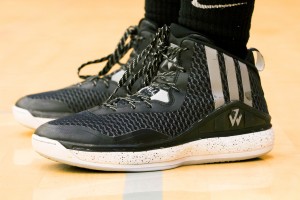 Chellyn Perea
Outside of playing in the shoes, Chellyn is not extremely interested in what she is rocking as long as she can play in them. In high school, she laced up the Nike Air Zoom Flight, the "Glove" for short, which was the signature shoe of Gary Payton. When picking out a brand Perea said, "Adidas. I used to be a Nike girl until I got the [John Wall 1's]. They look really cool and they're really comfortable." She definitely looks for a great performance shoe to play basketball in that can allow her to make the moves that she does on the court.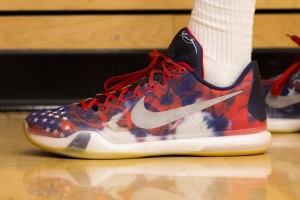 Forest Grant
From as early as he could remember Forest has been caring about his shoes and what he wants to ball in day in and day out. He has been watching Kobe Bryant since he first started playing basketball and this has shaped his preference in kicks as well. When asked how he picks out his shoes Grant said, "I'm a Kobe fan, he's a performance guy and his shoes look cool so everything goes hand in hand." His favorite shoes in his life that he's ever played basketball in are his Jordan 10's in the "Chicago" colorway. Off court his favorite shoes to rock are his two Jordan 11's, in the "Legend Blue" and the "Cool Grey".