Trojans Take First League Loss at Peninsula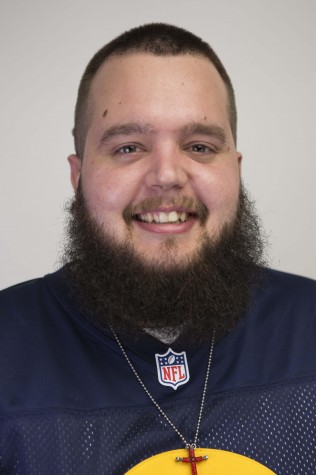 More stories from Ricky Hester
The EvCC Trojans Women's basketball team took the court against Peninsula, who had their freshly hung 2015 NWAAC Championship banner from last season high on the wall. The players were different for the Pirates, but the team was just as dominant. PEC started the game on a 15-2 run that set the pace for the entire game against the Trojans. EvCC hasn't faced a deficit like that all season, as the game grew further and further out of reach. The defense for the Pirates was too much for the Trojans in the first half, as it seemed they were on a constant fastbreak.
Breezy Shore for the Trojans did what she could to keep EvCC within striking distance in the first half. She finished with 13 points at halftime, adding three rebounds. It was mainly her ferocious defense that kept her team in the game, that's to be expected as she won NWAAC defensive player of the year last season. The Trojans shot 31% from the field in the first half, while the Pirates were 44% from the field. This led to a score of 42-27 at the half with the Pirates firmly in the lead.
After halftime though, the Pirates kept up the same pressure and never let up momentum. They put a choke hold on the Trojans at the start of the third quarter by pushing the lead to 25 points.
The game started to get  physical, and it actually forced mistakes on the offensive end of the Pirates. This led to some small runs by EvCC, but Peninsula closed the door on all their comeback attempts. PEC dominated the boards all night long and finished with a rebounding total of a whopping 50 rebounds to the Trojans 34. Shore led all scorers with 21 points, when asked about the loss Shore said, " I hate to be embarrassed by other teams out there on the court, so I stepped up for the team and my coaches letting them know that I never gave up. We look at this loss as an opportunity to get better and learn from it. We have to look forward to Skagit now and put this game behind us."
This game was definitely a learning experience for the Trojans facing the defending champions Peninsula Pirates. Coach Chet Hovde said, " we looked like we came out with a deer in the headlights type of mentality. In the second half we only lost by seven, so we hung with them during that time. We are going to go back to practice Monday and get ready for Skagit this week. We will stay with the same scheme and not change anything, just look to be more fluid with the ball on the offensive end." EvCC  lost by a final score of 77-55 against the Peninsula Pirates
The Trojans play back at home in the Walt Price Student Fitness Center on Wednesday Jan. 20, against the Skagit Valley Cardinals.