Serbian Refugee and Sensational Athlete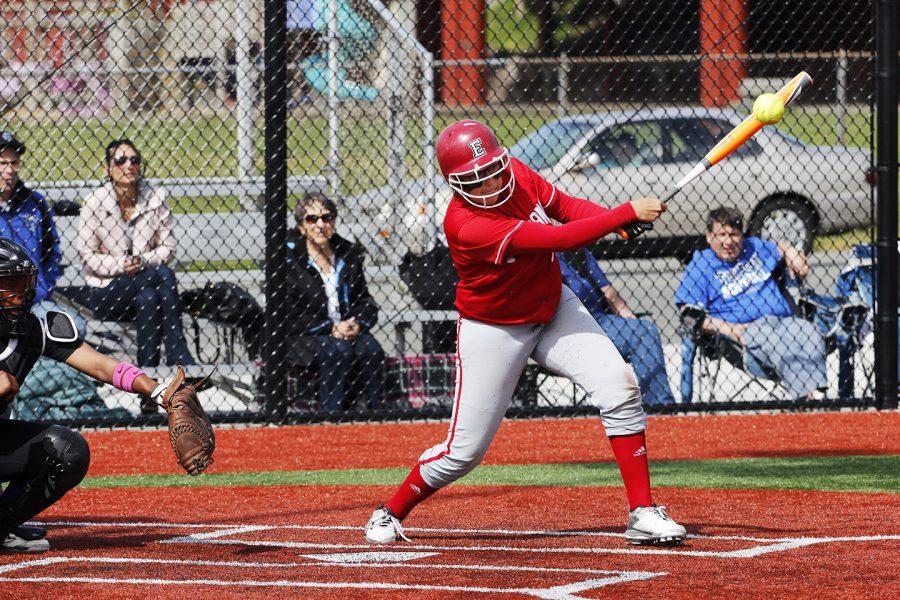 EvCC has a lot of athletes and students from around the world, but Anya Predojevic is a woman of many talents. These talents are what separate her from the rest of the crowd, her parents moved to Canada from Serbia in 1993 fleeing from the Bosnian War. Predojevic didn't speak English until the age of four. She knows three different languages, including five dialects of Yugoslavian.
"
Things are starting to click between us, she knows my strongest pitches and makes us a better team."
— Rylee Thomas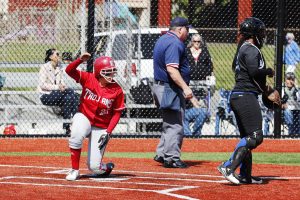 Predojevic started playing softball in the third grade. She mentioned that it was her mother's good friend that wanted Predojevic to play with her child on the softball team, so her mom signed her up, not knowing what baseball and softball was. Within one year of playing softball, Predojevic had already made a rep team (a more competitive team than regular league teams) and kept playing house from there.
After years of playing softball, Predojevic went on to play for the Canadian Junior National Team, before coming to EvCC. Predojevic had already played against some former teammates when Douglas College visited Everett on their home field. Many of the girl's Predojevic played with in Canada now play for Douglas College in New Westminster, BC.  She said, "It was weird at first playing against old teammates, and annoying as well because they knew what to pitch to me. It was fun being able to get a home run off of them though."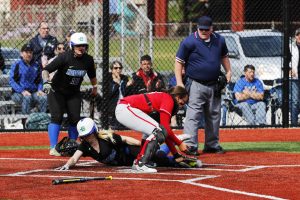 EvCC Head Coach Randy Smith said the process of recruiting Predojevic was "very neat." Smith said the Douglas coach linked up the two, and it ended up being a perfect fit for the team and Predojevic. He said "Predojevic was gone all summer in Europe, and that she came back to the states just in time for school, so it was definitely a transition for her." Smith went on to say that he expects Predojevic to come up huge for the team getting closer to the postseason, because of her leadership at the plate and with her playing experience.
Rylee Thomas, Predojevic's roommate and pitcher, said that they have grown close over the year on and off the field, forming a strong bond. Thomas mentioned that at the beginning of the year, Predojevic didn't know what was her strong pitches and bad pitches. Now, Thomas said, "Things are starting to click between us, she knows my strongest pitches and makes us a better team. Anya tries to prove that she is the best catcher in the league every game." Thomas also said that Predojevic is really competitive and always has to be right no matter what.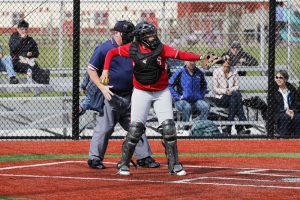 Softball is not the only talent Predojevic has, her dad was an international ski racer for Serbia. Predojevic mentioned that she was following in her dad's footsteps. She started skiing at the age of two, and racing by the age of six. Predojevic raced for Serbia as well, traveling with their national team. This all came to an end very recently in 2015, she said the reason was "I had a huge growth spurt out of nowhere, and forgot how to use my body."
Predojevic said that she will take softball seriously, and will pursue it as far as she can. After EvCC, she would love to pursue a Division 1 school, possibly even play for the Canadian National Team again, if given the opportunity. So what about her school work? Predojevic mentions that she wants to be a bio-mechanical engineer, which is making prosthetic limbs for people. She said, "I know this sounds kind of weird, but it all started with Grey's Anatomy. I want to help people and just give them the same opportunities as I do with limbs."