Trojan Men Lose Third League Game to 0-6 Bulldogs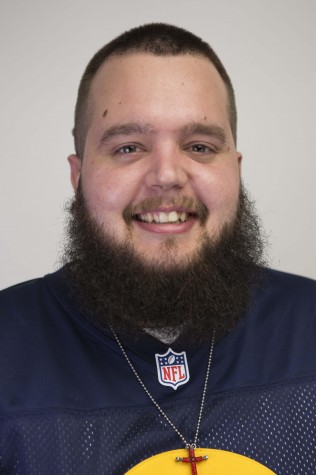 More stories from Ricky Hester
EvCC came into the game against the Bellevue Bulldogs being 4-2 in league play, while the Bulldogs were 0-6 in league themselves. With those records, it was easy to think that the Trojans would walk out of Bellevue with an easy victory, but EvCC would have to scratch and claw to even get within reach in this game.
The Bulldogs started the game off with a 7-0 run, jumping all over the Trojans and making it difficult to get out and run in the open floor. EvCC made a quick run to bring the score within four points 17-13, but the Bulldogs shot 40% from the three point line extending the lead at multiple points in the first half. The Trojans gave up a lot of easy layups in the opening half and the Bulldogs grew the lead to 22 points at one point of the game.
EvCC went on a 10-0 run to make things closer and the lead was only 14 at halftime. Assistant Coach Mike Trautman said during halftime, "the message to the team was communication on defense and to make better decisions on offense." Bellevue shot 59.5% from the field, where the Trojans shot only 30% from the floor.
In the second half, EvCC came out with a full court press that was very effective early forcing the Bulldogs into mistakes, causing several turnovers allowing the Trojans to run. However, Bellevue kept hitting timely shots in the right situations to extend the lead further and further. EvCC had no answer on defense allowing more easy buckets in the paint.
Nearing the end of the second half, the Trojans never gave up closing the deficit to within eight points after being down 19 points, but the score would never get any closer. EvCC would lose the game 112-100 giving Bellevue their first league win of the season. The loss drops the Trojans to 4-3 on the season in league play and depending on the outcome of two other games, this could drop the Trojans to fourth place in the division. Derek Brown Jr. was the leading scorer for EvCC with 38 points in the losing effort.
Forest Grant said after the loss, "we were down, so I just kept driving trying to get points wherever I could. This loss hurts, but all it is going to do is fuel our fire going forward." The next opponent for EvCC is Whatcom Community College. The Trojans beat the Orcas in the first matchup this season, Whatcom has to play at the Walt Price Student Fitness Center this time, the game is at 6 p.m. on Saturday, Feb. 6.
Leave a Comment