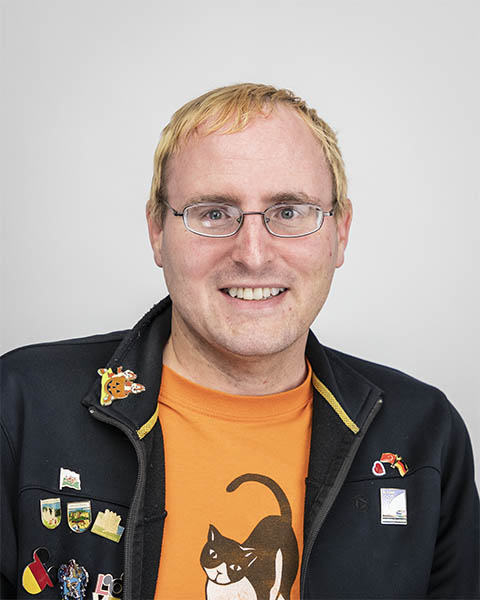 What are you doing when you aren't at The Clipper?
I can be found haunting the various live music venues in almost all major cities between Bellingham and Seattle. I am a concert photographer after all.
What's on your bucket list?
Working in Antarctica  
Who's your favorite fictitious character? Why?
TinTin (character created by
Belgian cartoonist Hergé)
.
Because he is a journalist and an adventurer
who becomes involved in dangerous cases in which he takes heroic action to save the day.
Simon Krane, Staff Photographer
May 01, 2020

The Impact COVID-19 Has Had on EvCC Athletics

(Media)

Apr 28, 2020

Summer Classes to be Moved Online

(Media)

Nov 27, 2019

737 Max Investigation

(Media)

Nov 20, 2019

Marîa Peña Resigns From EvCC

(Media)

Nov 15, 2019

EvCC Drama Club Presents: "Time Punks"

(Media)

Nov 10, 2019

Ambar Martinez Strives to Continue Helping an Ever-Changing Community

(Media)

Nov 08, 2019

A Coaching Milestone

(Media)

Nov 07, 2019

Q&A with Daria Willis

(Media)

Nov 07, 2019

Youth Re-Engagement Program

(Media)

Nov 01, 2019

Nightmare on Tower Street Club Fest: Halloween Costume Contest

(Media)

Oct 17, 2019
Oct 16, 2019

Clubs and Tutoring: How to Get Involved at EvCC

(Media)

Oct 14, 2019

Flu Season is Upon Us

(Media)

Oct 12, 2019

Now Showing at Russell Day Gallery: Material Tension by Henry Jackson-Spieker

(Media)

Oct 10, 2019

Green Space to Take the Place of Index Hall

(Media)

Jun 12, 2019

SUP! Stand Up Paddleboarding: A Refreshing Water Sport that Anyone Can Enjoy

(Media)

Jun 12, 2019

A Major Change: How Students and Staff Wandered into Their Careers

(Media)

Jun 12, 2019

The Path to Graduation: Why Students Chose EvCC

(Media)

Jun 12, 2019

Changing Viewpoints, Lives and Majors

(Media)

Jun 11, 2019

EvCC Goes Wilde: Theatre Club Presents Lady Windermere's Fan

(Media)

Jun 10, 2019

Annual Student Exhibit in Russell Day Gallery

(Media)

May 21, 2019

EvCC Alumni, Louis Harris, Returns to Campus

(Media)

May 20, 2019

Healthy Food on Campus : Parks Café Accommodates More Dietary Options

(Media)

May 16, 2019

Trojans/Tritons Rivalry is Officially Born

(Media)

May 10, 2019

Midterms Succ: Student LIFE Hosts Succulent Planting Event Monday, May 13

(Media)

May 09, 2019

ASB Votes to Approve New S&A Budget with 2% Increase in Student Fees

(Media)

May 01, 2019

New Eateries Opening Near Campus: Sunny Teriyaki and Umami

(Media)

May 01, 2019

Drama Instructor Taking a Break to Plan the Future of EvCC's Theater Program

(Media)

Apr 28, 2019

Index Coming Down, Green Space Going Up

(Media)

Apr 17, 2019

Visiting Author Delivers Passionate Account of Holocaust Survivors

(Media)

Apr 16, 2019

Earth Week Blooms on Campus April 22-25

(Media)

Apr 05, 2019

Students Show Solidarity and Support for Christchurch Victims

(Story/Media)

Mar 13, 2019

The Faces Behind a Beautiful Campus

(Media)

Mar 13, 2019

Trojans Mens Basketball Has Undefeated Season for the First Time in College's History

(Media)

Mar 13, 2019

What is Student LIFE? EvCC Department Makes Campus Life Easier for Students

(Media)

Mar 13, 2019

Making Up Missed Snow Days: School Policy on Campus Closures

(Media)

Mar 08, 2019

OT Thriller Ends in Heartbreaking Loss for Trojans

(Media)

Feb 27, 2019

Men's Basketball Game vs. Bellevue Tonight Could Mean Trojans Go Undefeated

(Media)

Feb 27, 2019

Leaving Behind a Legacy: Q&A with EvCC's Retiring President David Beyer

(Media)

Feb 27, 2019

Student From Denmark Brings Game to Trojans Men's Basketball

(Media)

Feb 26, 2019

A Dating Story: International Students Find Love Abroad

(Media)

Feb 21, 2019

Shorthanded Trojans Rally Late, Clinch Second Straight North Title

(Media)

Feb 19, 2019

Fire Alarm Response In Whitehorse Hall

(Media)

Feb 13, 2019

How Local Cities Handled Snow Removal

(Media)

Feb 10, 2019

Grand Opening of Diversity and Equity Center on Campus

(Media)

Jan 30, 2019

An Army of Six: Women's Basketball Begins Season with Notably Small Team

(Media)

Jan 30, 2019

Dick's Drive-In Celebrates 65 Years: A Photojournalist's Experience

(Story/Media)

Jan 29, 2019

What's the Dish on Vegan Lunch?

(Media)

Jan 29, 2019

Your Workout, Upgraded: Weight Room Gets $10,000 Makeover

(Media)

Jan 28, 2019

Five Ways EvCC Students Can Give Love to The Planet

(Media)

Jan 28, 2019

Stress in College Students

(Media)

Jan 27, 2019

A March on Campus: Solidarity and Pride for Indigenous Peoples

(Media)

Jan 24, 2019

Trojans Womens Basketball Prevail Over Rivals Edmonds Tritons 75-65

(Media)

Jan 24, 2019

Immigrants' Rights: Human Rights

(Media)

Jan 24, 2019

Statement Made: Trojan's rout First Place Edmonds 92-76

(Media)

Dec 11, 2018

10 Tips to Protect Your Digital Security

(Media)

Dec 03, 2018

Diversity: Getting to Know the Students of EvCC

(Media)

Nov 30, 2018

Drama Club Presents "Murder Town"

(Media)

Nov 30, 2018

LRC Site Decision Fractures EvCC Campus

(Media)

Oct 31, 2018

A STEM Student's Journey to NASA

(Media)

Oct 26, 2018

A Legacy Fulfilled: Basketball Court Dedicated to Coach Walker

(Media)

Oct 16, 2018

Decision Made on Learning Resource Center Location

(Media)

Oct 15, 2018

How to Get Involved 101

(Media)

Oct 11, 2018

Diversity: Getting to Know the Students of EvCC

(Media)

Oct 10, 2018

A Rainbow on Campus

(Media)

Oct 03, 2018

Student LIFE Kick-Off

(Story/Media)

Mar 24, 2018

Estimated 1,500 Protest Gun Violence in Everett #MarchForOurLives

(Media)

Mar 14, 2018

EvCC National Student Walk-Out: "Will We Be Next?"

(Media)

May 01, 2017

Earth to EvCC

(Story/Media)

Mar 14, 2017

Dakota's Tattoo Journey

(Media)