Youth Re-Engagement Program
Alternative Education Options For Young Adults
Everett Community College's Youth Re-engagement (U3) program has provided an alternative to youth who have struggled in a traditional high school environment since 2000.
The public high school scene is not always perceived to be positive. According to the Gallup Student Poll of 2015, by 11th grade only one-third of students are enthusiastic about high school. Results also found only 17% of 12th graders saw opportunities to use their strengths and talents while in school. The study found a correlation between higher engagement and educational experiences that foster individual talents and strengths.
Olivia Denson is one of about 200 students enrolled in U3, which she will be starting winter quarter. Fall quarter filled quickly, so Denson is enrolled in a reading and study skills class in the meantime.
"I want to do this for me," Denson said, "I've always been independent." Denson likes the vibe at EvCC and is thrilled to take classes to complete her high school diploma and start on the path to a career in nursing.
"You're treated like an adult and there's no drama," Denson said of being on campus at EvCC. "I want to get into the nursing program. My case manager is going to help me."
Program Director, Rebecca Hungerford, describes U3 as a dual credit program where students can earn a high school diploma, but may also earn a certificate or associate degree at the same time. Enrolled students are provided free tuition, books, and supplies, in addition to a case manager to assist them through the process.
"Nobody starts college knowing how to do it," Hungerford explained. Case managers work with students to understand individual needs, helping to minimize potential barriers in student learning. Hungerford shared that two of the U3 case managers went through the program themselves, before continuing their education at universities.
"A motivated student, who wants to be here, can do anything," said Hungerford. "You take ownership right from the beginning."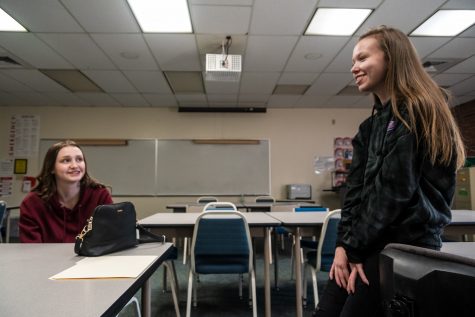 An important element of U3 is that students are treated like adults. With an age range from 16 to 20 years, Hungerford makes it clear to applicants that communication is key. "We want to make education accessible to students," Hungerford explained.
Ally Gunter started the program in fall 2018. She is currently taking three classes, working part-time and earning a 4.0 GPA.
"It took a little bit to learn to juggle the work," Gunter said, "they start off light though, so they don't just throw you to the wolves. I would recommend new students spend time trying to build connections. It's good to have a few friendly faces as they transition."
Carleigh Stratton recently attended an informational meeting, usually held on Tuesday in Rainier Hall. "I feel like an adult already," Stratton said after the meeting, "they make it easier to ask questions. I feel safer here and this is my first time on campus."
After starting U3, Gunter said, "My future academic plans became more open. I felt comfortable knowing that I had backup options without hurting myself financially."
Not all students are a good fit for U3. Hungerford estimates, based on the most recent data, that 24% of students earn a certificate or degree. Between the first and second quarters, there is a 55% retention rate. Students who do not complete U3, often come back to EvCC when they are ready.
For more information on U3, and to schedule an informational meeting, call (425) 259-8738.
Leave a Comment