A Coaching Milestone
Erik Cruz Becomes the Winningest Men's Soccer Coach in EvCC History
At the start of October, Erik Cruz became EvCC Men's Soccer Most Winningest Coach in the program's history. Cruz has won 31 games currently in his fourth season, surpassing Scott Willsie who accumulated 29 wins during his tenure that spanned for eight seasons.
"Erik has done a great job over the last three and a half years," said Trojans Athletic Director Garet Studer. Cruz studied and played soccer at EvCC from 2008 to 2009. He was part of the coaching staff for the 2014 EvCC Women's Soccer team that went onto win the NWAC Championships.
During his first season Cruz assembled a team that had won only a single game the season prior. In 2017, he coached the program to their first NWAC Playoffs appearance in five years. An emphasis on recruiting locally and putting playing time up for grabs throughout the team has made EvCC an emerging force and potential juggernaut in NWAC.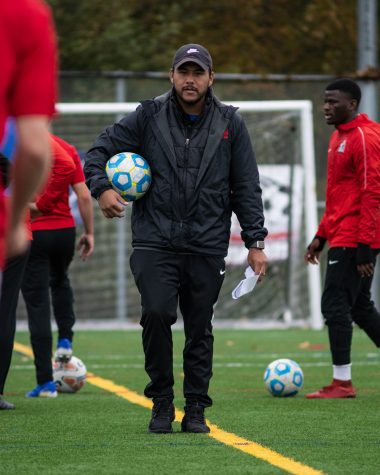 "You don't want a team that has a starting eleven and they are not getting challenged. You want people to feel the pressure that if they slack off a little bit, they are going to get put on the bench," Cruz emphasizes. "It keeps a high tempo in practice and you can see it during games."
"Every year, we are raising the bar,'' Cruz states. "The amount of wins are getting better, the amount of losses is decreasing, the goals-against is getting a lot better too." "I want the Men's Program to be a contender every year from here on out,'' Cruz states. "There's no reason why kids should be traveling around Washington State when they can stay here and play for a strong program in their community."
Studer recalls the talks he and Cruz had about what makes the program competitive."The first thing was trying to get the best recruits out of Snohomish County," Studer said. With the program heading in the right direction, Cruz has set his goals for the program to achieve.
"Win as many titles as we can," Cruz says. "I was under a lot of strong head coaches, one of them, Geoff Kittle you saw his Women's program at EvCC was a contender every single year, and I want the Men's Program to be a contender every year from here on out."
Leave a Comment