Marîa Peña Resigns From EvCC
Vice President of Equity and Inclusion, Marîa Peña, Resigns from Her Position at the College After Six Years
As of Tuesday, Nov. 12, acting Vice President of Equity and Inclusion, Marîa Peña is no longer with Everett Community College. After holding the position for the past six years, she has resigned. On the morning of the 12th, President Daria Willis sent out an email to the EvCC staff regarding her resignation.
"Colleagues, As of this morning I accepted the resignation of Marîa Peña," said Willis in the staff email. She went on to thank Peña for her contributions to diversity, equity and inclusion efforts at the college. "I am personally thankful to Marîa for her amazing work and I wish her well," said Willis.
Dafne Powell, Interim Program Manager for Dreamers/Latin-Hispanic Students was sitting behind her desk in the Equity and Diversity office. "I don't think it was something that was planned… It was a shock because I don't think anyone was expecting that," said Powell.
Marîa Behrens, Interim Director of Student Engagement for Retention and Diversity seemed emotional when speaking about Peña's departure. "I was shocked, I still am shocked… I last spoke with her on Friday and it was business as usual" said Behrens. After speaking with numerous staff members, it didn't seem like anyone was expecting her sudden departure.
On the night of Peña's resignation, president Willis attended the Board of Trustees meeting located in the Jackson Senate Room. After its conclusion, Willis stood in the hallway wearing a black long-sleeve shirt, "She [Peña] is no longer with the college effective today," said Willis. "I am happy for her and I hope she has a great career following EvCC." Willis could not comment on the specifics regarding Peña's departure.
In efforts to reach out to Peña, we were unable to acquire her contact information. The EvCC webpage had already rid their servers of any contact information or any work she had done during her time at EvCC by late morning of the announcement. If you were to search, "Marîa Peña EvCC" on Google, "EvCC Welcomes Chief Diversity Officer Marîa Peña" will appear as the first search result, but if you were to click on the link, there is no trace of the webpage.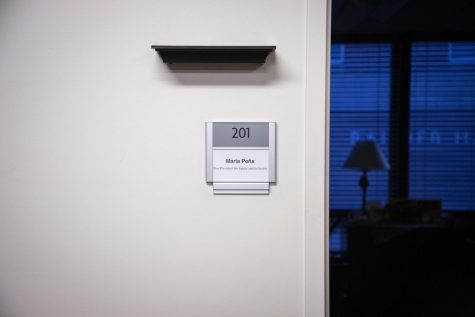 Powell mentioned that on the morning of the staff announcement, Willis met with the staff at the Equity and Diversity Center and broke the news about Peña, "I feel like everyone was in shock," said Powell. Willis extended her hand to the staff and offered any help throughout the coming months.
Regarding the details of the rehiring process, Willis has asked HR to begin working with the campus community to form a screening committee as the school conducts a national search for the next Chief Diversity Officer.
Willis ended the email reassuring the staff of the school's commitment to social justice, equity, inclusion, diversity and student success.
Leave a Comment