Annual Student Exhibit in Russell Day Gallery
Located in Parks Student Union, admission to the exhibit is free to the general public.
Students share their art in the campus gallery, named for the founder of EvCC's arts program, Russell Day, who passed away earlier this year. The Russell Day gallery, located in the Parks building, is currently showcasing it's annual student art exhibit.  Russell Day passed away in January at the age of 106. Day's legacy of art and inspiration continues throughout the campus and the world. Some of his art is still featured around campus, including an installation that shares the walls with the current student exhibit.
Day started teaching at EvCC in 1949, when the school was still known as the Everett Junior College. He founded the EvCC art program and designed the school's first art gallery. During his almost 30 years of teaching, Day taught and influenced many artists, including world renowned artists Chuck Close and Dale Chihuly.
The Russell Day Gallery hosts many different types of exhibits, such as earlier this year when Andrew Wahl, EvCC's journalism instructor, curated a gallery on the history of comics.
This student exhibit is the last gallery of the school year, but many of Days pieces will remain on campus, including his piece in Whitehorse. Next fall, the Day gallery will continue to showcase more art, and Days influence on campus will continue.
This years annual Student art exhibit opened on May 20th and will run until June 13th. The exhibit features a variety of pieces, all done by EvCC students. The walls of the gallery are lined with a wide range of images, both in subject and style.
Brenda Casten designed an Avant-Garde poster for the film "Finding Neverland." Her inspiration came from an early 20th-century art movement from Germany, known as Bauhaus.  "I like the typography of the Bauhaus era.," Casten said. Bauhaus is a bold style of art that strips away details to focusing on form and shape, blending simplicity with abstraction.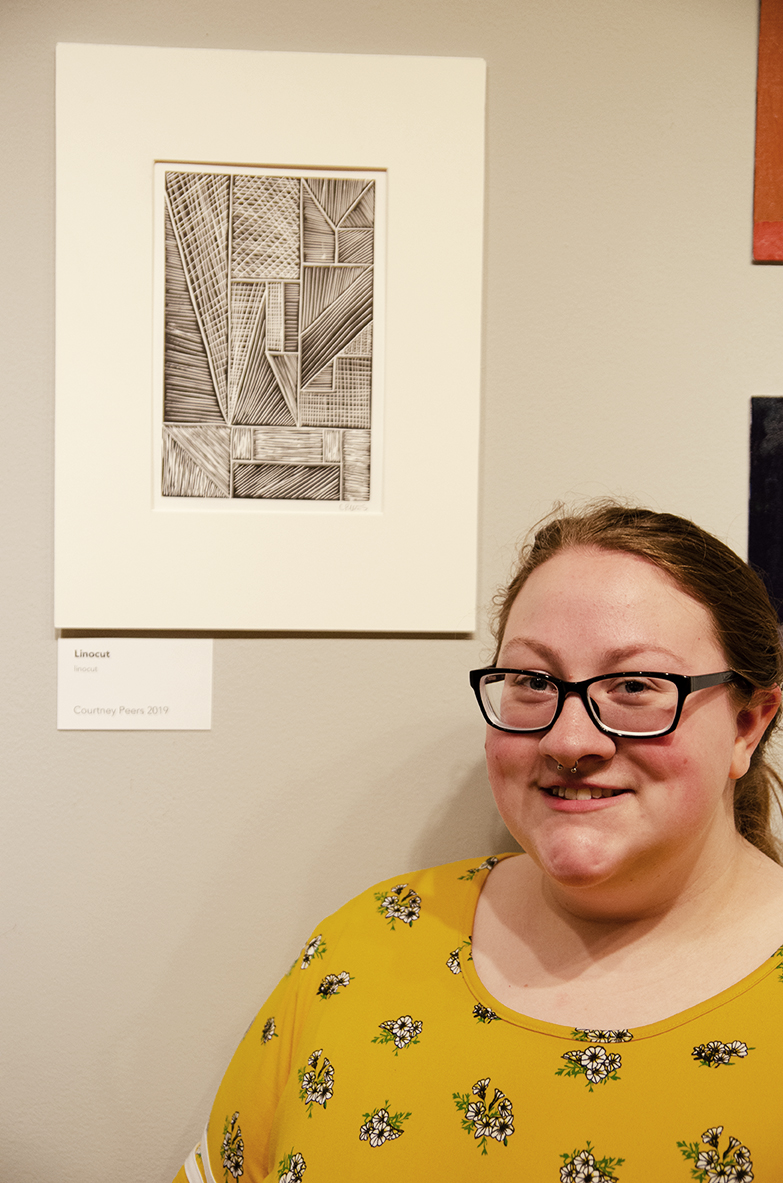 Another exhibit of abstraction is being presented by Courtney Peers, "It was my first abstract piece that I think I've ever done," said Peers. "It truly turned me on to doing abstract work."
Each artist brings a different approach and meaning to their work. Vincent Lee took his personal interest in symbols and said, "Why not make my own symbols?" His three pieces both define and deconstruct the meaning behind his subjects.
Jack Flynn used watercolors to create a feeling of "good melancholy" in his work.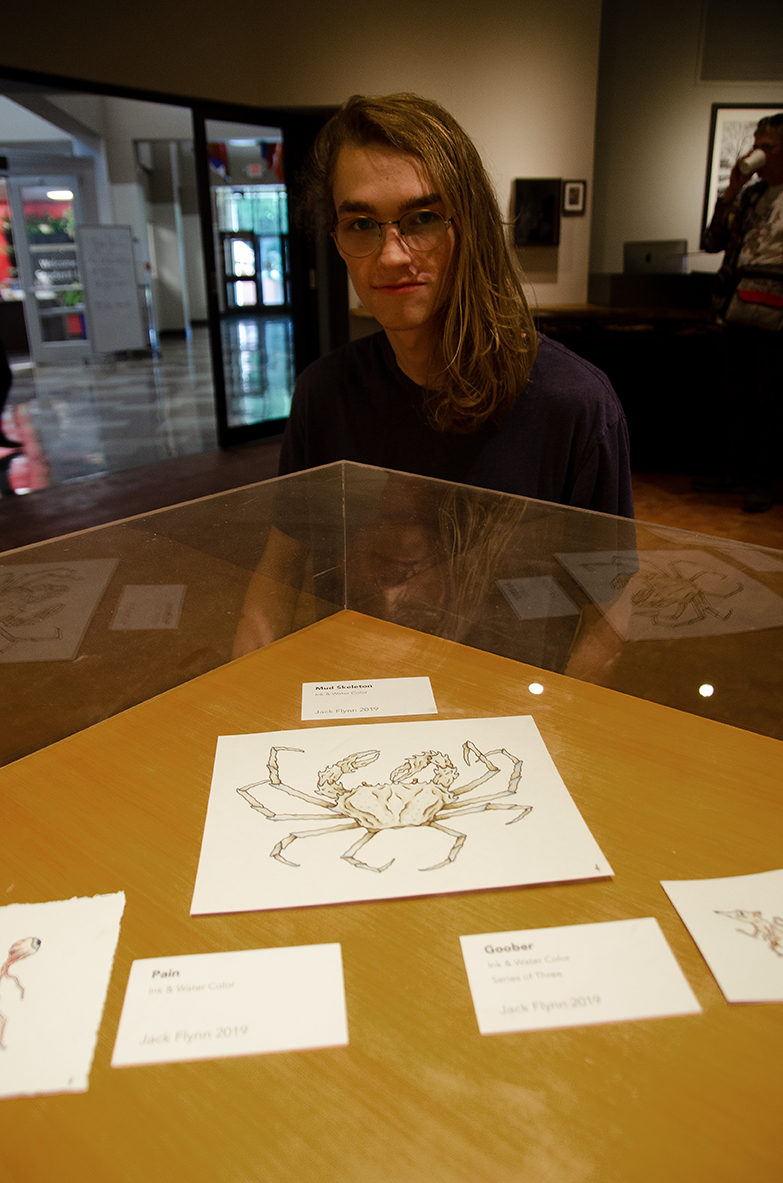 Rachel Hamilton took a different approach for her submission, "I wanted to draw something really beautiful, without meaning anything."
Photography is also a huge feature of the gallery, as shown by Stacie S. McCartan, Simon Krane and Savanna Eickerman.
McCartan, who is Managing Editor of Visuals for The Clipper, has five pieces featured in the exhibit. Her series, "Three Lilies Triptych," is featured at the entry to the gallery.
Krane, a photographer for the Clipper, used the gallery to highlight some of his own work. He chose three images that he had been waiting to showcase, "I wanted to print those [images] on the metallic paper, and i decided to do that for the gallery."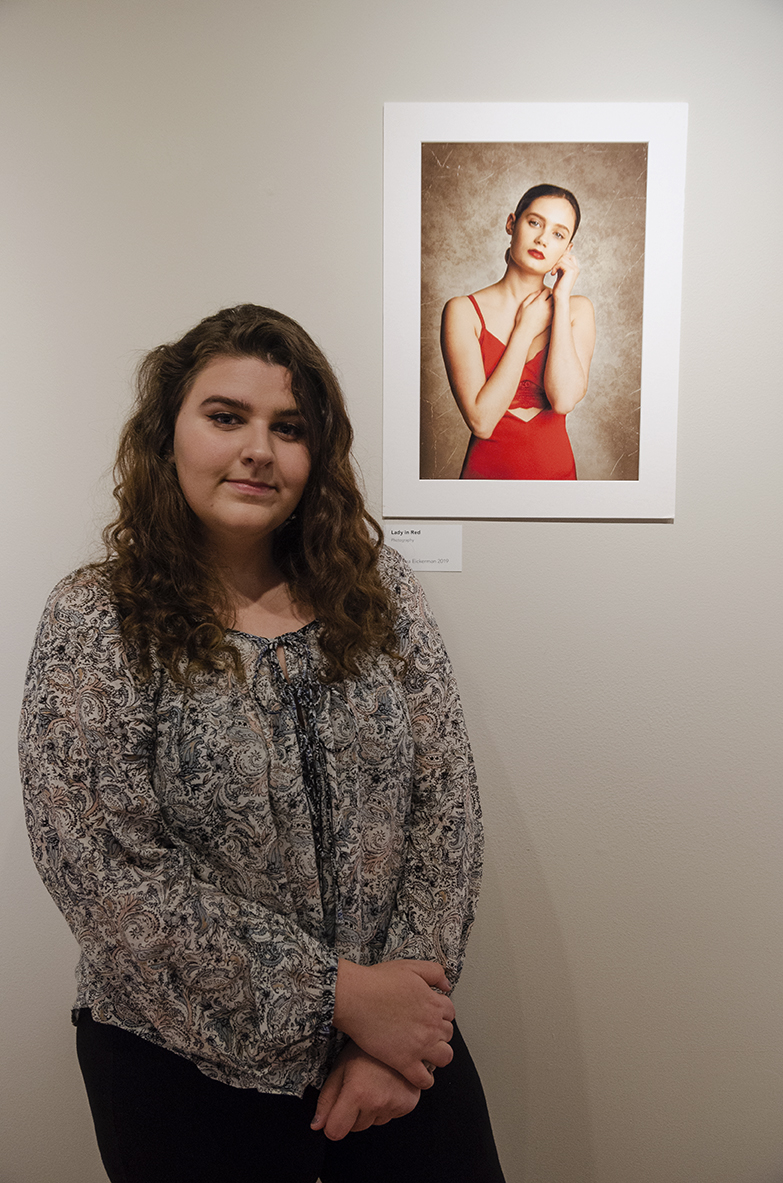 Eickerman has been pursuing photography for three years. The Day gallery is her first public showing.  Eickerman submitted a series of landscapes and studio portraits to the gallery. "I wanted to showcase both of my talents," she said.
The Day gallery gave her that space, "It's in an educational place where you're gonna be supported," said Eickerman, "It's such a great opportunity."
Leave a Comment