2017 NFL Draft Preview
The NFL has three major spectacles a year – The Super Bowl, the Combine, and from April 27 through the 29, it's the annual NFL Draft.
The Seattle Seahawks front office covet rare players- physically, mentally, and athletically.  
Walter Thurmond, a former 4th round draft selection of the Seattle Seahawks in 2010, gave his insight on Seattle's front office and their attraction to players with unusual attributes or skill sets.  
"From Pete's perspective, I'm not his type of corner because I'm not as tall.  But I did have some of the longest arms in my (draft) class and I was willing to play both inside and outside corner positions," Thurmond said of his experience with the Seahawks front office.  Seattle loves uncommon physical qualities and positional flexibility.  Above all, they want unique athletes.
Every year's draft class has its own strengths and weaknesses, but for this year, the strengths of the class appear to line up remarkably well for the team needs of the Seahawks.  
After three years of leading the NFL in scoring defense, the Seattle defense showed regression, allowing more than two TD's a game – a threshold not exceeded since 2012, according to NFL.com.  
This regression could be attributed to key players like Seattle All-Pro Safety Earl Thomas suffering a broken leg before season's end, but also due to the lackluster contributions by the Seattle depth chart, an area Seahawks General Manager John Schneider and Head Coach Pete Carroll expect to improve starting on April 27.  
So, who will NFL Commissioner Roger Goodell announce as the Seahawks first pick?
"With the 26th pick in the 2017 NFL Draft, the Seattle Seahawks select"-Safety Obi Melifonwu (University of Connecticut)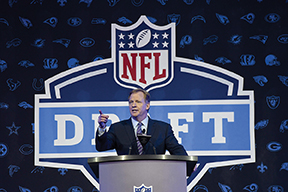 Not often does a safety come out of the draft with the combination of size and speed that Melifonwu possesses.  Melifonwu's professional comparison is, without surprise, Seattle Safety Kam Chancellor.  Both players possess rare size (6 feet 3 inches), but Melifonwu might already exceed Chancellor in his pass coverage ability, as Melifonwu is also being considered a potential cornerback prospect.  
Melifonwu offers incredibly intriguing size and athleticism, but he also provides utility and flexibility by adding depth behind all three of Seattle's key Legion of Boom members – Earl Thomas, Kam Chancellor, and Richard Sherman, while also immediately starting opposite Richard Sherman as the number two corner.  
When you're looking at a rare combination of size, speed, athleticism, utility, and flexibility, I'd say that's about as unique as it gets.