Sip N Paint: Fun Before Finals
On Wednesday, Nov. 20, students attended a "Sip N Paint" event in Jackson Center. Students were encouraged to relax and sip some non-alcoholic "mocktails" while they paint.
When the iconic, soft spoken painter Bob Ross said, "Exercising the imagination, experimenting with talents, being creative; these things, to me, are truly the windows to your soul," he was forgetting one thing: mocktails. Walking up to Jackson Hall, the sounds of footsteps against cold pavement and light panting from walking students suddenly became the sounds of upbeat music and laughter.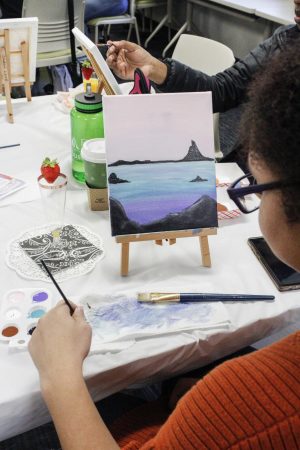 From running start students to students in their final years at Everett Community College, students of all kinds gathered to clear their minds with some fun, relaxation, painting as they sipped brightly colored fruity drinks. Not to mention four lucky students winning a mini Bob Ross step-by-step painting kit giveaway.
Paintings ranging from sunsets to puppies, there were so many students coming to de-stress with their own blank 8×10 canvas and mocktails that they ran out of canvas as well as drinks. Fortunately for sippers and painters, Sandra "Sandy" Leppert, an instructor in EvCC's art department, came to the rescue with more canvas while Student LIFE refreshed their supply of refreshments.
Trinity Martinez, a running start student at Everett Community College, attended the Sip N Paint as her very first time on campus. "I'm having fun, but I'm also nervous. It's my first time on campus," said Martinez while painting a monochromatic stone pond with two white fish.
Across the table from her sat Do Le, a student by day and performing drag artist by night across the clubs of Seattle. He showcased his artistic skills, painting an intricate angel falling onto a rose. "Painting comes easily, since it takes about 3 hours to paint my face for drag," said Le.
By the end of the Sip N Paint, students left with new friends, bigger smiles, and cleared minds. Along with a memory they could not only remember and cherish, but one they can hang on their wall and admire while they reminisce.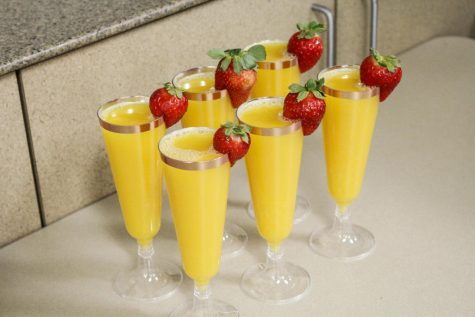 Leave a Comment