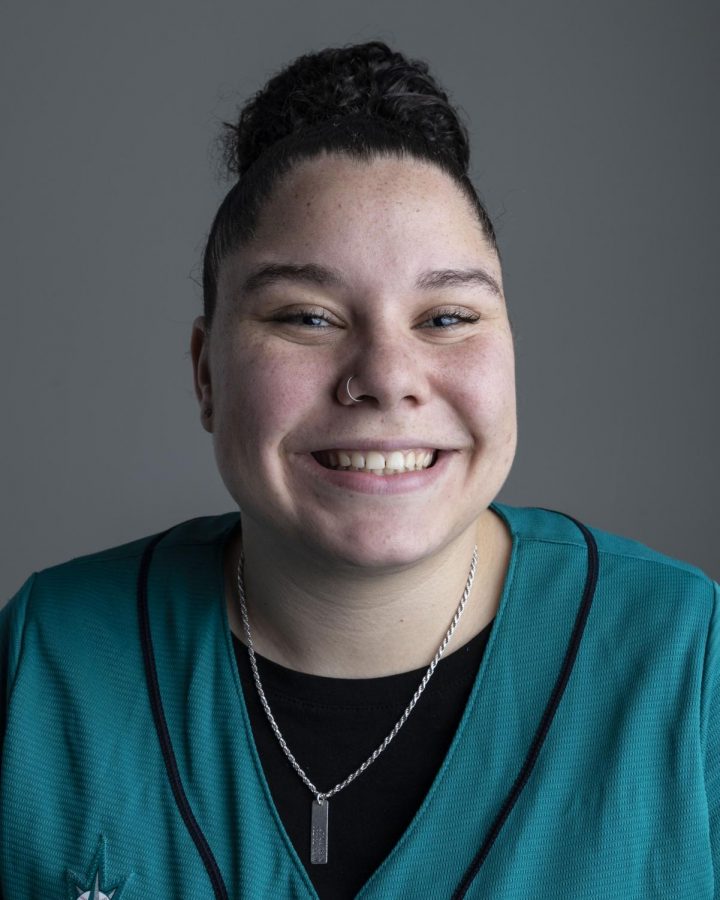 Where does The Clipper fit into your long-term goals?
It helps me understand more of what direction I want to go with journalism or communications. It helps answer the question, "Do I like writing or photography better?" It gives me an idea of what would I love to do in the future.
What are you doing when you aren't at The Clipper?
I'm usually in class, watching sports, working, or listening to music (I always have my headphones in).
What is something that people are obsessed with you just don't get?
Avocados, the texture is weird and mushy.
Who is your hero?
My hero is my mom - she fights no matter what and has gone through so much to give my brother and I a better life. From moving to Washington in 2007 from Las Vegas, to trying to be at every sports game for my brother and I, and just being supportive in anything and everything we have done. She is who I inspire to be and more. I cannot thank her enough for all she has given us and still provides as a mother, wife, daughter and friend.
Adrianna Vison-Montgomery, Staff Photographer
May 20, 2020

Virtual Graduation: How COVID-19 Affected EvCC's 2020 Commencement Ceremony

(Media)

May 05, 2020

Locked Down Far From Home

(Media)

May 01, 2020

The Impact COVID-19 Has Had on EvCC Athletics

(Media)

Mar 05, 2020

How Did We Get Here: Transportation to EvCC

(Media)

Mar 04, 2020

Remembering Basketball Icon Kobe Bryant

(Media)

Feb 25, 2020

Students and Faculty Voice Concern Over Mobility Challenges

(Media)

Feb 15, 2020

Textbooks on the Rise

(Media)

Feb 13, 2020

Sustainability Projects Made Possible by the Green Fee

(Media)

Feb 13, 2020

Studying and Music: Finding Balance

(Media)

Jan 31, 2020

Year of the Rat: Celebrating Lunar New Year

(Media)

Jan 23, 2020
Nov 22, 2019

Sip N Paint: Fun Before Finals

(Media)

Nov 20, 2019

On a Budget: Saving Money While in College

(Media)

Nov 06, 2019

Healthy Eating: From Campus to Home

(Media)

Nov 01, 2019

Nightmare on Tower Street Club Fest: Halloween Costume Contest

(Media)

Oct 29, 2019

Local Entertainment: Bob's Corn and Pumpkin Farm

(Media)

Oct 17, 2019

Opportunities Abroad

(Media)

Oct 17, 2019

Perceptions of Happiness

(Media)

Oct 17, 2019

Attention Moviegoers: Upcoming Fall Films

(Media)

Oct 10, 2019

Green Space to Take the Place of Index Hall

(Media)

Oct 10, 2019
Jun 07, 2019

EvCC Succumbs to Lower Columbia College in NWAC Baseball Finals

(Media)

Jun 05, 2019

Keeping Mental Health Awareness on the Brain: Help and Resources

(Media)

May 20, 2019

Sweet, Sweet Victory

(Media)

May 16, 2019

Trojans/Tritons Rivalry is Officially Born

(Media)

Apr 29, 2019

A Champion in the Making, 100 Meters at a Time

(Media)

Apr 29, 2019

The Art of Batting

(Media)