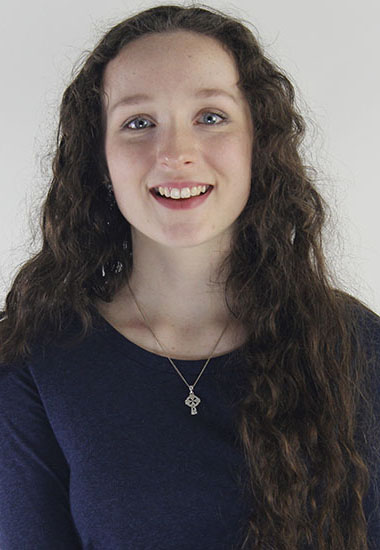 What interests you about journalism?
The people. The stories. The short sentences. Honestly, I just about love it all.
---
Where are you headed with journalism/communications?
I'm off to WSU's ISC program in the fall, and from there it'll be a bit of free sailing and a whole lot of screaming. Hopefully more of the former than the latter, but we'll see.
---
What is your spirit animal?
Debbie Gibson. Her work in Mega Python vs. Gatoroid is unparalleled.

Emma Kilgore, Managing Editor-Print
Jun 05, 2017

Yesterday's News: June

(Story)

May 15, 2017

Yesterday's News-May

(Story)

Apr 27, 2017

Yesterday's News April

(Story)

Mar 11, 2017

Digging Deep into Everett Crime

(Story)

Mar 11, 2017
Mar 01, 2017

Yesterday's News March 1

(Story)

Feb 23, 2017

When You Hear the Gunshots

(Story/Media)

Feb 20, 2017

'Noche Entre Familia' to be held in Monroe

(Story)

Feb 14, 2017
Nov 28, 2016

Fruitcake is Better than Coal

(Story/Media)

Nov 14, 2016

EvCC Students Perform Eurydice

(Story)

Oct 31, 2016
Oct 27, 2016

Hearts on Sleeves

(Story)

Oct 11, 2016

Top Five Highest-Paid Employees of EvCC

(Story)

Oct 08, 2016

Commemorative News: 10/12/16

(Story)

May 31, 2016

Russell Day Visits EvCC

(Story/Media)

May 31, 2016

From Homeless to Hope

(Story)

May 26, 2016

'No Regerts': What I (and Maybe Even You) Missed Out On

(Story/Media)

May 05, 2016

Son of a Survivor

(Story)

May 05, 2016

Executive Vice President of Instruction Resigns

(Story)

Apr 19, 2016

Emmy Award Winners Visit EvCC

(Story)

Apr 18, 2016

Slam Poet Hits Campus

(Story)

Apr 07, 2016

Divided We Fall: Marvel's New Movie Splits Fan Favorites

(Story)

Mar 14, 2016

 EvCC is Bringing the Groove with Glow into the Night

(Story)

Mar 07, 2016

Manufacturing the Future: AMTEC Job Fair

(Story)

Feb 29, 2016

From Childhood Dreams to College Majors

(Story/Media)

Feb 08, 2016

Sharper Than the Sword: EvCC's Writing Club

(Story/Media)

Feb 07, 2016

From Africa to Everett

(Story)

Jan 25, 2016

Valentine's Day: Easier Than You Think

(Story)

Jan 21, 2016

2016: The Year of the Trojan

(Story/Media)