Healthy Eating: From Campus to Home
How EvCC Students Can Maintain a Healthy Diet
Class, gym, work, and social life, do you even have time to stop and think about how healthy your next meal is going to be? As college students, there is little time to stop and breathe, so how is there going to be time to look for the healthiest food options on, or near campus. "It's hard to stay on a healthy diet if your workload and school stuff are too much," said Ben Duong, a Mechanical Engineering student at EvCC, "because you either have time to work, or to go and find a healthy plate that you really enjoy."
For those tired of the school cafeteria salads and veggie cups, or just looking for a good meal, there are some healthy plates to try near the campus.
Tacobook, a mexican restaurant just south of EvCC, and a staple food for the Clipper staff, is a great option for healthy food close to campus.
Rigoberto Bastida, who owns Tacobook with his wife Daisy Ramos, said their goal has always been to share good food, and at a good price. "It's not cheap," said Bastida, "it's affordable."
According to Bastida, Tacobooks prepares all of its food from scratch, and buys their produce fresh every day. For a healthy eating option, Bastida recommends anything on the menu, pointing out that they use less grease in their cooking process than many Mexican restaurants. Bastida also said that they use high quality ingredients for all of their food, "we try to do quality more than quantity."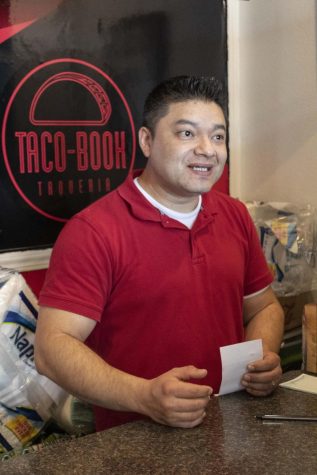 Prices at Tacobook start at $1.50 each for a taco, with six different choices of meat. There are also three additional meat options that cost $2.00. The most expensive item on the menu is only $10, for an order of four Barbacoa tacos. "I'm not trying to become a millionaire off a plate of tacos." said Bastida.
Umami sushi restaurant, which opened earlier this year, is another option near campus to try. If you haven't, then go inside and have a taste. Not only does it have breathtaking food, but it also offers the same quick, walk up and order experience of a Subway, but with some healthier options. "Usually, sushi is really healthy," said Laura Wild, an EvCC nutrition instructor, "and you can ask for brown rice and some sea vegetables in it, as well as fish, which is a fantastic nutritious choice."
Umami is not currently offering brown rice.They are working to add it to their menu, but they do offer the "Evergreen" sushi burrito, a vegetarian option. According to the owner, the spicy salmon and spicy tuna poke bowls are popular options.
Another great place to find more healthy food is in your own home. Obviously, this will not help anyone who forgot breakfast in the rush to get to class on time. For those poor souls, soon to be the cost of a meal poorer, there are still options on and around campus.
But for those with a little more time on hand, and maybe a little thyme near hand, cooking at home should really be a part of the conversation. "It's healthier, it's less expensive, it's more sustainable environmentally," said Nancy Vandenberg, who also teaches nutrition at EvCC, "and it's a great skill."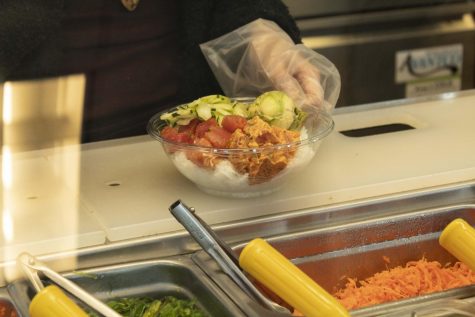 Cooking at home can be healthier than eating out because it gives more control, not only of the amount of food, but also what food is actually eaten. "If you can cook a meal, then you can get to control what goes in your body," said Wild, "but if you are buying something that has been prepared for you… somebody else did that for you, and you don't really know what's in there."
And this is not about cooking every meal at home. "Two meals a week" is a good goal to aim for, said Wild and Vandenberg.
Breakfast and lunch are both easy meals to eat without cooking, as Wild notes, "you can eat without knowing how to cook." So the real goal, according to Wild and Vandenberg, would be to make two dinners at home.
The first thing any home cook will need is a recipe. Recipes for anything and everything abound on the internet, but Vandenberg and Wild suggest finding a cookbook for a few reasons. Most cookbooks will dedicate the first chapter to explaining basic cooking techniques, especially the ones that will be used for the recipes in the book. Even though so many recipes can be found online, "the nice thing about a cookbook is that it stays with you over the years," said Wild, and Vandenberg points out, "[cookbooks] are vetted, while some things you find online have not necessarily been."
Going to the library to find some cookbooks can be a great way to explore new ideas, without having to buy an entire book. The EvCC library even has a selection of cookbooks students can check out for free.
Wild recommends pasta dishes as a good place to start from. "It's pretty hard to go wrong with pasta," said Wild "it's inexpensive, and anyone can boil water." The butternut squash macaroni and cheese recipe Wild and Vandenberg use in their sustainable cooking class would be a good example.
Once a recipe has been selected, it is time to go to the store to buy the ingredients. Writing a shopping list is helpful, because it will help avoid buying extra things at the store. One might think that buying a lot of food all in one trip would be the smart move, this is not the case.
"Don't buy more stuff than you need," said Vandenberg, "think about what you're really going to eat." The goal should not be to fill a cart with a bunch of things that might get eaten, but instead get the few things that will be eaten. "If they buy all this healthy food, and then let it rot in the fridge, then it's not a good thing," said Wild.
Bulk foods however, that can sit on a shelf for a while, can and should be stocked up on. For everything else, shorter trips to the store will cut down on food waste and actually help save money.
According to the United States Department of Agriculture, in 2010, the estimated amount of food waste in the country was 133 billion pounds, and cost almost $162 billion.
By buying only what you will need for a meal, or planning meals based on what you already have, the amount of waste a person produces can be greatly reduced.
The next time you feel your stomach asking for food, don't just please it with something fat or fast. Walk some steps outside of college and give your stomach the healthy food it deserves. While you're walking, consider trying out a few recipes when you get home. "It's not easy to maintain a healthy diet," said Joseph Bergmann, lead line cook for Epic Catering and an EvCC student, "but remember that the best things in life hardly come easy."
Leave a Comment