EvCC Security Guard Saves Community Member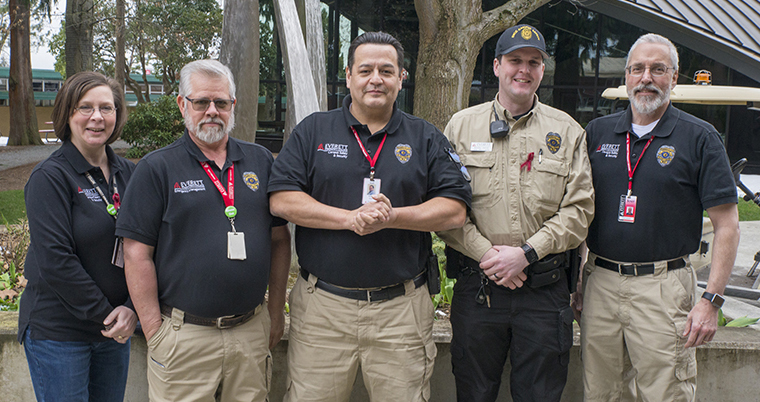 EVERETT– Tuesday, Feb. 5, EvCC security guard, Nicholas Aldrich, spotted something a little out of the ordinary.
Srgt. Aldrich was finishing up his campus patrol on the east side of Broadway when he saw a pile of snow near the intersection on the northwest corner of the WSU Everett building. As he approached, he realized that a woman was covered in snow, lying on the sidewalk.
After talking with her he determined that she'd lost significant body heat, was barely conscious and audible. Aldrich proceeded to flag down a passing Everett police officer and called for an emergency medical response.
The woman is a local community member and was just walking to her place of work which is about 2 miles south of campus. While crossing Broadway, she ended up slipping and injuring both her wrist and ankle. Trying to avoid getting hit by a vehicle, she proceeded to roll over to the sidewalk. She wasn't sure how long she had been lying there before Sgt. Aldrich found her, but it was enough for the snowfall to almost completely cover her.
While waiting for an EMS to arrive, Srgt. Aldrich did whatever he could to make sure the woman was warm and comfortable. Unable to raise her own head as she spoke in a low, frightened, and exhausted tone she said, "Please just keep talking to me until help arrives."
As Srgt. Aldrich recalls the situation, he mentions, "When I first saw the woman I was worried for her safety since I did not know how long she had been there. As I was able to get her help, I became relieved that the college was able to help a member of our surrounding community."
EMS arrived a short time later and transported the woman to the hospital. No updates on the woman's condition were available at the time of publication. Our community is very proud to have such a compassionate and sharp member of our security and safety team.