This month's Artist Spotlight shines on second-year student Mercedes Benson. Benson is pursuing an Associate of Technical Arts degree in Graphic and Web Design. Last year she was a Running Start student at Everett High School.
"I want to take something I'm passionate about, which is art, and put it into something that I'm interested in, which is marketing, and be able to have a career out of it," Benson said.
Her great-grandmother inspired her creative side.
"My great-grandma was always doing art. When I walk into her house she has some ongoing projects.  I've always been around people doing art. I got a lot of art supplies as a kid."
Story continues below advertisement
Her dad is a software engineer and her mom instilled a strong work ethic by example and encouragement. Both of her parents are former Trojans.
"My parents have always made school a priority."
She is fond of fashion design, coding and working with Adobe Creative Cloud software systems including Illustrator, InDesign and Photoshop.
"I enjoy fashion and putting together outfits. I was taught how to hand sew when I was 8."
She said a fashion and merchandising course at Sno-Isle Tech taught her how to market her designs.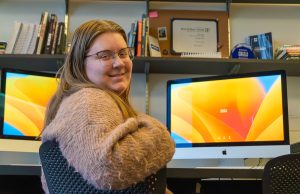 She usually has a vision of what she wants to create and then has to navigate the path to the final product.
"I'm sort of a practical person. It was instilled in me by my parents to work hard and find a job that I would enjoy," Benson said.
Her favorite class at EvCC was English 101, where the teacher assigned horror genre readings. The class taking her to the next level is Graph 130, Coding for Web Design.
In her free time she enjoys reading manga and perusing online comics and cartoons.
Benson has found great value in the student and staff critiquing process of her digital work. She typically enjoys working alone. She encourages her fellow students to embrace feedback.
"Having fellow classmates and professors know what works and what doesn't helps me grow as an artist because I'm learning what different audiences of my work are going to think."