Artist Spotlight: Keeley Porter
Keeley Porter was selected to be this month's Clipper Artist Spotlight. Porter is a digital artist and graphic designer from Washington state working towards her ATA in Graphic and Web Design, finishing out by the end of Spring quarter.
In an online interview, Porter answered questions about her current and future career as an artist and what inspires her to create:
Q: Will you be transferring to University or? What are your future plans for your education and career?
KP: When I first enrolled, I wasn't really planning on going to a university, but I've been surprised by how much I've enjoyed my time here. I'm taking some more classes while I job hunt and would love to go to a 4-year university someday, but career-wise I really want to open up my own design studio after I get enough professional experience.
Q: Tell me about your art/what kind of art do you create?
KP: The graphic design thing has been my focus for the last couple of years and I've really fallen in love with finding that perfect balance between form and function, but I also do a lot of digital art, cartoony illustrative stuff, mostly using Procreate on iPad.
Q: How did you start out?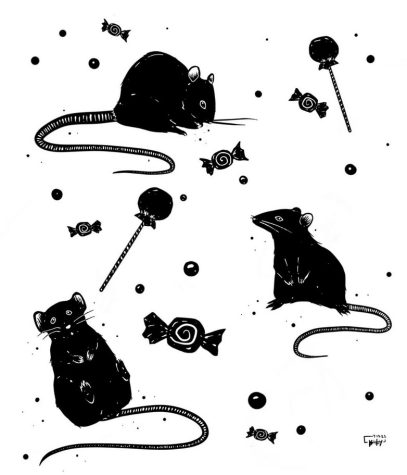 KP: Growing up, I always did a lot of drawing and was really interested in art and I'd end up getting art supplies for birthday gifts, so the cycle kind of fed itself. I started playing around with Photoshop and some very light web design stuff as a young teen in the Myspace era, so the eventual move towards graphic and web design felt right.
Q: What drives you to create your art?
KP: Art is my go-to for fun and my main emotional outlet, so I kind of do it automatically. Something that makes me feel motivated is powering through the awkward middle stages of a project and coming out with something that looks really cool in the end. That's a very satisfying feeling.
Q: What is different about your art? What is something that makes your art yours?
KP: I tend to go for extremes – aggressively vivid colors and loud patterns or minimalism and earth tones, super playful or very serious – nothing really sits in the middle.
Q: What are you learning as you go through the EVCC?
KP: I've learned so much! When I first became interested in graphic design, I'd try to read about it and get hit with all this terminology I'd never heard. Now, I feel like I speak the language and can kind of pick apart a design to see what it's made of in a way I couldn't before. I've also really learned the value of keeping a written schedule, it's been truly life-changing for me.
Q: Where or who do you draw your inspiration from?
KP: I liked reading comic books a lot as a kid and basically lived inside cartoons and video games, so I
definitely draw inspiration from those places. Pop art, album art, fabric, nature, food… pretty much anything that stands out to me, visually is likely to be some kind of inspiration.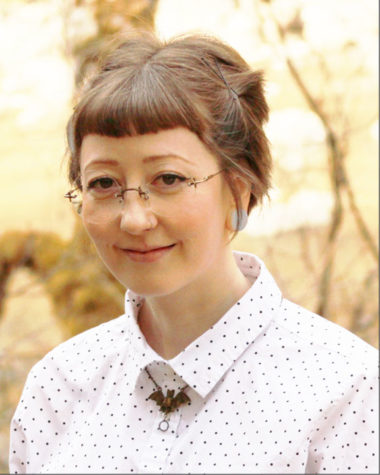 Q: Who is your favorite artist and why?
KP: Salvador Dali was the first artist I really took notice of, and I remember just being so stunned by how dreamy his work was. Hieronymus Bosch and Remedios Varo are similarly captivating for just how weird their stuff is. The weirder, the better, I say.
Q: Have your fellow students helped you along the way?
KP: Absolutely! Everyone has been so supportive of each other and watching how much we've all grown has been really incredible. Seeing such a wide range of styles and perspectives has also been great and peer critiques have helped me to see things in new ways and take a more critical eye to my own work. I feel like it's all really helped widen my creative viewpoint.
Porter's advice to new art students at EvCC is to take advantage of the freedom and plethora of amazing artists to learn from and push your creativity. She says that, "this time is such a great opportunity to really go for it and experiment." She also advises to invest in a planner for the ease of staying on top of coursework.
View Comments(1)
About the Contributor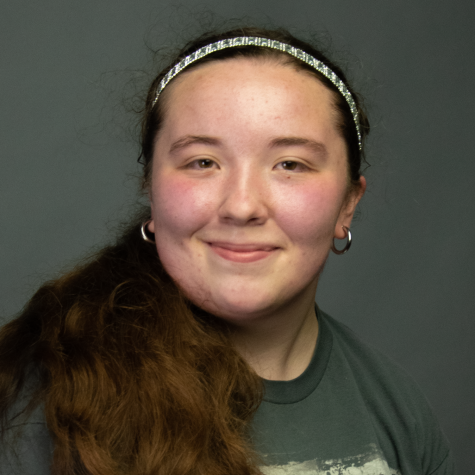 Jerrilyn Brower, Art Director
When you aren't doing things for the Clipper, what can you be found doing?

I can usually be found in the forest photographing anything interesting....