Trojan's fight past Clackamas, will play for NWAC Championship
PASCO- The dream season continues for head coach Mike Trautman and the EvCC men's basketball as the Trojan's knocked off the Clackamas College Cougars 92-80 on Saturday, March 18 at Columbia Basin College. Trautman's bunch led from start to finish, leading by as many as 19 in the second half enroute to the school's second NWAC championship game appearance in school history.
"We've been talking about this all season, to get this point. It would mean a lot to win it all." freshman guard Tyriq Luke said of his team's season-long aspirations after the victory. Luke finished with a team-high 24 points on 8-12 shooting, including 4 of 7 from three-point range.
Cougars head coach Clif Wegner made the Trojans fight through press defense for the majority of the second half. The Cougars cut the Trojan lead to 9 with just under two minutes to play before a pair of back-to-back emphatic dunks by freshmen Tucker Molina and Jadin Penigar put the game out of reach, sending the Trojan bench into a frenzy. Penigar posted an 18 point, 7 rebound performance while Molina filled up the stat sheet with 9 points, 6 boards and 2 blocks. "We knew that if we attacked the rim good things would happen." Trautman said.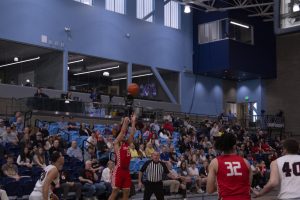 The Cougars (23-9, 13-3) had trouble finishing at the rim all game long, shooting only 37% from the field while tallying only six three-pointers on the night. Wegner's unit was led by sophomore guard Ryan Lewis, who dropped 22 points on an efficient 7-14 from the floor.
The Trojan's will face a familiar north division foe in the championship game in the Bellevue Bulldogs on Sunday, March 19, a team they've already defeated twice this season. Trautman believes utilizing his team's tenacity is key to bringing home an NWAC title to Everett, " It's hard to beat a team three times in a season. Our team is going to have to bring a lot of energy for 40 minutes tomorrow." Trautman said.
Leave a Comment