Trojan women lose to Edmonds, fall to 0-12 in North Division
The EvCC women's basketball team lost their 18th consecutive game on Wednesday night, falling 84-53 to the Edmonds Tritons at the Walt Price Fitness Center. It was a tale of two halves as the Trojans were down just 10, 36-26 at the end of the second quarter before being outscored by 21 the rest of the way. "Credit to Edmonds tonight, they hit the open shots. We had a lot of good looks and just couldn't capitalize on them." Trojan's head coach Jeannie Thompson said about how each team shot the ball.
The Triton's (14-8,6-6) shot well from three-point range, going 10-27 and shooting 40% for the game from the field while the Trojan's shot just over 31% while going 5-26 from beyond the arc. After a competitive first two quarters, the Triton's utilized a 15-7 run in the first 5 minutes of the third frame to extend their lead to 18, never looking back the rest of the game The Triton's were led by freshman guard Keirra Slippern, who shot 8-12 from the field including 4-4 from three-point range and had a game-high 21 points and a team-high 7 rebounds.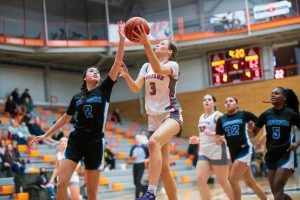 The Trojan's, who dropped to 3-19 on the season, were led by sophomore forward Maddy Thoma, who dropped a 13 point, 13 rebound double-double in the defeat. Thoma has been a key rebounding presence during the team's rough stretch, averaging nearly 9 rebounds a game and 13.5 points in conference play. The Trojan's and Jeannie Thompson look to close out their last home game of the season on a high-note on Saturday, Feb 25 at 2pm. Thompson looks to keep her team motivated through the team's passion for the game, "This season's been tough, but we all love the game and we are all a family and are here for each other."
Leave a Comment