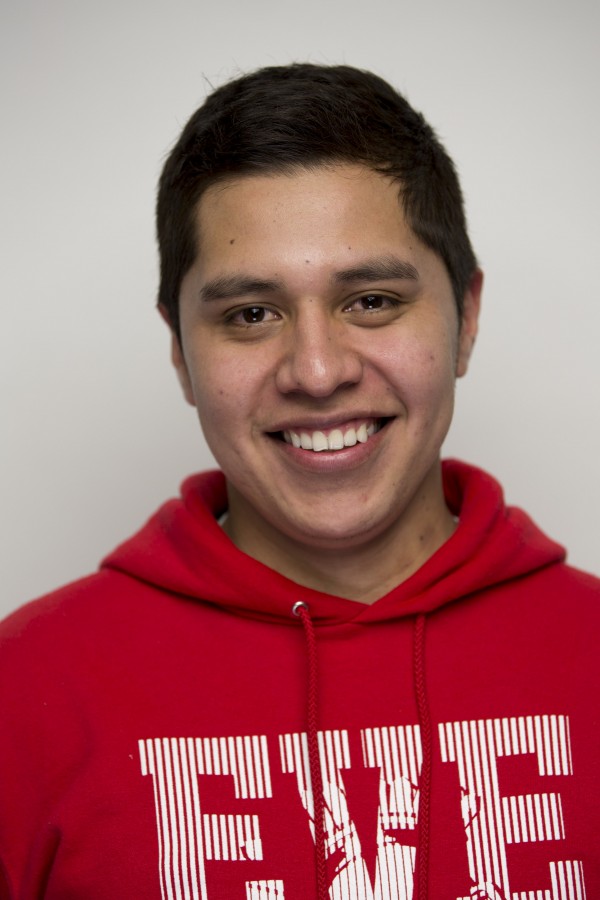 What are your future plans in journalism?
My future journalism plans is hopefully to report or cover professional soccer games. I hope to narrate games. I just want to be as close as I can to the sport. Since my dream of playing soccer is now long gone, being close to the sport would make me happy.  I am going into the communications side so not really into hardcore journalism.
What do you like to write about?
I like to write about sports, of course it would be soccer since is the sport I know the most and I grew up playing and still play. I also like to write about events and interesting things that people would like to read. Good example, gossip, sports, breaking news.
Who's your favorite Star Wars character?
I don't like Star Wars. I like Deadpool.
What is the best way to contact you about story ideas, comments or suggestions?
Best way to contact me is through e-mail 
[email protected]
or @
[email protected]
Sergio Huacuja, Staff Writer
May 30, 2016

Large Crowds of EvCC Students Attend Trump Rally in Lynden

(Story/Media)

May 05, 2016

Cinco de Mayo, Not Drinko de Mayo

(Story)

Apr 18, 2016

Protests, Sleep Deprivation and Community

(Story)

Mar 17, 2016

Movimiento Estudiantil Chicanx de Aztlán (MEChA) La Union Hace La Fuerza

(Story)

Feb 18, 2016

The Will to Learn: ESL Classes Bring Opportunity for Students

(Story)

Jan 13, 2016

EvCC Women Grab Second League Win In Blowout of Rival Edmonds

(Story)

Nov 04, 2015

New Student Housing: Breaking Ground

(Story)

Nov 03, 2015

Parking; Nightmare on Broadway

(Story)

Oct 12, 2015

High School to College; A New Beginning

(Story)

Oct 01, 2015

Edmond's Triton's Falls to Number 1 Everett Trojans.

(Story)

Sep 26, 2015

Lady Trojans Take the Win: Volleyball 9/25/15

(Story)