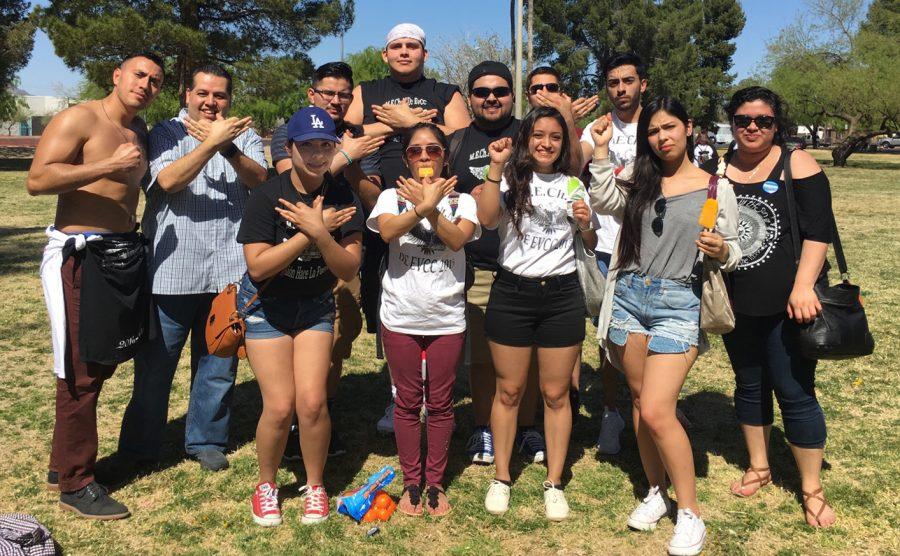 Courtesy Photo
Protests, Sleep Deprivation and Community
A Personal Recount of MEChA's National Conference
Waking up early, arriving two hours prior to depart, still missing the flight because we waited in line for more than one hour and a half to check in.   This is a recount of my journey to MEChA's National Conference in Tucson, Arizona.  MEChA de EvCC is "a student-led organization that promotes higher education, self-identity, historical and cultural knowledge that will empower the Chicano community, thus, creating social change throughout our campus and surrounding communities."
Day 1
Friday, March 18, the day I've been waiting for since I found out I was going to be attending MEChA's National conference. 12 of us attended the conference but we were split into different flights. Kaya George, Alfredo Diaz, Leticia Aparicio, our adviser Jose Martinez and I all were on the 7:35 a.m. flight to Tucson, Arizona.
After going through the scanners at security, I was pulled aside and frisked. All of the Caucasian people going through weren't even touched. I made the mistake of making a joke that I was being searched because I was brown. Let's just say, I should've kept my mouth shut.
The gates were closed five minutes before boarding our flight, we were all very disappointed but we went with the next flight.
After going from Seattle, to Los Angeles, to Phoenix and a two-hour drive to Tucson we finally made it to our hotel at 1 a.m. We had spent our whole day at the airport when we could have been at the conference.
Day 2
Saturday, March 19, after only getting five hours of sleep, waking up for breakfast was the hardest thing to do. I was suffering from lack of sleep.
That morning, there was a protest planned where we all joined in. The protest was against the city of Tucson, because they banned ethnic studies from high schools. After my group and I arrived at the protest, I started recording and almost fell as I was walking backwards. I felt the intensity and the passion of those protesting and the 95-degree weather. The protest was peaceful, but there were a lot of cops around us, and  the law in Arizona is not very friendly towards undocumented people and undocumented students like me. So, I was very scared and hoping they wouldn't ask us for our documentation.
Sergio Huacuja
Thankfully I have my DACA (work permit), so I felt a bit safer in the case that they would have stopped us, but it's still really nerve racking. After reaching our destination at a park nearby, we met a lot of Mechistas (MEChA members) from all over the country, and this made it an opportunity to make a lot of new friends.
After lunch, there were all kinds of workshops students could attend. I attended a workshop about Latinos in the United States and our way of living and our daily struggles as undocumented people. The workshop really stood out to me, I learned about different ways to not be oppressed by the U.S. government as well as in the school system as a student of color.

Day 3
Sunday, March 20 was our last day at the conference. After breakfast, we went to the University of Arizona for a long walk exploring the campus. We met later on with all the Mechistas for a debrief and share our future plans for our club. Later on, the time came to decide who would host next year's national conference.
The University of Colorado presented their proposal, stating that they have the perfect conditions for hosting the conference.  The University of Washington also threw out a proposal with that was more reliable and provided more resources and their plans and sources to host the conference where ready to take into action, no planning needed. Oregon State presented their proposal as well.The representatives of the MEChA's from their schools had intense voting, where they had to revote again to make sure everyone made up their mind. The University of Washington beat Oregon State 9-6, and I was very glad we get to stay local for next year's national conference.
After the voting, we all went to the zoo nearby, explore some of Tucson's best attractions like the Mission Church, and we met up with Jose Gonzales a former teacher at Pueblo High School and former ethnic studies teacher who also started in the documentary "Precious Knowledge." I felt honored I had met him, and the stories he shared humbled me and truly inspired me.To this day, he is still fighting for the rights of our people and the oppression of the school system in Tucson, Arizona. Everything he shared with us hit me in the heart because as a college student, I have been oppressed within the school system, and not just me but other students of color as well.
Day 4
Monday, March 21, we all woke up very early and headed to the airport at 5:30 a.m., our flight was supposed to depart at 7 a.m. In the meant time while we waited at the airport we all walked around and did some souvenir shopping. Our flight was destined to Utah where we flew right over the Salt Lake and literally ran to board our flight back to Seattle. I'll always remember this trip; it was once in a life time experience, and visiting Tucson reminded me a lot of when I used to live in Mexico and made me very emotional. But, what I'll cherish the most is how close we all became, we aren't just members of MEChA, we are a family.