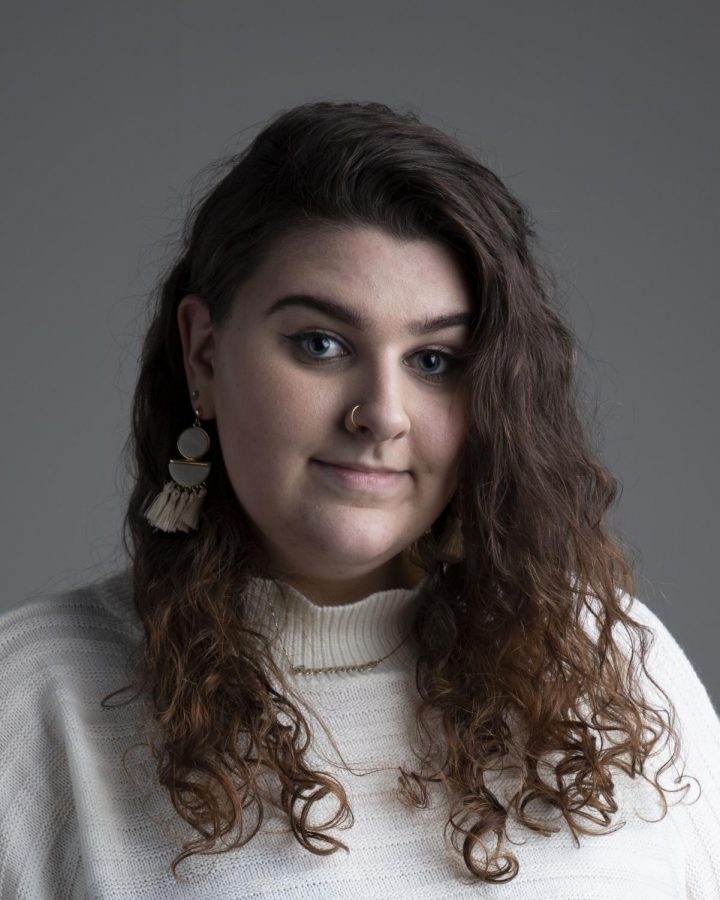 What interests you about journalism?

Journalism is important more than ever, living in a time where connection is so fast and things are constantly changing. To be able to document the world in a professional and honest way is something that will be valued for years to come because history is crucial in helping us to grow.
What are you doing when you aren't at The Clipper?
I am usually found busy with something photography related which includes editing photos, printing, meeting with clients or out adventuring.
What is something you think everyone should do at least once?
Something that I highly value and think everyone should try at least once is traveling to experience different realities and cultures. It helps you grow in a way that the mundane routine can't.
Savanna Eickerman, Managing Editor of Visuals
Jun 08, 2020

EvCC Eliminates 85 Part-Time Hourly Positions

(Media)

Apr 12, 2020

Letter From the Editor

(Media)

Mar 13, 2020

EvCC School of Cosmetology

(Media)

Mar 12, 2020

From Addiction to Recovery

(Media)

Mar 12, 2020

Toastmasters International

(Media)

Mar 11, 2020

Nippon Business Institute

(Media)

Mar 11, 2020

Women's Equality: 100 Years in the Making

(Media)

Mar 11, 2020

Art Spotlight: EvCC's Glaze Ceramic's Class

(Media)

Mar 05, 2020

Treat Yourself During Tax Season

(Media)

Mar 04, 2020

Breastfeeding in Public

(Media)

Mar 02, 2020

Help Yourself by Helping Others: How Volunteering Looks on an Application

(Media)

Feb 26, 2020

The EvCC Arts Program: The Full Picture

(Media)

Feb 25, 2020

Scenic Parks and Trails

(Media)

Feb 25, 2020

Students and Faculty Voice Concern Over Mobility Challenges

(Media)

Feb 24, 2020

Artist Spotlight Q&A: Gweneth Henrie

(Media)

Feb 24, 2020

A Time For Celebration: Black History Month

(Media)

Feb 22, 2020
Feb 22, 2020

BRIDGES Cultural Club

(Media)

Feb 21, 2020

Hidden Gems Around Everett

(Media)

Feb 21, 2020

Food Therapy for the Flu

(Media)

Feb 21, 2020

Natural Born Killers

(Media)

Feb 20, 2020

Parks Café Introduces New App

(Media)

Feb 20, 2020

Owning Your Sexuality

(Media)

Feb 15, 2020

Textbooks on the Rise

(Media)

Feb 14, 2020

Kevin Craft: The Written Art of Poetry

(Media)

Feb 13, 2020

Studying and Music: Finding Balance

(Media)

Feb 12, 2020

Two New Leadership Positions at EvCC

(Media)

Feb 11, 2020

Recycled Fashion: The Thrifting Trend

(Media)

Feb 08, 2020

Winter Club Fest: What It's All About

(Media)

Feb 06, 2020

Staying Caffeinated on Campus

(Media)

Jan 31, 2020

Year of the Rat: Celebrating Lunar New Year

(Media)

Jan 30, 2020
Jan 30, 2020
Jan 30, 2020
Jan 30, 2020
Jan 30, 2020
Jan 30, 2020
Jan 30, 2020
Jan 30, 2020
Jan 30, 2020
Jan 30, 2020
Jan 30, 2020
Jan 30, 2020
Jan 23, 2020
Jan 22, 2020

Deadly Wuhan Coronavirus Spreads to Everett

(Media)

Jan 21, 2020

Congressman Rick Larsen Visits EvCC

(Media)

Nov 27, 2019

Lessons from Space

(Media)

Nov 27, 2019

Students and Faculty Protest

(Media)

Nov 27, 2019

Emergency Preparedness

(Media)

Nov 27, 2019

EvCC Women's Basketball

(Media)

Nov 27, 2019

Artist Spotlight: Q&A with Jack Rosadiuk

(Media)

Nov 27, 2019

Holiday Spirit: How to Give Back to Your Community

(Media)

Nov 26, 2019

Students React to Hong Kong Protests

(Media)

Nov 26, 2019

Philosophy: The Big Questions and Why You Ought To Ask Them

(Media)

Nov 26, 2019

Student Job Opportunities at EvCC

(Media)

Nov 20, 2019

Marîa Peña Resigns From EvCC

(Media)

Nov 20, 2019
Nov 20, 2019
Nov 20, 2019

Two Easy Appetizer Recipes for College Students

(Media)

Nov 20, 2019
Nov 08, 2019

Artist Spotlight: Q&A with Fiona Bowen

(Media)

Nov 08, 2019

Crime on and off Campus

(Media)

Nov 07, 2019

Studying in Style: Fall Fashion

(Media)

Nov 07, 2019

Narrowing Down The List

(Media)

Nov 07, 2019

Environmental Action

(Media)

Nov 05, 2019

Artist Spotlight: Student Musician

(Media)

Nov 04, 2019

Thomas Family Farm: Your Chill Is Their Thrill

(Media)

Nov 01, 2019

Nightmare on Tower Street Club Fest: Halloween Costume Contest

(Media)

Oct 30, 2019

Favorite Halloween Candy

(Media)

Oct 25, 2019

Domestic Violence Awareness at EvCC

(Media)

Oct 17, 2019

Loneliness on Campus

(Media)

Oct 17, 2019

Artist Spotlight Q&A: Kayshawn Mounarath

(Media)

Oct 17, 2019
Oct 17, 2019
Oct 17, 2019

New Trojan Design

(Media)

Oct 16, 2019

Clubs and Tutoring: How to Get Involved at EvCC

(Media)

Oct 10, 2019

Green Space to Take the Place of Index Hall

(Media)

Oct 10, 2019
Oct 10, 2019
Oct 10, 2019
Oct 10, 2019

Amy Gilbert McGrath

(Media)

Oct 10, 2019
Oct 09, 2019
Oct 04, 2019

Man Exposes Himself to Classroom Inside Gray Wolf Hall

(Media)

Jun 25, 2019

Garbage Can Fire Burns Baker Hall

(Media)

Apr 15, 2019
Apr 13, 2019
Apr 13, 2019
Apr 13, 2019

Adrianna Vison-Montgomery

(Media)

Apr 13, 2019
Jan 24, 2019
Jan 24, 2019
Jan 24, 2019
Oct 06, 2018
Oct 06, 2018
Oct 06, 2018
Oct 06, 2018

Dzenita Musabegovic

(Media)

Oct 06, 2018