EvCC Women's Basketball Victorious After Explosive Second Half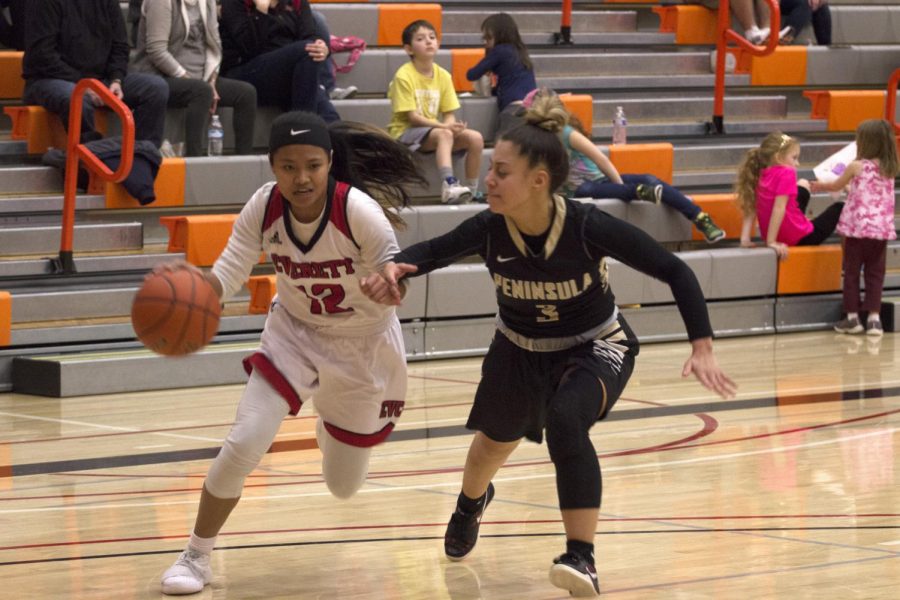 The EvCC Women's Basketball Team continued their winning form on Sat, Feb. 10 at the Walt Price Fitness Center by a score of 79-63.
The first half trojans started off slowly for the Trojans. While the team continued their good ball movement they had displayed all season long, they weren't able to shoot.
By halftime, EvCC led only by a score of 40-35. Peninsula kept it close by dominating the glass, pulling in 27 rebounds compared to Everett's 18.  
Uju Chibuogwu played her best game of the season and carried the team on her back in the second half. "I know we've been in worse situations and gotten through that" Chibuogwu said. "We came in at halftime our energy was down and I said, 'I'm going to do whatever I can do to help the team win the game.'"
With the confidence booster, EvCC came out stronger and played solid defensively. In the third quarter Peninsula didn't score a single basket for 4 minutes and 26 seconds. Chibougwu did her part scoring 31 points in the game and leading the team in offensive and defensive rebounds with 8 rebounds. Alexis Biggerstaff scored 14 points and had 6 assists. Sydney Taggart led the team in assists with 7.
It was a crucial win for the Trojans, as they were tied with the Bellevue Bulldogs for the lead of the North Division. The Trojans win put the Trojans atop of the NWAC North Division at 7-1, with Bellevue losing over the weekend.
The Trojans look to further the distance between Bellevue as they play the Bulldogs on February 14 at 5:00 p.m. at Bellevue.