Leaving Behind a Legacy: Q&A with EvCC's Retiring President David Beyer
President Beyer sits down with The Clipper for a Q & A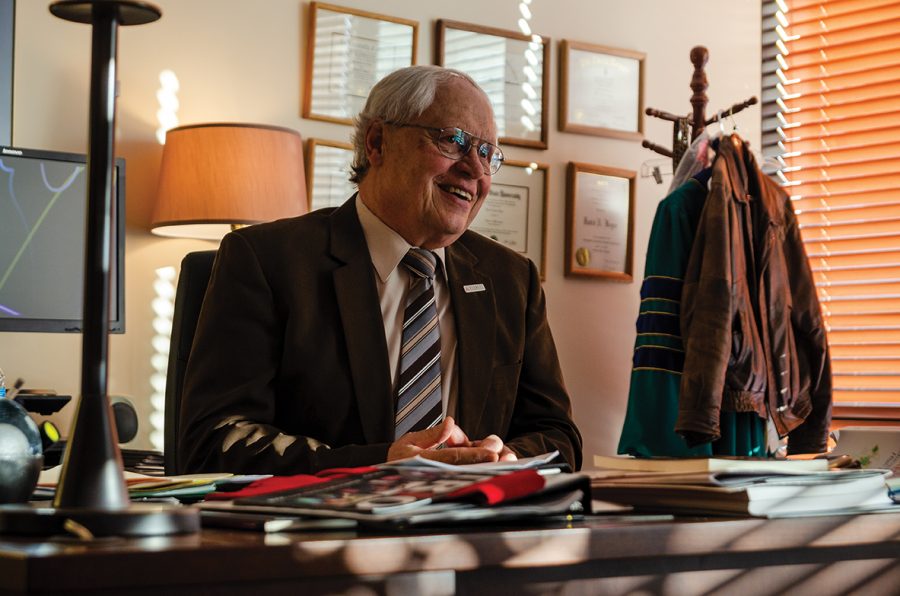 After 13 years as president of EvCC, Dr. David Beyer is retiring in June 2019. Beyer is the longest serving president of the college. He earned his Ph.D. in a leadership program for community colleges from the Colorado State University and has been in the education field for 40 years. Beyer's time at EvCC will greatly impact both the students' and the community for years to come.  
Beyer was elected president of EvCC in 2006. During his tenure, the school added more than $150 million to the construction of new academic buildings such as Gray Wolf Hall, Liberty Hall and the Walt Price Student Fitness Center.
He is a supporter of the college's equity initiatives and community outreach program and has been involved in many community organizations. Beyer has also received many awards including The Herald Business Journal Executive of the year in 2016.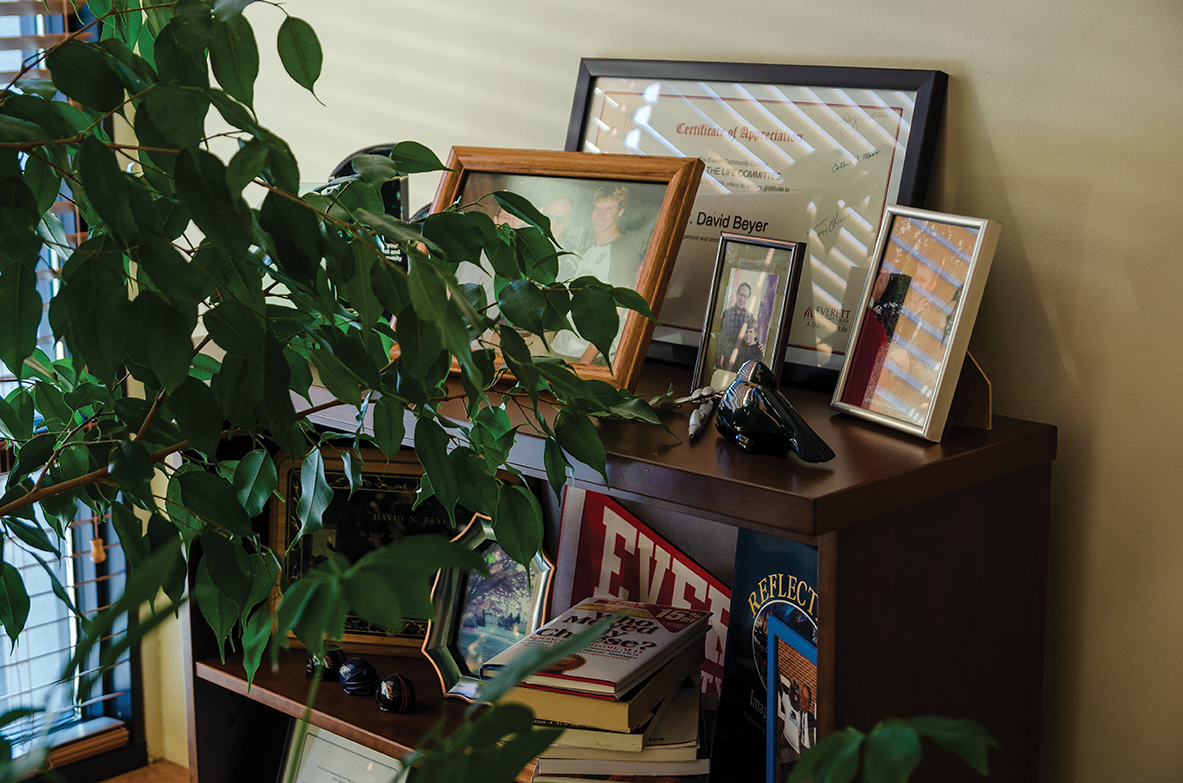 Sona Porter: 13 years ago, what was it like at EvCC when you became president?
David Beyer: They were building Whitehorse Hall, that was the first new major facility project. Most of the buildings were the older buildings that are on campus now, Gray Wolf Hall wasn't here, the gym was over there by the hospital where Seattle Children's clinic is. It was smaller, and it probably looked like it was an older college at the time as oppose to maybe today it doesn't look like it is one of the oldest schools in the state even though it is.
SP: What was the first thing you did as president of EvCC?
DB: Get to know people. I walked the campus, I asked faculty if I could come visit their classes – not just that first week but throughout my first year here – the first couple of years I guess. I had a meeting with the mayor, superintendent of schools, the CEO of Providence… I remember meeting a lot of people.
SP: Is your involvement in the community following your parent's footstep or is it more of a passion?
DB: Well probably a passion and it is a responsibility for the president to be engaged. Certainly, there are things that I believe in that go on in this community that I want to be part of to some degree, but it's a value because we need community colleges. There are very few things that we can do without some type of partnership with individuals or organizations, business, and industry, legislature, even the governor.
So, it's important that the person that is in this role recognizes the value of being engaged in a lot of community things. I value those things and I enjoy them to some degree. People may think that I am an extrovert, but I am not. I enjoy being in the quiet of my backyard gardening or riding my bike, hiking in the trail or doing something with either my wife or my grandkids. So those are things that I enjoy personally but I value the things the work brings, and I've gotten to know a lot of great people, not only students here but also people that work in the community. So those community connections I value the importance of for a lot of reasons.
SP: What would you say is your biggest EvCC project that you are most proud of?
DB: Every day I feel good about all the work that goes on here whether it's in the classroom or if it's a security guard finding somebody on the street – that's an amazing, heartwarming story to me – that this person was astute enough and found someone that everybody else was missing.
"
It's not about what buildings you built or what other physical things you might do, I think it's what we do every day."
— President David Beyer
I think stories like that, what goes on in the classroom and in advising or counseling situation, how students get engaged in the campus, all those things. It's not about what buildings you built or what other physical things you might do, I think it's what we do every day and I feel good that this college has a positive reputation in the community and in the state.
Probably the most apparent thing right now is our equity work. That was going on a long time ago, even before I arrived here but the visibility of it today and the direction that it's taking… I think we all feel that this is important work. It's the work that we should be doing and it's going to create opportunities for more students to participate in Everett Community College.
SP: What would you say are some of the strengths of EvCC?
DB: The quality of the teaching that goes on in here, is a strength. The programs we do are relevant to our community, the business and industry, if it is advanced manufacturing education training center or if it's the aviation or engineering, nursing, business programs, they are all impactful and I think they are important quality programs. I think all those things are what define this institution but what goes on in the classroom is what we are about.
This is one campus where students are engaged in the leadership associate student body and where I've met a lot of student senators and presidents of ASB. The Clipper … that is a form of student engagement that's always been an aspect of this college, something that this college recognizes is the student newspaper being an important part of this institution.
We have a lot of athletic programs, one of the largest numbered. We now have a hall of fame for athletes and former athletes. I think about all the places I've been but at Everett, I think the student engagement here is commendable on the part of students, staff, and faculty that advise and stay involved with that. It's really an important asset for the college.
"
I enjoy walking across campus and having the opportunity to talk to the people that work here and students."
— President David Beyer
SP: What are some of the moments you most enjoy as EvCC president?
DB: I always talk about graduation… that the graduation is here [on campus]. It's always very emotional for the students and their families and to get to hand diplomas to every one of these students and to see the excitement on their faces is a great thing. Graduation on campus is a different feeling than having graduation away from campus.
I enjoy walking across campus and having the opportunity to talk to the people that work here and students. I like the tenure process that we have here where faculty receives tenure. I get to sit in on those meetings with faculty and student representatives and talk about these new faculty members that are going through this three-year process. It's an opportunity for me to learn more about what faculty are experiencing in teaching and what students think about the teaching here.
SP: Is there anything you want EvCC to accomplish in the future after you leave?
DB: What they decide they need to accomplish is what I hope they do. When I leave, there are going to be different people here and they will have different ideas.
I hope there is more legislative support for funding not only [EvCC] but for all the community colleges because this is a good system. We serve almost 400,000 students a year; that is a significant group of people and we need the resources to do that. We need to be paying our faculty and staff more and we need to have the resources to do that.
SP: Speaking of the Learning Resource Center, why do you think it is important to have it build at College Plaza after a lot of opposition from both students and staff?
DB: I think it's about the future and where the college is going to be in the future. That is where the college is moving. If you look at photos of where the college was thirteen years ago and where it is today it's moving that direction. I think it also connects us to another neighborhood that we need to be more strongly connected with – the Delta neighborhood, which is the most diverse neighborhood when we talk about equity. The Northwest neighborhood is great but it's… different demographics and I think it's going to also signal that to our four-year partners and others that there is going to be an opportunity for them to be in a region that's growing, that they can put their stake in the ground.  
SP: What are your plans after EvCC?
DB: Immediate plans are just to take it easy, think about things that I want to think about and not about things that I feel I need to be thinking about all the time, because I think about [EvCC] a lot and what's going on. Probably, I'm going to get on my bike and ride a little bit more and do a little bit more gardening, spend a little more time with my family here and my son and his family who live on the other side of the state. I haven't figured all that out yet.
SP: Would traveling be among your plans?
DB: My travel agent is my wife and I think she's got some ideas, so that's fine.