Tempers Flare as Jackson and Brown Jr. Lead Trojans to Victory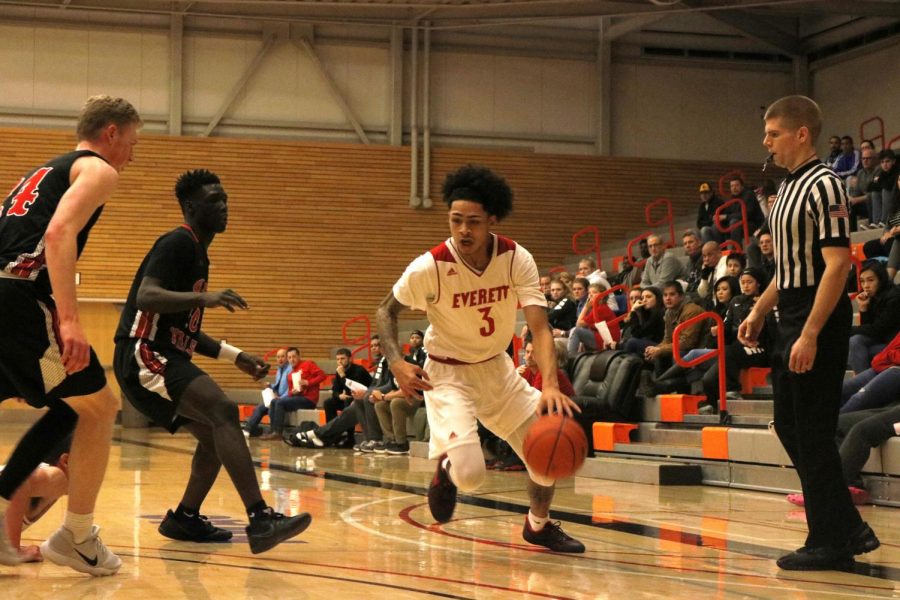 The EvCC Men's Basketball team defeated the Skagit Valley Cardinals by a score of 94-83 on Saturday, Jan. 27, in a game where the tensions and emotions of league play were on full display.
Looking to tighten their grip on the top spot in the NWAC North, the Trojans opened up the first half with their usual, aggressive style of play. With 10 minutes remaining in the first half, the Trojans led 22-17, thanks in large part to freshman guard, Markieth Brown Jr. and sophomore standout, Gio Jackson, who ran the floor effectively, combining for 22 points before the halftime break.
"We play off of each other," said Jackson. "We're not selfish. Whoever's open, is open. Whoever's hot, is hot."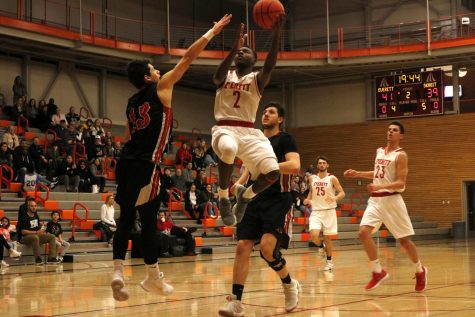 With 4:18 remaining in the half, the Cardinals began to make an impressive run, cutting the Everett lead to just one point. Moments later, a foul called on Skagit's Darius Anderson prompted a heated dialogue between an official and Anderson, resulting in a technical foul and a near ejection for the freshman forward.
The incident took enough wind out of Skagit's sails for Everett to maintain control into the half, leading 41-39.
As the second half got underway, the Trojans began to take over. Utilizing the hot hand of Conner Moffatt, Everett was able to grow their lead to double digits, as the sophomore guard hit three 3-pointers in the first four and a half minutes of the second half.
With just under 10 minutes to go in the game, the previous drama involving Darius Anderson resurfaced. Anderson followed Brown Jr. up the court on a fast break and laid his body into the Everett guard, laying Brown out and prompting a reaction from Everett forward, Coleman Grayson.
Rushing to defend his teammate, Grayson approached Anderson. Being held apart by teammates and officials, Grayson and Anderson exchanged heated words. As the two were seperated, Anderson attempted to get through to Grayson one last time, taking his jersey off and prompting even more pandemonium from the crowd at the Walt Price Fitness Center.
"Coleman's our enforcer," said Head Coach Mike Trautman. "All he cares about is winning and protecting his guys and he felt like that was a cheap shot."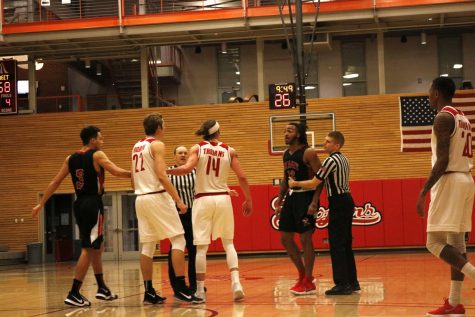 Ultimately, the altercation ended with a double technical being issued and Anderson being ejected from the game.
Trautman continued, saying, "As long as he's keeping it clean and sticking up for his guy, that really helps our comradery and our team right now."
The free throws that came as a result of the foul and technical allowed Everett to take a vise grip on the momentum and secure the victory, 94-83.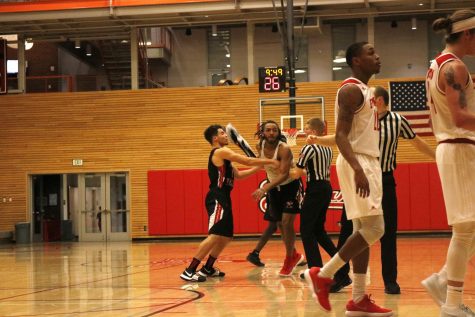 Jackson's 23 points and 11 rebounds marks another dominant performance for the sophomore guard, who is averaging 17.5 points and 9 rebounds a game for the Trojans this year.
"It's effort," said Jackson when asked about his rebounding. "I want it. It's that simple."
Brown Jr. finished with an impressive 30 points in the win, further displaying his offensive capabilities.
When commenting on his star three in Jackson, Brown Jr., and Moffatt, Coach Trautman said, "Those are our three best defenders and those are our three best offensive players. Its really big because we can switch everything on defense. Those three guys can guard anyone else."
Everett looks to continue their dominance over the NWAC on Wednesday against Shoreline.