Buenos Diaz Cafe Grand Opening
Be sure to grab a quick bite or fuel your daily dose of caffeine to help with those lectures ahead, Parks Student Union has long awaited the return of a coffee shop and finally received one, welcoming the Buenos Diaz cafe.
The cafe will operate from Monday through Thursday from 7:30 a.m. and planning to close at 6 p.m., however, depending on foot traffic, it may vary. On Friday, they will be open from 7:30 a.m. to 2 p.m. Buenos Diaz cafe has a variety of different kinds of items that include food, beverages, and pastries. 
Students were happy and excited to hear that the Cafe has its grand opening this past week, including Katie Ngyuen, Student Ambassador for Student LIFE. "I love how they have a punch card," said Ngyuen. This means when you order a coffee, you get punched and once the punch card is all completed, you get a free drink. "It is convenient to have right across Student LIFE since this is where I spent most of my time, I do not have to walk far," said Ngyuen. 
Buenos Diaz Cafe began its business about a year ago with another coffee stand at 2802 Cedar St in Everett. Owner and operator Erica Diaz was born in Mexico and has been living in the U.S. since she was five years old. Spanish being her first language, she wanted to make sure others within her community felt welcome and safe.  According to Diaz, there are only a few coffee stands that are owned by a Latina within the Everett community, hence where the business got its name.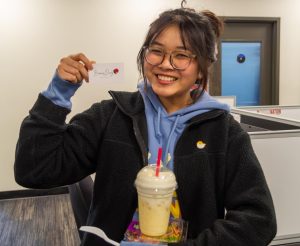 "We get so many Hispanics that come just because we speak Spanish and they are able to order in Spanish. They do not have to struggle to order in English. It makes us feel very good", Diaz said.
Diaz wants to incorporate her Hispanic culture into the cafe by bringing in traditional pan dulce and traditional drinks. "We have a place we really want to use, they have like the best pan dulce" said Diaz.

Beginning in May, Buenos Diaz will be bringing horchata to the menu, followed with a Dirty Horchata, which consists of horchata with two shots of cold brew or two shots of espresso, if wanted hot. "We also have a fresh horchata. For RedBull, we have a mangonada drink, which is like a spicy mango drink. A Mexican mochas, which is a mixture of chocolate and cinnamon" said Diaz. Although, these drinks are not seen on menu, they will be posted on their instagram page, Buenos Diaz EvCC.
"We are accepting resumes," said Diaz. Everyone will began as part-time, according to school schedules. "Once we get busier, I  will eventually have to hire more people," said Diaz. She only has a few students working with her alongside her cousin, which is not enough hands when it comes to busy days.
Leave a Comment