Luke hits Buzzer-Beater, lifts Trojan to rivalry win
The Walt Price Fitness Center was buzzing on Wednesday night, Feb 22 as the Trojan's spoiled the Edmond's Triton's potential game-winning shot with a game-winner of their own in a thrilling 89-88 victory. The two NWAC rivals duked it out all game long, combining for a staggering 20 lead changes in the contest while both shot over 45% from three-point range. "The kids played great tonight, that was a big-time win for our team." head coach said. Despite freshman guard Tyriq Luke's 15 first half points, the Trojan's found themselves in a 9-point deficit with 5:08 left before going on a 14-4 run to end the half up 44-43.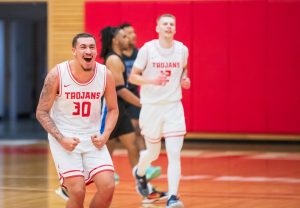 The teams would remain tied for nearly the first 10 minutes of the second half. Behind a few key Colton Spencer three-pointers and a little razzle dazzle behind the back pass by Tucker Molina for a lay-in by Taras Fesiienko, the Trojan's built an 80-68 lead with just over 5 minutes left in the game. The Triton's would claw their way back into the contest, going on an 18-7 run capped by a steal by freshman guard Chris Lee to set up the Tritons for a potential lead-changing shot with 15 seconds left. Lee would answer the call again, driving left off an inbounds pass off a timeout and hitting a 15-foot jumper with 2.5 seconds left sending the Triton's bench into a frenzy. Lee finished with a game-high 27 points on 9-23 shooting ,including 4-8 from three-point range.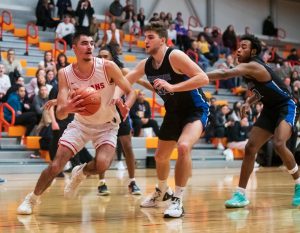 The Trojans, off their final timeout, needed a miracle and received one. After a long inbounds pass from freshman guard Jordan Medcalf to Tucker Molina, Molina hurried a pass to Luke who threw up a 20-foot prayer that saw nothing but net. The crowd at Walt-Price went ballistic, including the two-dozen or so shirtless men's baseball team members who spilled onto the court after a night filled with heckling at every opportunity.
Luke's clutch performance included a team-high 25 points on 10-19 shooting with 5-threes and 5 assists to go with it.
"The kid's a damn good basketball player, he started the game with 12 of our team's first 15 points." Coach Trautman said in praising his guard's play. The win keeps the Trojan's alive for a potential NWAC tournament berth. Now 20-7 with a 7-5 division record on the season, The Trojan's look to avenge a late-January defeat on Saturday Feb 25 in their home-finale at 4pm against the Olympic Rangers. Trautman was adamant that when his team doesn't make team mistakes, he believes nobody can beat them, "The only time we've lost this year I believe is when we beat ourselves, we almost beat ourselves again tonight." Trautman said.
Leave a Comment
About the Contributor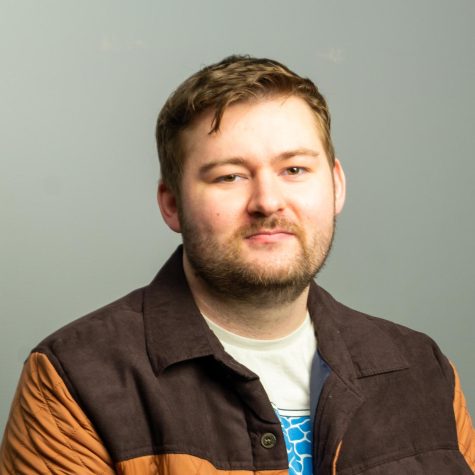 Nate Oberg, Managing Editor of Content


What interests you about journalism?

The aspect of being able to inform people regularly on various topics and issues in our everyday lives is extremely...