The Best Everett Restaurants, According to EvCC Students and Staff
If you've been wondering where to eat around EvCC, consider these three local restaurants recommended by EvCC students and staff, who attest to their conveniency, speedy service, and good inexpensive food.
As of right now, EvCC's own Parks Café and Bargreen Coffee Co. locations have suspended operations due to the COVID-19 pandemic. Luckily, there's a wide variety of local restaurants that welcome new business during these trying times.
EvCC student Shaemin Kim says her favorite spot is Umami. Umami is a Japanese restaurant with plenty of menu options to choose from, such as a build-your-own poke bowl, sushi burritos, and a selection of bubble tea.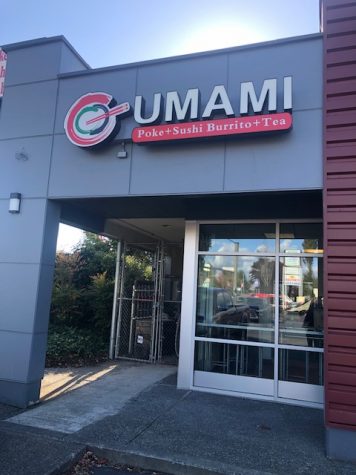 Kim explains, "Umami is my favorite because I love poke and it's in a very convenient location. It's hard to find good poke around here!" In fact, Umami is located directly next to EvCC, just to the right of Walter Price Fitness Center.
Umami offers delivery through Grubhub, as well as take-out. They also offer an in restaurant seating area, a great place to catch up on homework while eating your poke bowl. Their hours are 10:00am-8:30pm Monday through Thursday, 10:00am-9:00pm on Fridays, noon to 8:30pm on Saturdays, and noon to 8:00pm on Sundays.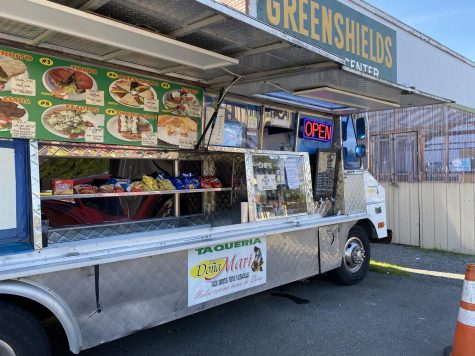 Frederick Dooley, an EvCC biology instructor, claims Taqueria Doña Mari is "amazing." Taqueria Doña Mari is a taco truck located in the parking lot of Greenshields Industrial Supply. Although it is a bit of a trek from EvCC, just under a half a mile, Dooley says it's the best place to get Mexican food in the area. Dooley says, "the taco truck will make you fat" because in his experience, he can't get enough of their tacos and can't help himself from coming back for more.
Taqueria Doña Mari offers a few outdoor picnic tables if you choose to dine-in. If not, they also provide take-out. Their hours are 11am-8pm, and they are open everyday of the week except Sunday.
Lastly, Diedrich Espresso comes recommended by another student at EvCC, Ann-Marie Vo. Diedrich Espresso is located right inside EvCC's campus; conveniently placed in the staff parking lot to the right of Glacier Hall. Vo says, "It's really convenient how it is right on campus, making it an easy place to grab a quick bite in between classes."
Not only does Diedrich Espresso provide drinks, they also offer "Puffles," waffle treats with a variety of toppings to choose from, which are specific to this food truck location.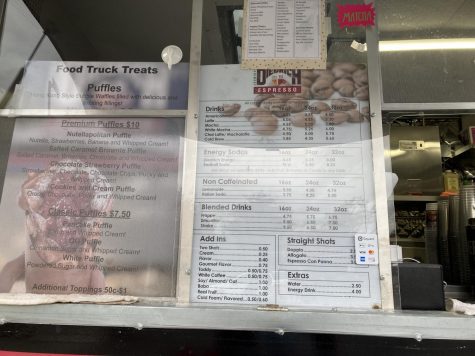 Diedrich Espresso's owner, Jasmine Diedrich, says that although they have twenty other locations in the area, they started their mobile truck just this year and decided to come to EvCC since its dining services are closed. Diedrich says "We hope that students coming to the campus and teachers support us as we came for all of you!"
Diedrich Espresso's truck offers takeout 7:30am-2pm Monday through Thursday.
From Japanese restaurants, Mexican taco trucks, and espresso trucks; EvCC's surrounding area has a large variety of food to offer. As EvCC's own dining services are suspended, now is your time to go out and try these places if you haven't yet.
Location and Contact Information.
Unami | 902 N Broadway Ave | +1 (425) 322-3761
Taqueria Doña Mari | 710 N Broadway Ave, Everett, Wa 98208 | (360) 560-1035
Diedrich Espresso | (425) 339-2213
View Comments (1)