Two Easy Appetizer Recipes for College Students
These Simple Recipes Can Be Prepared from the Comfort of Your Own Dorm
Trying new recipes can be both fun and intimidating, especially if you are new to the kitchen or living with limited supplies, such as in a campus dorm. The recipes featured here use minimal prep and a microwave to heat. Whip one of them up for your next gathering, and you might be labeled a culinary genius.
The cold winter season often involves holiday parties and enjoying more activities indoors with friends and family. Whether you're watching football or attending a party, food is usually involved. 
When there are two minutes left in the game and you're hanging on the edge of your seat, screaming at the television screen like a banshee, you can reward your efforts afterward with one of these delicious appetizers. 
Better yet, if your family party consists of Aunt Martha talking about her health, Uncle Pete ranting about politics and your grandma harassing you about your love life, you can redirect the conversation by offering them some food. Try it, it works. You may find these twists on American classic entrees to be your new favorite party food. 
Buffalo Chicken Dip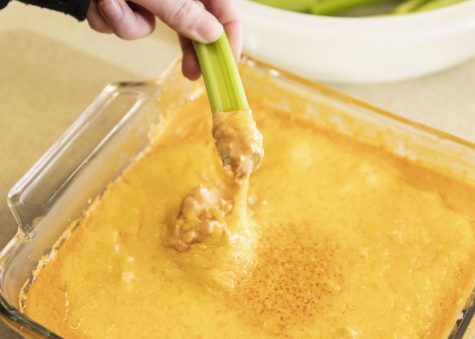 Ingredients:
2 – 8oz packages cream cheese
1 packet ranch dip mix
1 cup buffalo style hot sauce 
2 – 12 oz cans chunk chicken in water
1 – 8oz package (2 cups) shredded cheddar cheese
1 package celery hearts
Corn chips and/or crackers
 Directions:
Rinse and pat dry the celery, then cut into 2-inch sticks. Set aside. Remove cream cheese from packaging and place in a 2-quart microwave-safe serving container. Microwave for 20-30 seconds to soften cream cheese. While waiting, drain water from cans of chicken. Remove container from microwave with potholders. Mix in ranch dip, chicken, hot sauce, and half of cheese until even. Return to microwave for 2 minutes. Add remaining cheese to top and microwave for 2 minutes or until cheese is bubbling. Dip will be very hot, so handle with potholders. Serve warm.
Adapted from recipe by Tammi Roy at www.myorganizedchaos.net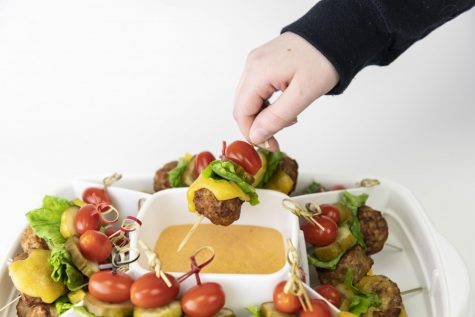 Cheeseburger Bites
Ingredients:
1 package 3-inch skewers
1 package grape or cherry tomatoes
2-4 whole pickles sliced ¼ inch thick or 1 small jar of hamburger pickles
1 head green leaf lettuce or bag of pre-cut romaine lettuce
5-6 square cheese slices, cut into 4 quarters each
1 bag frozen, cooked homestyle meatballs (about 20-24)
Store-bought fry sauce (or make the dipping sauce below)
Dipping sauce:
1 cup mayo
½ cup ketchup
1 tablespoon buffalo hot sauce or pickle juice
1 teaspoon yellow mustard
Seasoning salt to taste
Directions:
Rinse tomatoes and lettuce, setting aside. Prep all skewers with a tomato, pickle slice and lettuce. If making the dipping sauce, mix all ingredients until smooth and set aside.
On a microwave-safe plate, load the frozen meatballs, leaving space between each. Cook according to package instructions; using a fork or tongs, flip the meatballs halfway through cooking time, then add cheese slices on top. Finish cooking. Once removed from the microwave, push each skewer end into top of cooked meatball, using a fork or tongs to avoid touching hot meatballs. Serve warm.
Adapted from recipe by Holly Nilsson at www.spendwithpennies.com 
Both of these dorm-friendly recipes are great additions to your next gathering and can be enjoyed any time of year. Have fun, customize to your tastes and share with others.
Leave a Comment