Studying in Style: Fall Fashion
EvCC Students Share Their Personal Styles for Fall and Winter Fashion
As a cold winter creeps up on us, EvCC students show off their personal style on campus, while keeping warm with this upcoming winter season.
Whether it's boots, knit tops or layers and layers of clothing, nothing tends to stop these EvCC students from expressing their individual style.
EvCC student, Lakethia Sakin, says "my style definitely varies but if I had to choose I would say I enjoy the vintage style along with colors and variety."
Being a full time student, Sakin tends to rely on her mood when figuring out what to wear for the day. "When I'm in class I don't really feel like dressing the way that I want to because I'm tired, but when I'm going out that's a different story."
Student Rebecca Robinson, really relies on secondhand clothing to give her the wardrobe she envisions. "I generally thrift for most of my stuff because it's a lot cheaper, but sometimes I do like online shopping."
When trying to stay warm during the fall and winter, layering is a go to for most students. "You can layer a lot of things and create really cool and unique looks that you wouldn't have normally worn," says Robinson.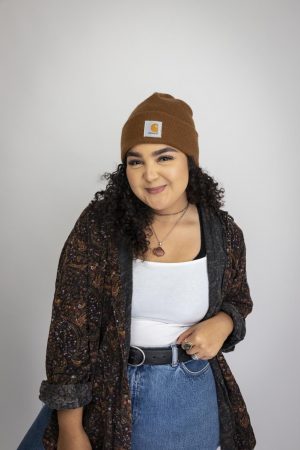 "Everything comfort is my style. Easy access because I have to do quick changes for work and I want to feel comfortable all the time," says EvCC student Maelyn Weatherspoon.
Being a big advocate on thrifting and second hand shopping, she tends to stick to primarily thrift fashion.
"I don't really support fast fashion, so everything I wear is second hand, which means I'm always on the look. Because things are a little more rare to find so I probably go every weekend. Everything that I own expresses me, I am never wearing something that isn't patterned or a little shiny," says Weatherspoon.
"It depends on what I'm doing for the day but if I'm skating I'll throw on a pair of cropped chinos and a baggy shirt, just something to skate in. I also have dressy stuff but it just depends on the occasion," says student Levi Montes.
Weather tends to dictate what we wear especially during the colder seasons, but this doesn't stop our EvCC students from keeping their personal style intact, while still dressing to impress.
Leave a Comment