Goodbye Students, Hello Staff
Three current EvCC employees who studied on campus
When attending school, most students' dream is to graduate and never set foot on campus again. A few graduates however, decided that this school had more to offer than lectures and exams. Whether they came here long after or immediately following their graduation, they came back and are now a part of EvCC's staff and faculty.
Ryan Masinelli, CIS instructor and lab tech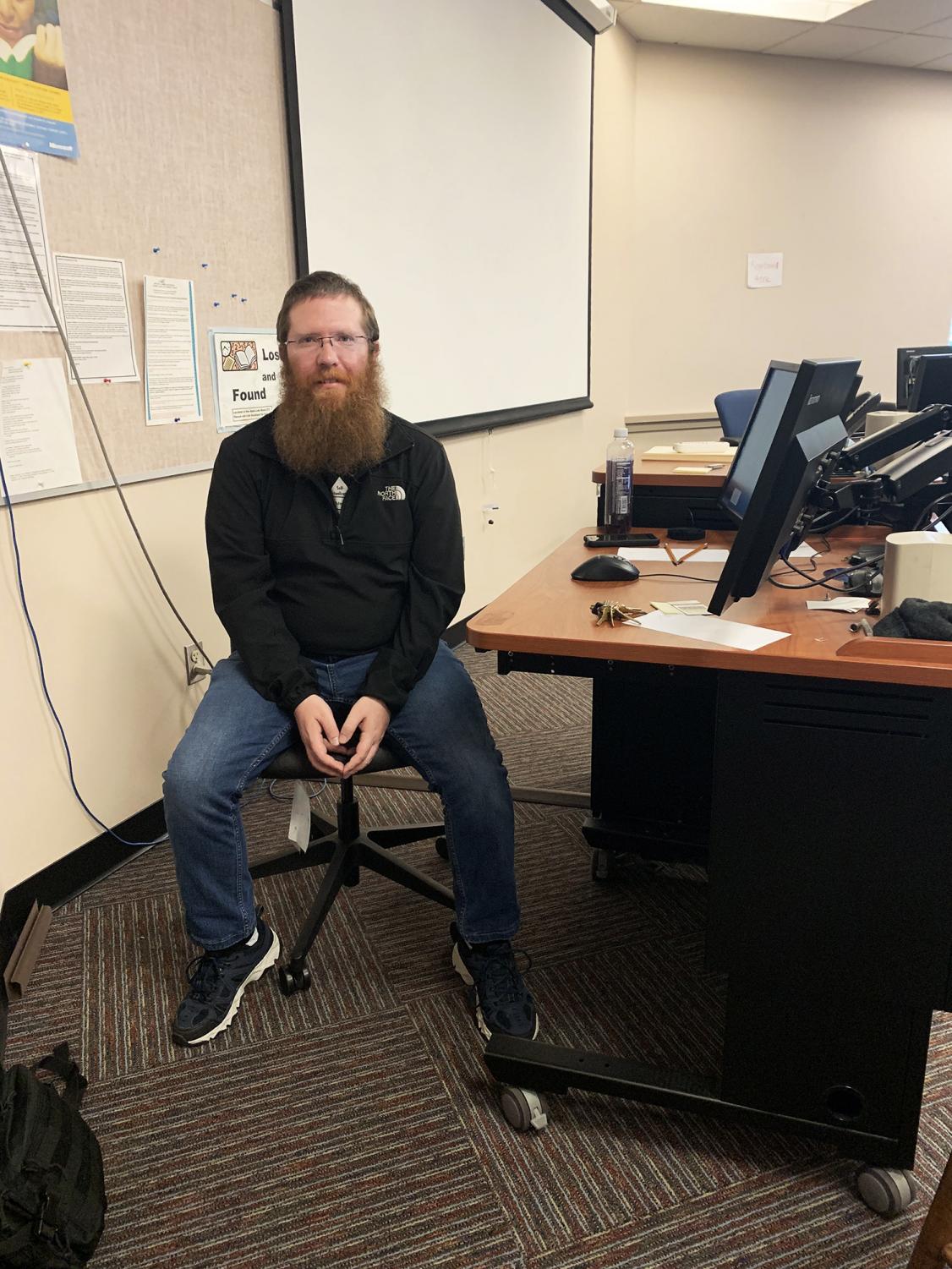 Many staff members had a different career path before coming back to EvCC. For example, Ryan Masinelli, a CIS instructor and lab tech, was employed in the military and was deployed to both Iraq and Afghanistan. He became a student here in 2013 and graduated in 2015. During his time here, one of his instructors got into a car accident and asked if he would be willing to assist with guiding his class. This led to him securing a part-time staff position and eventually picking up a class to teach on his own.
When asked what his thoughts were on being offered the job, he explained how much he enjoyed working with computers and wanted to continue his work with them. At the time, Masinelli was one of the few staff in I.T, recalling that there were only about three people in the department. But now, he has seen the program grow into something that required about nine staff members.
Even with these new staff, it's difficult not to run into the people who used to teach him as a student. "Now my mentors are my friends. We've moved on to collaborating, talking [about our] personal lives, and [I see] them as more than teachers."
"
Now my mentors are my friends. [I see] them as more than teachers."
— Ryan Masinelli
Austin Johnson, Program Coordinator
Austin Johnson, who currently works in the fitness center, attended EvCC through the Running Start program, acquiring both high school and college credits simultaneously. He now sets up conferences, rents out the gym and makes sure all of the fitness center equipment is safe for students to use.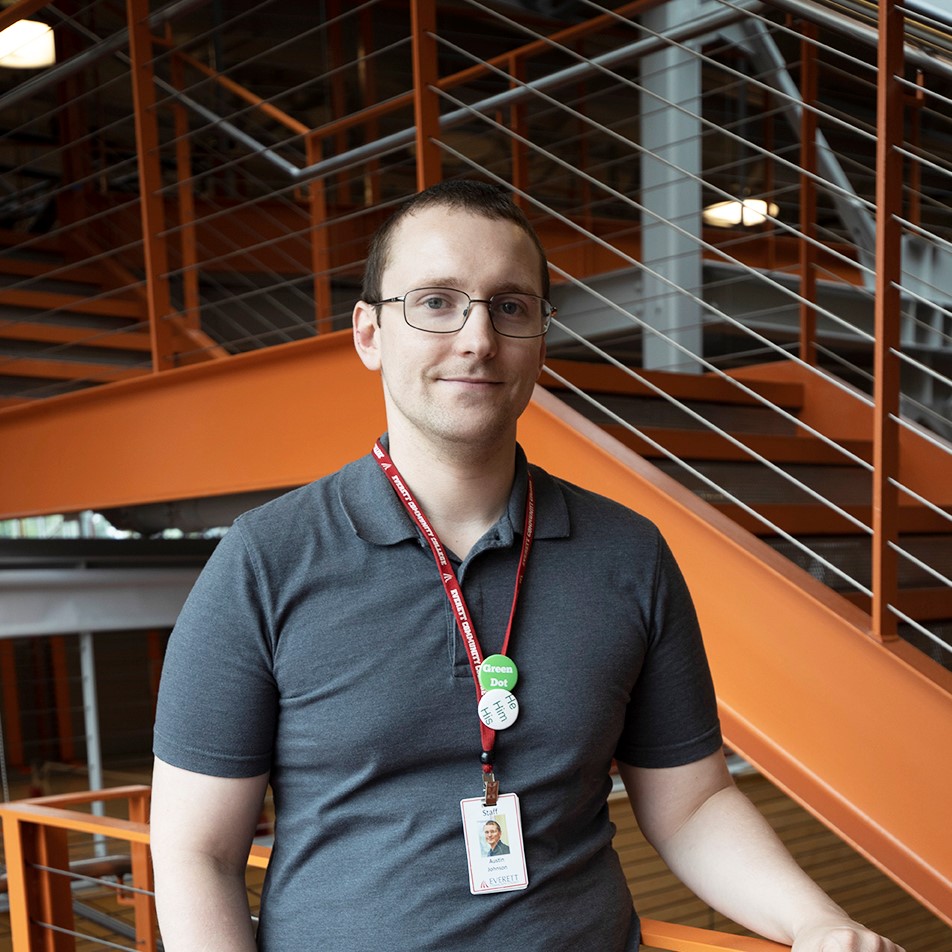 Johnson graduated for the first time in 2010 before he came back in 2014 to take more science classes. "I just like taking classes and learning new things," he said. The last classes he took were toward a certification for electronic troubleshooting and repair from the Corporate & Continuing Education Center.
While he was attending college the second time, his mother was diagnosed with stage 4 cancer. This led to him worrying about payments for both his classes and her medical funds as well as her overall health.  Following her diagnosis, he became interested in learning more about cancer and took classes to expand his understanding.
Even with all of the changes to his academic path and family life, Johnson still managed to run for ASB vice president of public relations. He won the spot in 2015 and served for the entire year.
When he thought back about his time here and who taught him, he said, "Most of the people I met, I work with now." He claimed that it was "funny seeing [previous teachers and staff] as coworkers and organizing [events] with them" now that they see each other on a regular basis.
Jenny Marin, Marketing Specialist
Another former Running Start student who now works on campus is Jenny Marin. She is a marketing specialist who has worked at EvCC for the past 11 years and focuses on internal and external communications such as the employee newsletter, social media strategies and publications like the class schedule.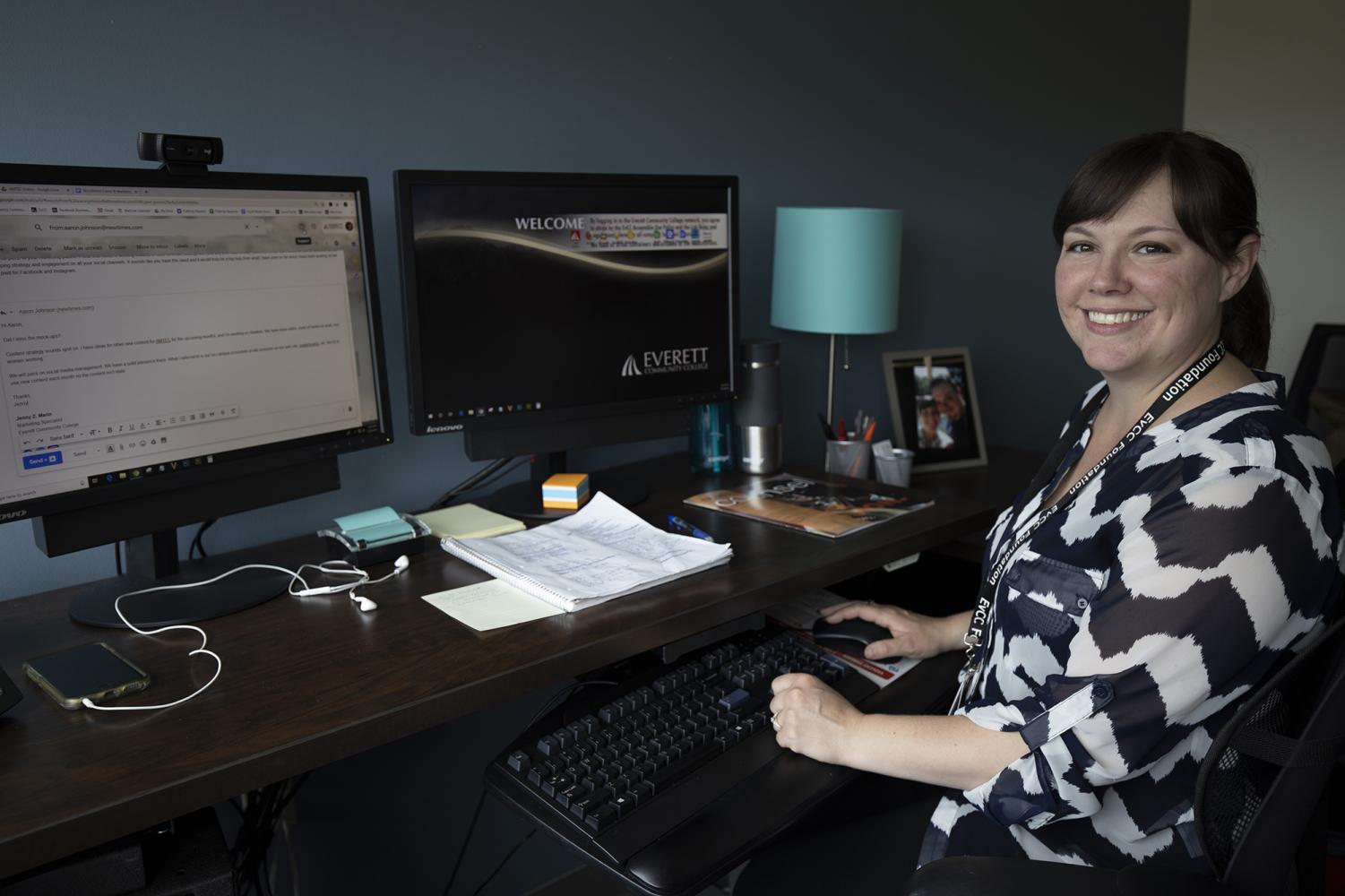 "When I started we didn't even have a Facebook page. Now a big part of what I do is create ads for it." She claimed that creating real paper layouts with rulers is what interested her in journalism and set her on the path of her major. After graduating from EvCC as a student, she transferred to Western and continued majoring in Journalism.
"
I was once a student and I care about the college and area on a personal level."
— Jenny Marin
In the end, she decided to come back home because she wanted to be close to her family and she loved it here. Upon return, she connected with EvCC again and was offered a job.  When asked why she accepted the offer, she said, "I was once a student and I care about the college and area on a personal level." Because of this, she wanted to participate in its growth.
The results speak for themselves. Thanks to her efforts in branding and social media strategies, the college's Facebook page has gone from 0 to 18,000 likes.
After graduating, not all students have a grasp on what they want to do or where they want to go. However, from these staff stories, it can be determined that students can always go back to where they started and contribute to the students of the future. According to Marin, "It's been really exciting to see the college grow and continue to be so important to the community."