Former Cascade High School Football Player Makes it to the NFL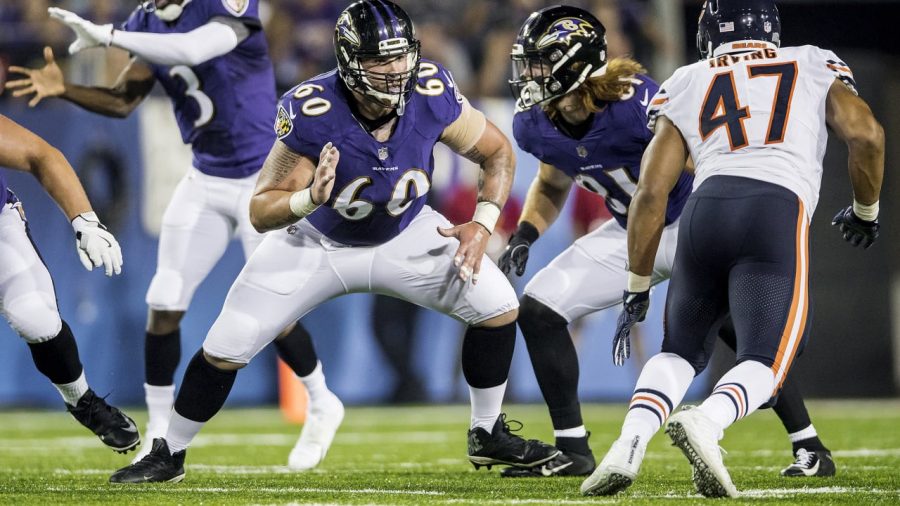 Randin Crecelius, one of 308 players invited to NFL training camp in 2018, was selected as one of the 15 Undrafted Free Agents (UDFA) to get his chance to play for the Baltimore Ravens.
Scott Carter, a senior beat reporter for the Florida Gators tweeted a photo that showed the odds of someone making it into the NFL back in 2013. The information showed that the average number of 310,465 high school seniors play football every year. Of that, only 70,147 (6.5% of high school players) will be lucky enough to play college football. And of the 70,147 players, only 6,500 will be scouted by the NFL.
Out of the 6,500 scouted players, only 256 of them will become drafted. That's 1.6% of players that make it from college to the NFL.
Born in Edmonds, WA. Crecelius started playing football at a young age. Crecelius said, "I started when I was five, I played flag until I was nine… that's when I first started playing football with like all the older guys who were like 11- and 12-year-olds."
As a young boy, he played football and baseball but stopped so he could play year-round football for his dad.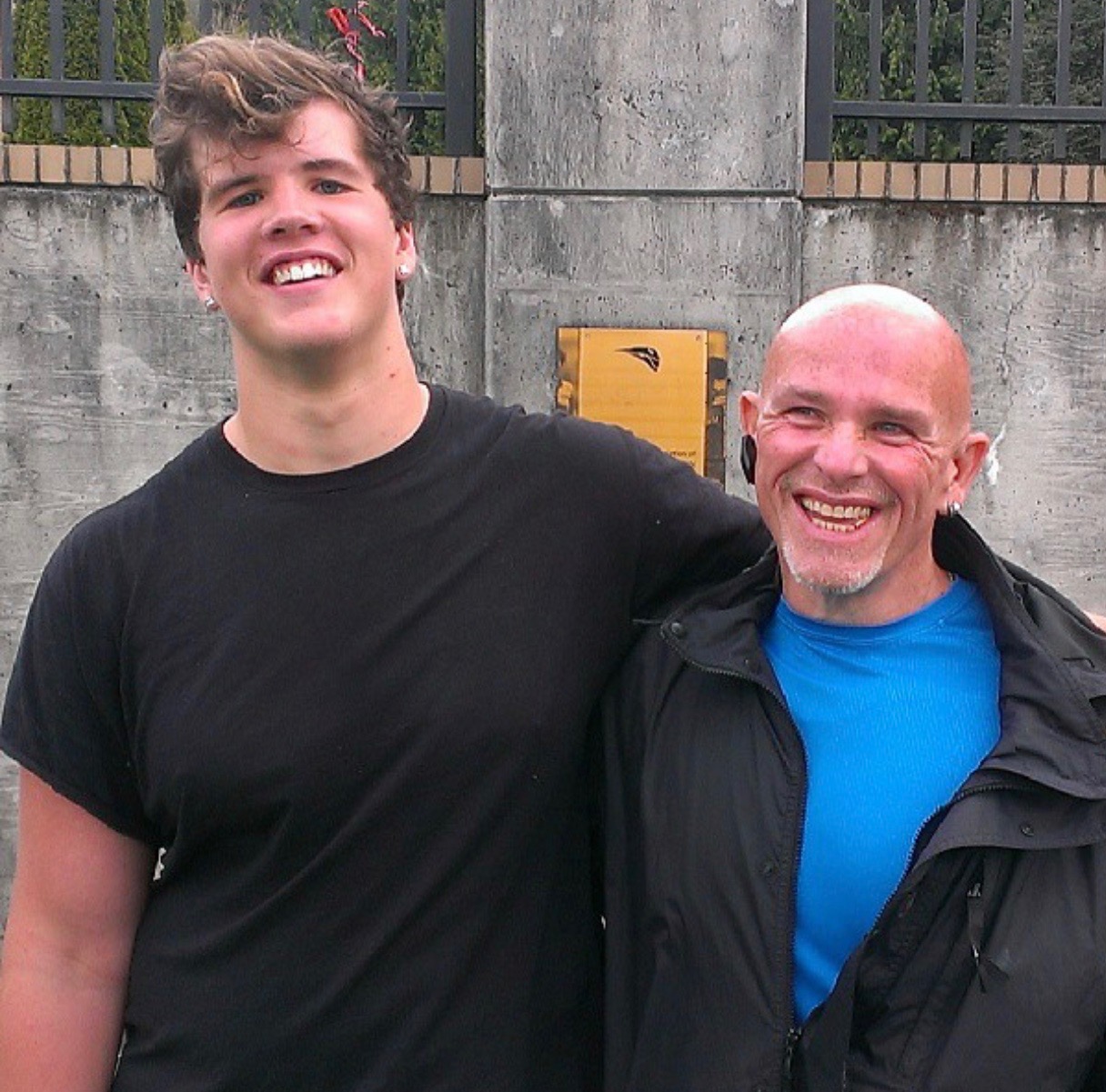 ­­­­­­­­
Crecelius isn't the only athlete in his family. His father, Michael, played three years of college football until he joined the military. He eventually came back and played semi-professional football until he blew his knee out at work.
His older sister, Chelsea played youth football for the Silver Lake Timberwolves where her team, coached by her dad won the National Championships in Las Vegas. She continued to play football through her Junior year at Lake Stevens High School.
Crecelius remembers how dominant his sister was. Saying, "She was better at football than me, like comparing her Sophomore year to my Sophomore year in high school, she was better."
Crecelius and his family moved to Lake Stevens where he played youth football for the Lake Stevens Junior Athletic Association (LSJAA) where he played offensive and defensive line.
As a Freshman, Crecelius decided to variance to Cascade High School where he felt he had a better opportunity. But, due to Washington Interscholastic Activities Association (WIAA) guidelines, he had to sit out his Freshman year.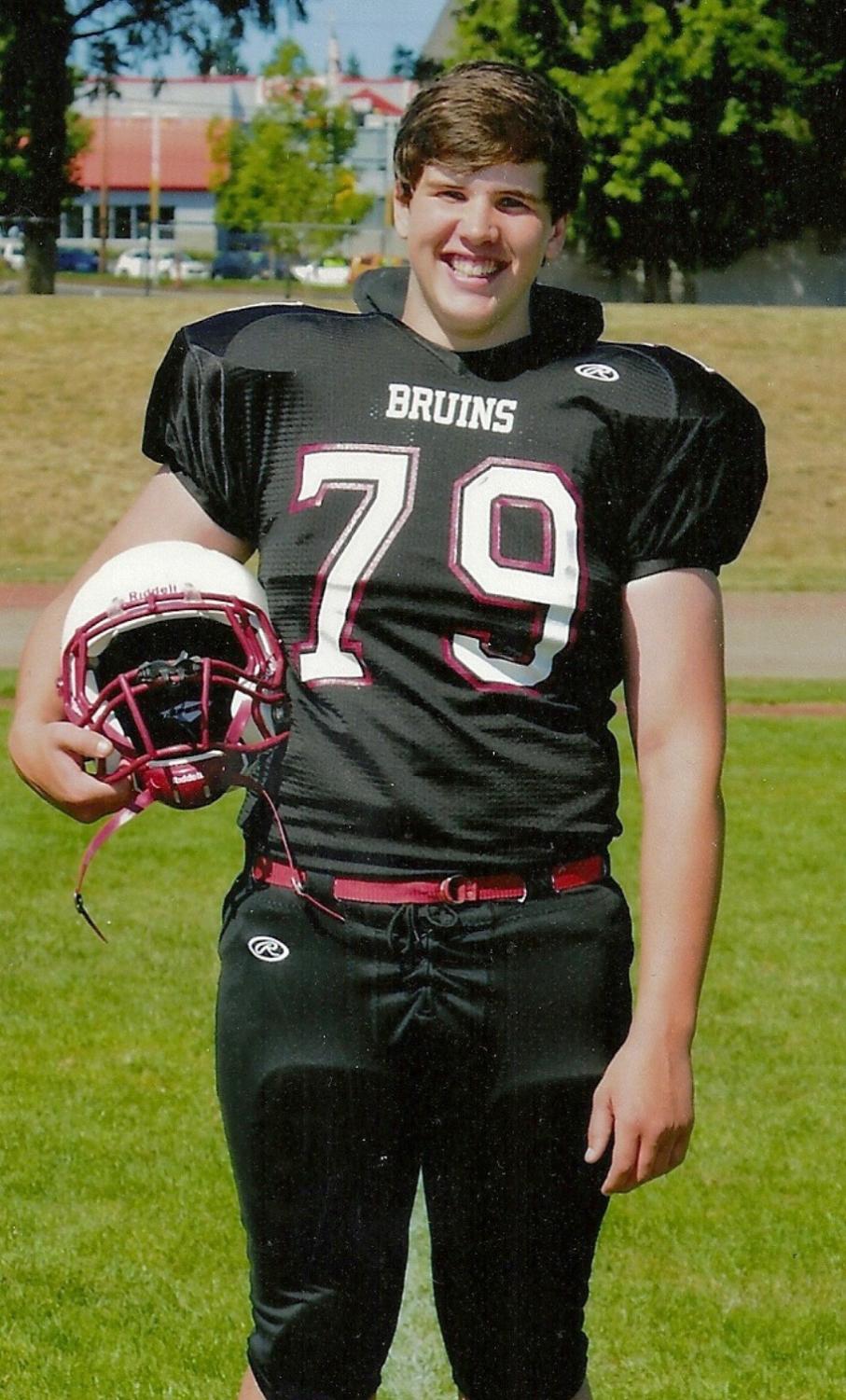 After his Sophomore season, the team had finished last-place in their division for the second year in a row, with a record of 0-23. But after a coaching change and a program reboot, Crecelius and the Cascade Bruins were able to finish their final two seasons strong with a 14-7 record.
One of his high school coaches, Michael Hodgins remembered the first time he ever saw Crecelius playing. Saying, "It was his Sophomore year–first game of the season.  I was coaching against him (at Lake Stevens) … obviously this was a big kid… So, we noticed both his size, especially for a Sophomore, but also that he was just a Sophomore and already a Captain."
Hodgins touched on how Crecelius had an impact in the locker-room and on the field. Saying, "Knowing we could line him up where and how we wanted knowing that he would win his battles…"
Hodgins said, "I have coached some great players before but… Randin was unlike any other in my coaching career.  I think the other coaches would all agree with that." 
Crecelius was able to get more publicity for a possible future in collegiate football after winning Second Team Western Conference (WESCO) on both offense and defense his Sophomore year and First Team All-WESCO on offense and defense his Senior year.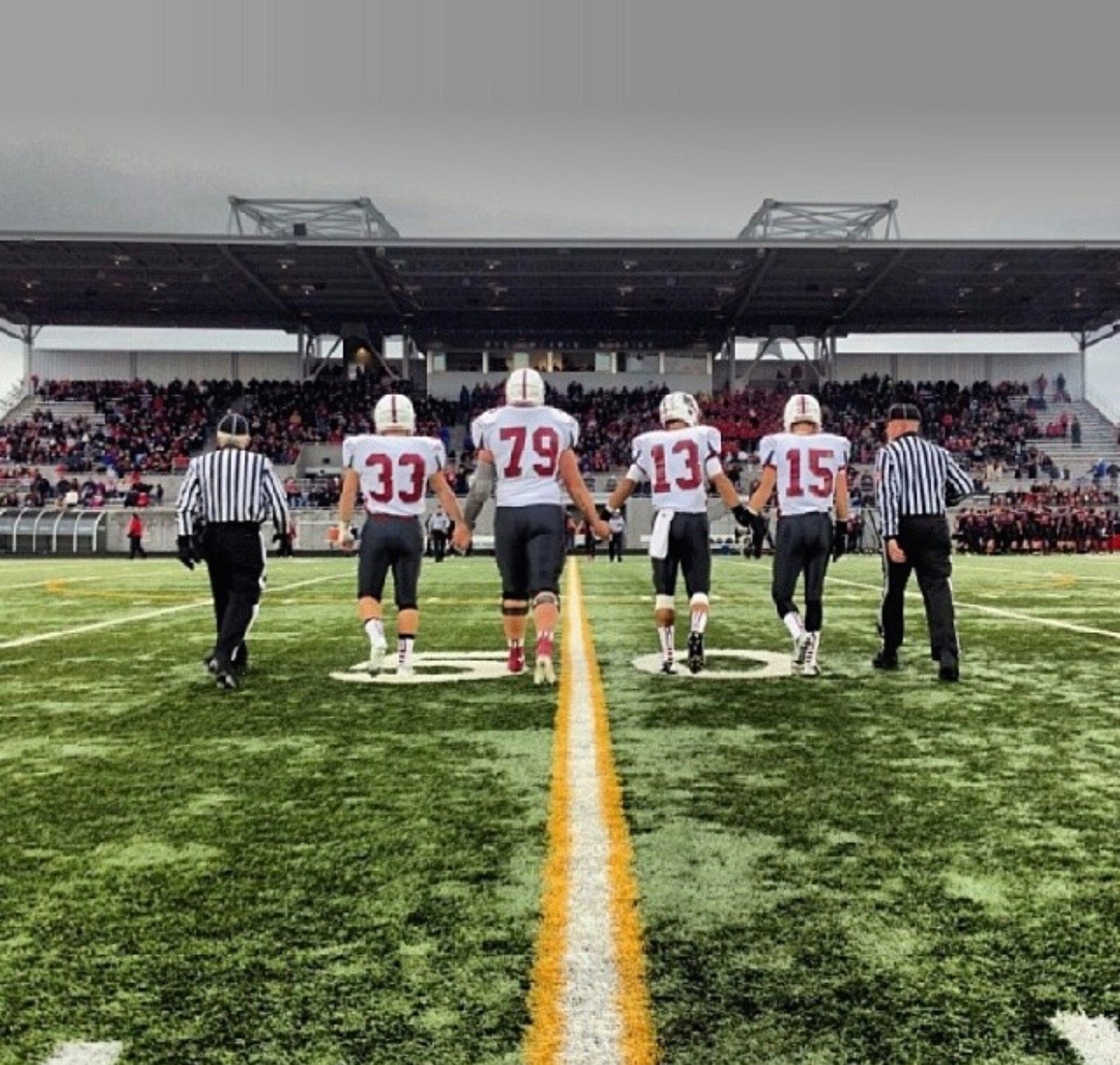 Including, being team co-captain his Sophomore year and captain his Junior and Senior year, he was also voted most inspirational by his teammates, and won his team's best blocker award all three years.
Going into his Senior season, Crecelius received an offer from Portland State and the University of Wyoming. Saying, "I got an offer from Portland State and then a few weeks from signing day, I got an offer from Wyoming… I went on my official [visit] to Portland state before I signed. And then I committed there."
After his Junior season at Portland State, he started to get interest from NFL teams and scouts. Saying "we would have 2/3 scouts at practice every day just looking at me and other guys that had shots of making it."
Crecelius fought through many injuries throughout his years at Portland State. Just months before Pro-Day, he suffered a sprained MCL and tibia plateau fracture in his leg. The week following his injury he went back to the doctor and found out that he also tore his labrum in his shoulder and underwent immediate surgery.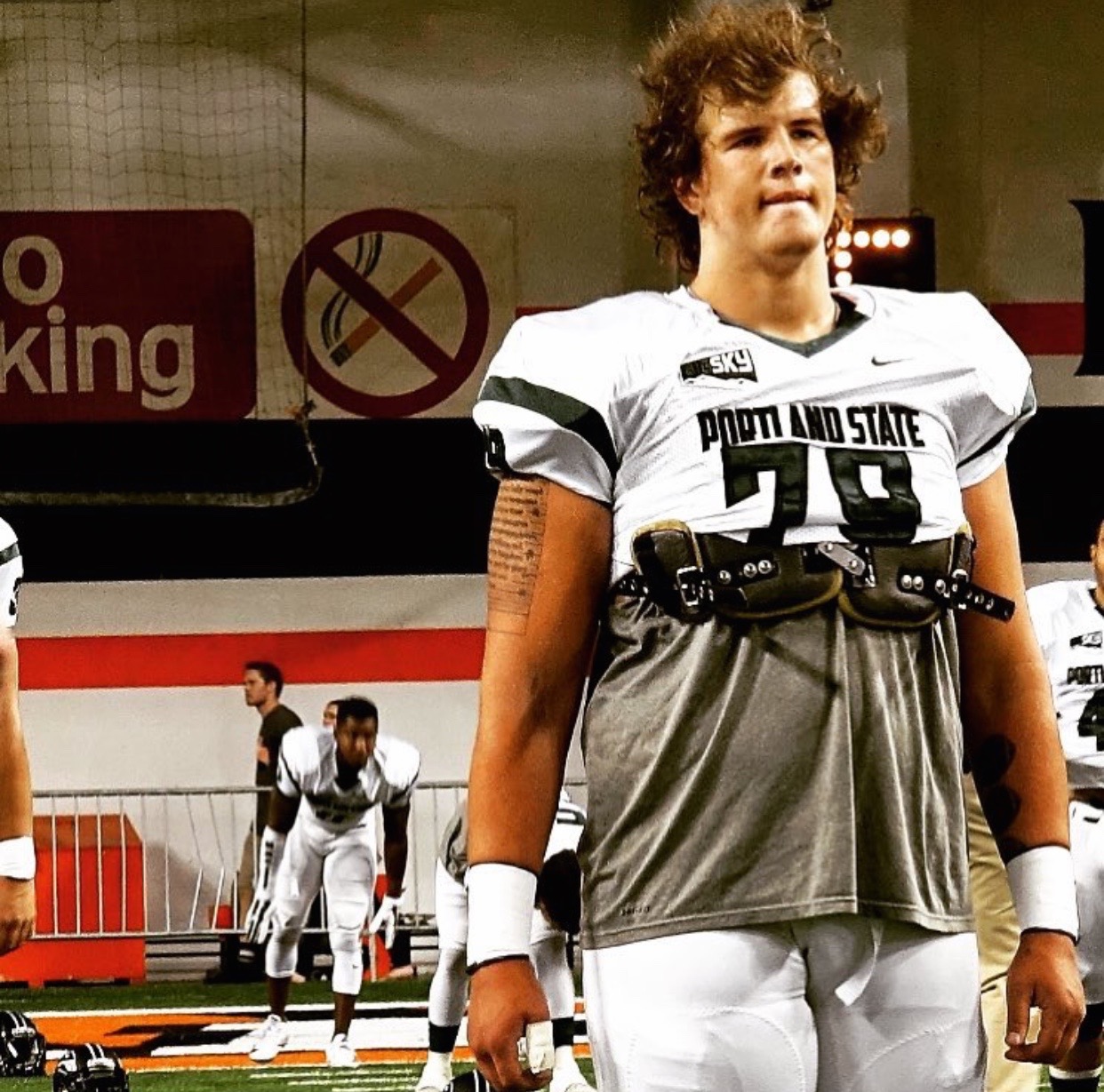 After training and rehabbing in Vancouver, Washington, Crecelius was cleared to participate in Pro-Day. He shared his thoughts, "…dang this is going to be really challenging you know, coming off an injury. So, I mean there was a little self-doubt at the beginning. But, like after I started working out again it's just like, yeah okay. I can get back into it easy."
Then, on day three of the draft, right after the last pick went in, his agent called him and said that numerous teams were looking at him.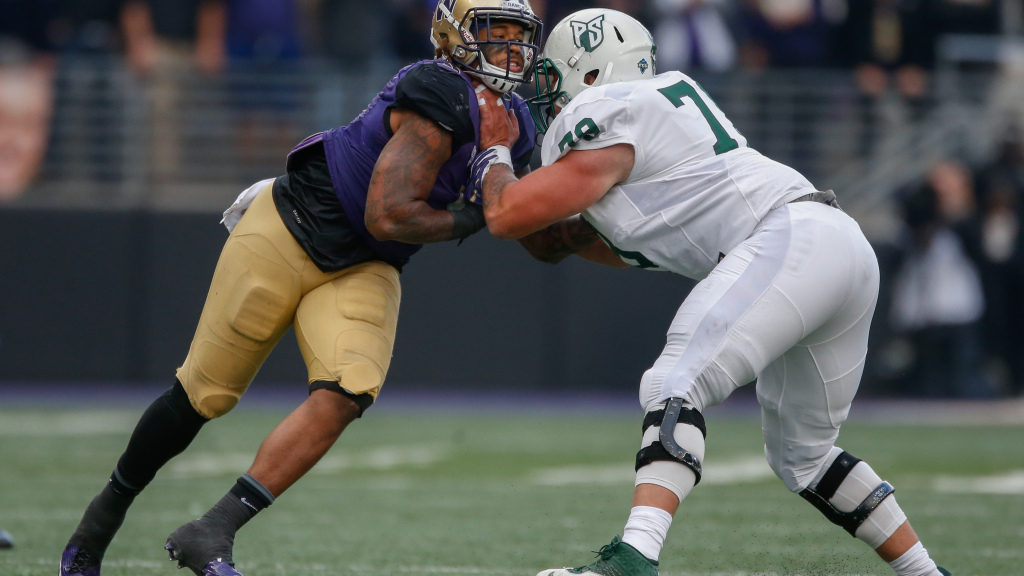 Crecelius was surprised when his agent told him about the news. He believed that because of his injuries, he might not get his chance to live out a lifelong dream.
A few hours later, his agent called back letting him know that the Ravens wanted to sign him as a UDFA.
After going through training camp, Crecelius was offered a spot on the Ravens practice squad. He described what it was like the first time he entered the locker-room saying, "the first day you walk into the locker room, you see Joe Flacco there. I've been watching him play like the last 10 years… But you have your fan moment for about a minute and then you realize you both have the same job, you're both in the league… it's just football."
After completing a full season on the practice squad, head coach, John Harbaugh offered Crecelius a reserve/future contract. Meaning, that he has already been signed for the upcoming season. These contracts are typically a one- or two-year deal that pays players the league minimum salary.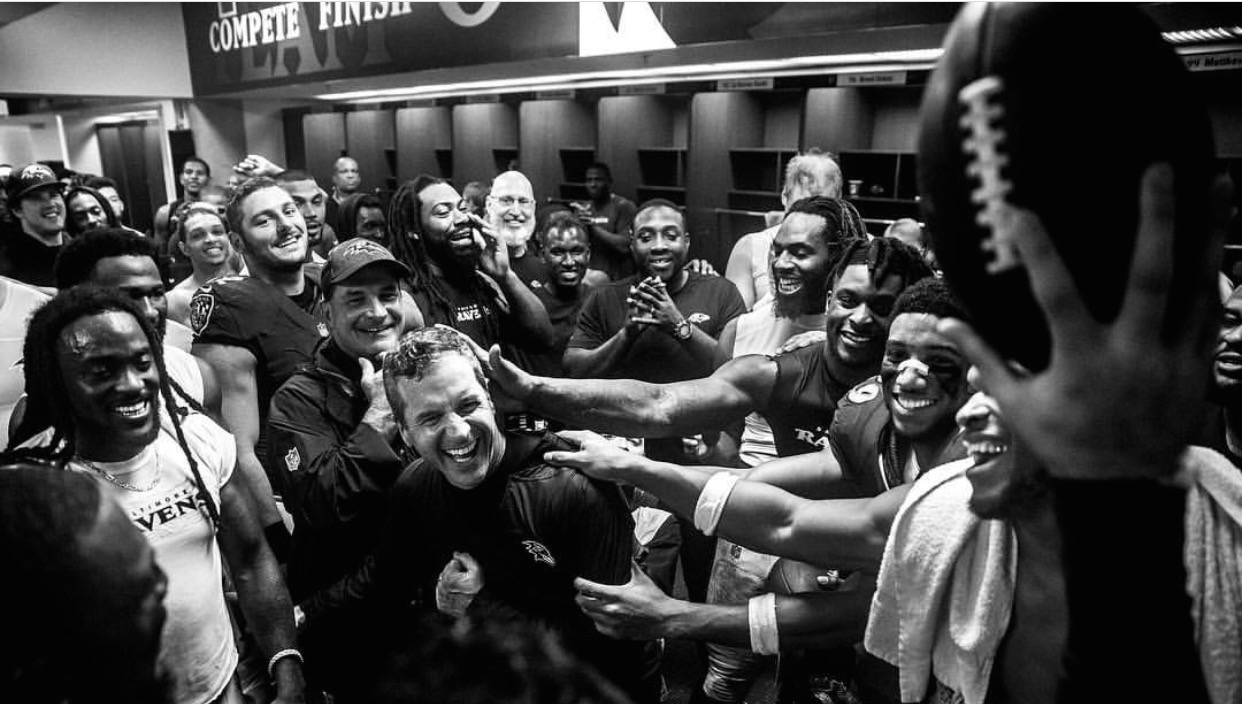 The future for Crecelius has yet to be written, but either way, his teammates and coaches will support him. Hodgins says, "Randin is somewhat of a gentle giant… he is obviously quite big and strong, but also laid back, warm, and friendly with a good sense of humor… he was well-liked and respected by others. Someone the team enjoyed watching film of on Mondays…"