How Local Cities Handled Snow Removal
Seattle and surrounding areas were warned about an incoming winter storm over the weekend. Leading up to the weekend grocery stores were raided by concerned customers, leaving their shelves barren. But why is everyone so worried? Will the snow storm really prevent travel for more than a day?
Four to eight inches were forecasted to fall Friday afternoon through Saturday evening, making travel difficult and at least a little hazardous. A winter warning was issued and a state of emergency declared by Gov. Jay Inslee. And if anyone visited a grocery store on Thursday night it was clear that people were preparing for some sort of apocalypse. The snow continued to fall Sunday and Monday evenings.
The city of Everett has a snow/ice plan that involves clearing main streets first and secondary streets last. They clear residential streets if staffing is proper and especially try to clear out hilly areas. If a street has already iced over it cannot be plowed. The city is equipped with plowing machines and has de-icing measures to keep the streets safe. A news release on the Everett government page stated that "As of 8 a.m. Sunday, crews had plowed 5,145 miles of streets and laid 2,302 cubic yards of salt and sand."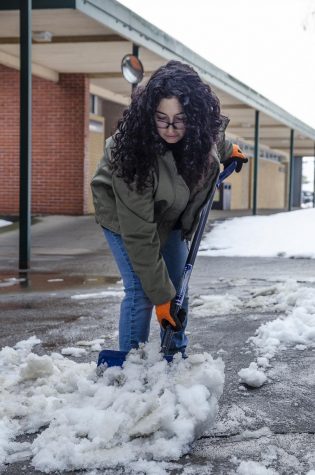 EvCC classes have been canceled for most of this snowstorm, but on the days that campus was open the main parking lots were not cleared and the snow had been packed in an iced over from students driving on it. Turning the lots into dangerous ice rinks.
Seattle area has been hit with big snow storms before. The most recent being in 2012 when the city was hit with 6.8 inches. This storm was hyped up to be the biggest storm in Seattle in decades. One thing many Seattle storms have in common is that they basically cripple the city because transportation is difficult. Many think this is due to Seattle area drivers being unable to drive in the snow, but city infrastructure and response to snow are at play here. The city of Seattle is laid out with big hills and narrow streets that a snowplow couldn't fit on if it wanted to. So really Seattle citizens are essentially forced to wait out the snow.
The Seattle government page has a map of which streets have been plowed and how recently, the map also has an option to view traffic cams in order to assess road conditions.
City governments are responsible for clearing their respective city streets while state governments work to clear all highways using salt and de-icing measures as well as plowing. Government officials are working hard to keep the streets safe so be patient and stay in if your commute will be dangerous.