International Students' Perspectives of America
Next time you're walking around EvCC's campus, take a moment to look at the people around you. It shouldn't take long to notice a wide array of people with different cultural backgrounds. If you sit still for just a few minutes on a busy day, you will likely see dozens of unique individuals, each with their own untold stories.
EvCC is host to students from across the world and has served as their introduction to American culture. These stories are a vast treasure trove of unique perspectives and ideas that one can learn so much from.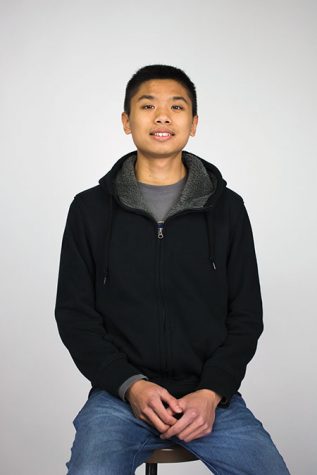 KaHo Lai
KaHo Lai, a third-year, 21-year-old Mechanical Engineering student from Hong Kong, came to EvCC in the fall of 2015 after hearing about the Aviation Maintenance program. He deduced that if the school has a reputable aviation program, it must also have a solid engineering program.
Lai describes people in the US as friendlier. "I can just say 'Hi, how are you?' and start a conversation," said Lai. "In Hong Kong, people will wonder about your intentions." He describes everyone at EvCC as "very helpful."
Julia Smilijanic
Another student is Julia Smiljanic, a 20-year-old communications major with a Canadian/American dual citizenship. She lived in Vancouver BC until three years ago, when she moved to Washington with her family.
According to Smiljanic, her Canadian friends have a distorted view of American gun violence and many believe all Americans love Donald Trump. For example, one of her friends told her that 80% of American gun owners have been injured by their own firearm.
Smilijanic intends to stay in the states and says she feels at home in Washington. "I always knew I wouldn't be staying in BC," said Smiljanic.
Emily Eme Arizal
Emily Eme Arizal, a 21-year-old biomedical science major, came to the United States from Malaysia in the spring of 2017.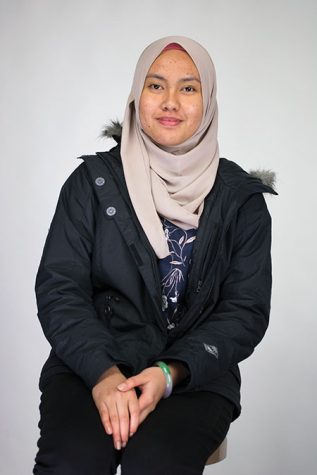 Arizal doesn't always feel safe. Anti-muslim sentiment has been a pervasive issue in current American politics, highlighted by Donald Trump's "Muslim ban" in January 2017. However, what stands out to her isn't the public anti-Muslim sentiment, but the vocal resistance, such as the many people who protested at airports when the ban was announced.
"Americans are confident and prepared to deal with the consequences of voicing their opinions." She feels people in Malaysia are more likely to keep to themselves and avoid hurting anyone's feelings.
A misconception Arizal had before arriving in the country was that Americans didn't take their education seriously. Upon arrival, she found that to be untrue. In fact, she admires the lecturers for their knowledge and enthusiasm, and the hard-working students for being unafraid to ask questions.
"Americans seem  to be more curious and want to go deeper, and push the limits."
Zaki Hamid
Zaki Hamid, 43, is an adjunct faculty member at EvCC from Jordan. He first applied for immigration to the US in 1982 and waited 12 long years before finally being accepted in 1994. In 2001, he achieved full citizenship.
Hamid was surprised by the poverty he saw in America. "How is it that a country this rich has so much poverty?" he asked himself.
"The United States doesn't have a good reputation," Hamid said, commenting on the way the country is viewed in Jordan, politically speaking. "I wasn't prepared for how violent and aggressive the country can be."
According to Hamid, the common Jordanian opinion of Americans is a lot more encouraging. "We have some very strong, warm feelings about the people."
Hamid highlighted several experiences he had while road-tripping around the country in his youth. He spoke of meeting people all over who were warm and hospitable, with an amazing spirit of generosity.
Kana Furuta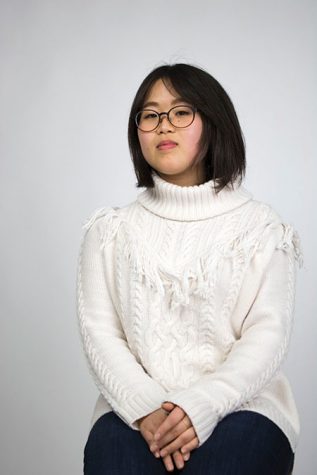 Finally, Kana Furuta, age 21, is a global studies major from Japan with a growing interest in journalism. Furuta lives in the EvCC dorms. She says the dorms are nice, but she laments that she doesn't have her own kitchen.
Her perspective on American people mirrors what others have said. "People in America would be more friendly than in Japan… People in Japan are too shy and they don't want to break their personal space."
Furuta's experiences in the bustling city of Tokyo have helped her appreciate some of the simpler things about living in a smaller city.
"I really like it in Everett. People are kind, and it's not so busy," said Furuta.
The diverse group of people that attend EvCC is a highlight for Furuta. She voiced appreciation for the large variation of cultures and ideas present in the college. She finished by stating, "Diversity will make us more knowledgeable."
Every story has something to contribute to our lives, and yet so many fascinating stories fall through the cracks. We will never be able to catch them all, but by taking the time to stop and talk to a stranger, we can enrich our own.