Within an Hour: Day Trips Less Than an Hour Away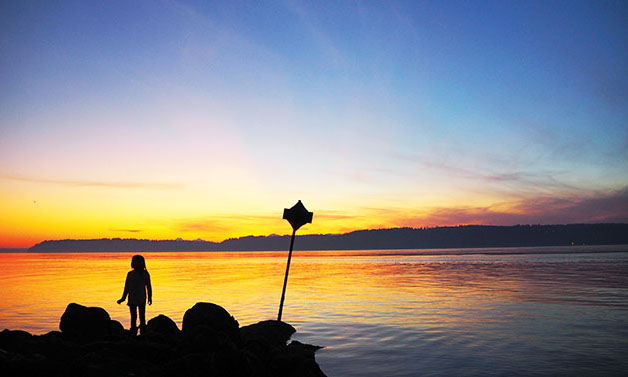 Not everyone can travel far for a weekend trip, especially college students. There are plenty of opportunities to explore within an hour of driving from Everett Community College. This month we're featuring Mukilteo as our go-to.
Mukilteo Lighthouse and Park
The Lighthouse and Gift Shop are open on the weekends from noon to 5 PM, April through September. Though they won't open again until next spring, the buildings still make for great photos. The Mukilteo Lighthouse Park has a beautiful view of the Puget Sound and Whidbey Island. Camping chairs, firewood, s'mores and an indie playlist are all you need for a relaxed Friday night hangout.
Edgewater Beach
The walkways and landscape design were renovated about two years ago and are now open to the public. For those that prefer a less crowded space, this beach is more hidden than the main Mukilteo Beach. The beach can be accessed through a path near the Mukilteo Train Station by walking. For those who prefer to drive, take Mukilteo Boulevard and turn on Mukilteo Lane.
http://www.portofeverett.com/recreation/beaches-kiteboarding/edgewater-beach
Henry's Donuts
Henry's Donuts is an absolute gem in Mukilteo. Their donuts are high quality and always fresh. Make sure to try their bacon maple bars, apple fritters, and classic sprinkle donuts. Henry's is also a popular place for car meetups if you happen to stop by around 9 pm.
https://www.facebook.com/pages/Henrys-Doughnuts/216776451685809
The Whidbey Ferry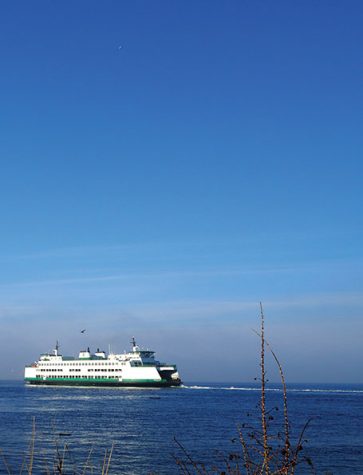 If you want to extend your day trip across the water, the Whidbey Island ferry leaves every half hour.
http://www.wsdot.wa.gov/ferries/fares/faresdetail.aspx?departingterm=14&arrivingterm=5
Ivar's Seafood Bar
Ivar's Seafood Bar has award-winning clam chowder and seafood at prices $5-10. For the brave souls that still eat ice cream during winter, Ivar's offers the best swirled soft serve.
https://www.ivars.com/locations/seafood-bars/seafood-bars-menus
The Japanese Gulch
The Gulch has a four-mile hiking trail that winds through Mukilteo. Some entrances include The Mukilteo Community Garden, The Mukilteo Dog Park, and the Trailhead at 19th Street. Make sure to hike only if it the trail is dry since Pacific Northwest weather tends to turn the trails to mud.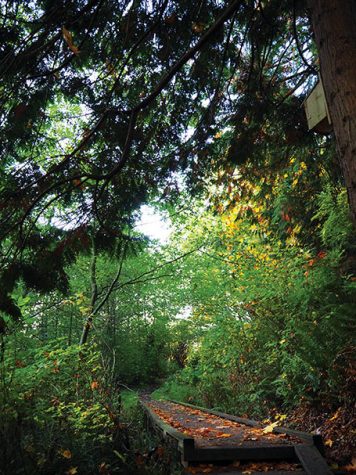 If you become lost, always remember: down. Heading downwards will take you to the train tracks that run through the center of the Gulch. The tracks will take you to the main road in town.
Rosehill Community Center
The  Rosehill Community Center is an absolute work of art. The architecture of the building itself is stunning. The main room of the Rosehill has floor-to-ceiling windows and a balcony overlooking downtown Mukilteo. Study corners and nooks are hidden all over the building. The Rosehill is quiet except for the occasional wedding. Another perk of the Rosehill: free parking. Parking at the beach is $2 an hour, and the Rosehill is about a five-minute walk from the beach.
Red Cup Café
The Red Cup is a beautiful little café with quirky wall décor and star-shaped lights in the windows. Local art is on display above the wooden tables. The café has an outdoor courtyard with trees surrounding it. Their soups and sandwiches are perfect for a cozy fall day. The average price for a croissant and a 16oz coffee is around $11.
https://www.facebook.com/RedCupCafe/
Z's Burgers
This whimsical little burger place serves all-American burgers and amazing milkshakes. Shelves around the walls are packed with vintage M & M and Coca-Cola collectibles. Model airplanes are hung from the ceiling painted to look like a blue sky.
By Laura Campbell, Social Media Manager