EvCC Women's Soccer Falls Valiantly to Peninsula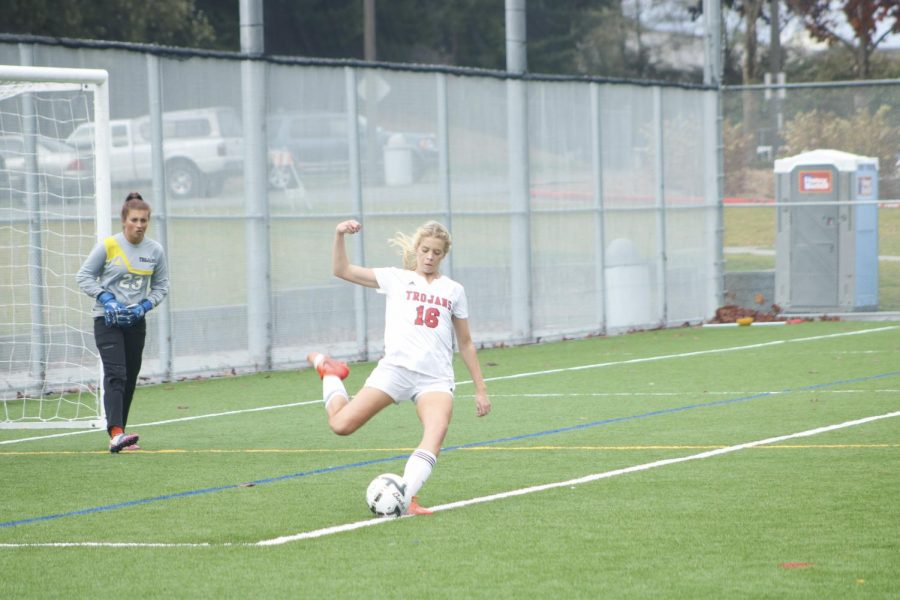 The EvCC women's soccer team lost to Peninsula 3-1 on Wednesday. It was the third and final meeting between the two schools in conference play and the only time in the regular season Peninsula traveled to Everett.
Conditions at Kasch Park were far from ideal Wednesday afternoon as high winds and heavy rainfall battered the region affecting the game and style of play from both teams.
Jewelia Meischke provided Peninsula a shock with an equalizing goal in the 32nd minute. It was only the second goal Peninsula Women's Team conceded in conference play during the regular season and only the third goal Peninsula conceded across all competitions in the 2017 season. Meischke's goal brought the teams in at halftime tied 1-1.
"It definitely provided us a confidence booster. Anytime you score it's a confidence booster. It gives a little 'oomf' to keep going", said Meischke.
The feeling of euphoria for Everett was short-lived in the second half as Peninsula responded with two goals in the 69th minute and 73rd minute, scored by Sydney Warren, putting the game out of reach for the Trojans.
Trojans Head Coach Rafael Marins was very proud of his player's efforts going up against Peninsula, a conference juggernaut.
"I'm extremely proud of how the girls played today. It's the toughest team by far in our region," said Marins.
The Trojans look to return to winning form on Saturday at 12 pm when they take on Whatcom.
For the complete box score, visit the NWAC website here.