Trojan Coaches: Unfinished Business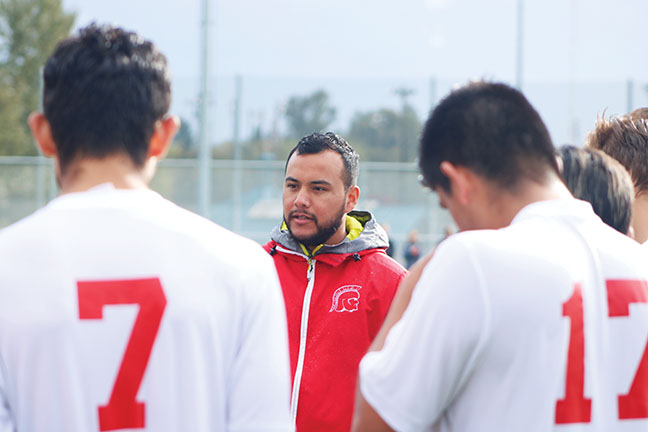 Erik Cruz, the head coach of the EvCC men's soccer team and his assistant coach, Eric Hawks, don't see coaching as a new opportunity, but rather as a second chance and a homecoming.
Cruz and Hawks, former players for EvCC, are working to bring a different perspective to coaching.
"My earliest memories of playing soccer was when I was 6 years old playing rec soccer," said Hawks. "I then started playing select soccer when I got older, then eventually ended up at Everett."
Cruz, a native of Corona, California started playing in the Mexican Youth teams. When he was 13 years old, he started playing in adult leagues before playing high school soccer at Marysville-Pilchuck. Cruz then went on to join EvCC's soccer program.
  The two players would be teammates in the 2008 and 2009 seasons. Cruz was pursuing an engineering degree while Hawks was pursuing an arts degree as well as being apart of EVCC's firefighter program.
"We had a solid team and it was fun but we just couldn't put it together those years", said Hawks. "It was a little frustrating and I definitely  wanted to come back and get a second chance to improve the soccer program."
Hawks would get the chance when Cruz offered him a coaching position.
 "I had come back from traveling and Cruz invited me to come out. I was thinking it would be a great opportunity. I saw it as unfinished business."
For Cruz and Hawks, the task of building the soccer program wasn't unknown. They coached youth teams on the select youth club Lakewood Legacy which is now the Marysville Force under Pilchuck Soccer Alliance.
Several of EvCC's current players such as Siloe Galvan, Quinn Lewis, and Drexel Cordoba were players under Cruz and Hawks on the Lakewood Legacy team when they were 14 years old.
 "You know the players, you have kind of a bond with them so for recruiting players to the programs, it makes it a lot easier," says Cruz.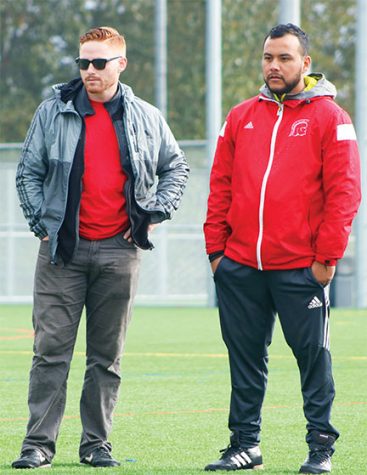 Despite his playing days being over, Cruz returned to the soccer program as an assistant coach.
"Scott Willsie, the former Men's Head Coach called me to be his assistant and the former Women's Head Coach Geoff Kittle asked me to be his assistant as well."
Cruz watched many talented players go unnoticed during recruiting.
 "Over the years I've seen too much talent around the area for this program not to be successful."
During the transition from players to coaches, Cruz and Hawks' perspective for the game has grown.
 "I used to play goalkeeper," said Cruz. "I saw the whole field as a coach. I've got to teach the whole field not just know where everyone should be."
     Each season, Cruz and Hawks face the challenge of keeping a team together in a very short time period.    
   "A community college program lasts two years and then you cycle out and that's if we can keep all the players healthy keep up on their grades and keep that chemistry", says Hawks. "We only have a month and a half to prepare before we are into fully playing matches.
Cruz explained some of the difficulties student-athletes face at a community college and why some don't play the full two years.
   "That's due to grades, life in general, some guys just can't keep going to college, some just don't make grades so having a two-year program is much more difficult than running a four-year program," said Cruz.
 Looking back at the trials and tribulations week in and week out, the coaches have found a greater meaning of being a Trojan on and off the pitch.
"Being a Trojan, you've got to show your pride," said Cruz. "Some of these guys come from near, others from far. Once they're in Everett they've got to help out their community."