Trojans Fall in Sweet 16 Despite Epic Comeback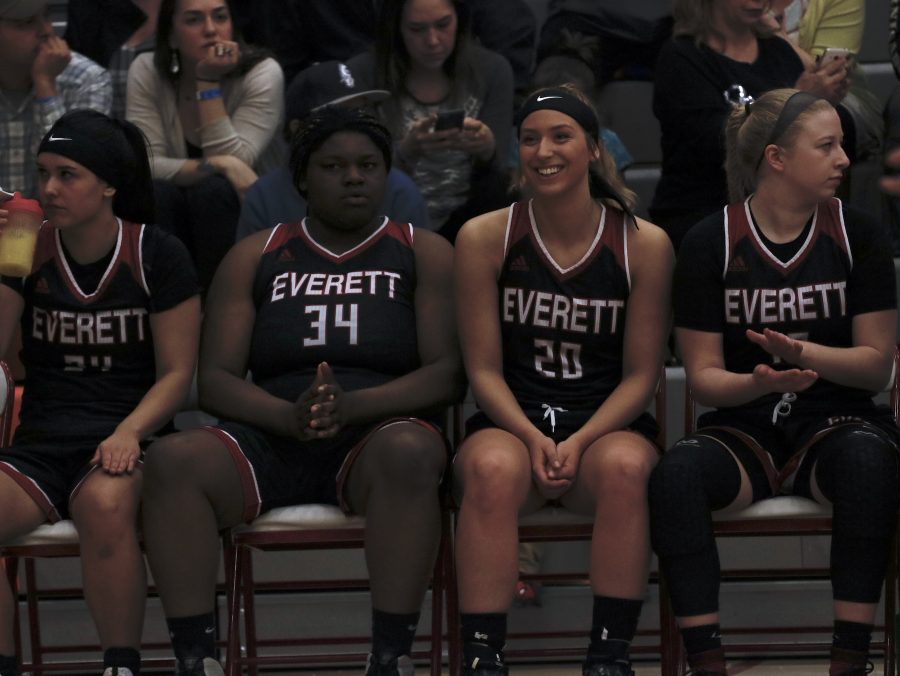 John Yeager
The EvCC Women's Basketball team was eliminated from the NWAC Championships after a 56-66 loss against the Lower Columbia Red Devils in the Sweet 16, despite an electrifying comeback effort.
The loss came in dramatic fashion, as the Trojans played in front of a packed crowd on their home court.
From the opening tip-off, it was apparent that both teams would play extremely stingy defense. As a timeout was called with 4:55 remaining in the first quarter, the score was tied at 2-2.
Despite an aggressive full court press from Lower Columbia, Everett was able to gain a slight scoring advantage in the first quarter, leading 12-9 heading into the second quarter of action.
In the second quarter, both teams had problems staying out of foul trouble. Everett's Uju Chibuogwu, the team's leading scorer and rebounder, got into foul trouble early, picking up her third foul before the first half concluded.
Lower Columbia went into the break leading 31-25.
With Chibuogwu on the bench, Everett had trouble breaking Lower Columbia's press and being able to rebound on both ends of the court. Tywanna Abbott, who finished with 13 points and 8 rebounds for LC, thrived down low with Chibuogwu sitting out.
The Red Devils went on to have an 18-6 second chance points advantage over Everett.
Heading into the fourth quarter, Everett trailed 34-47 and the Red Devils looked to have secured a spot in the Elite 8.
That's when the Trojans blew the lid off of the Walt Price Student Fitness Center.
Despite being just one foul away from fouling out of the game, Chibuogwu reentered the game and energized the Trojan's on both ends of the floor.
As the lead was cut down to five points, Chibuogwu battled down low, trying to work her way inside to score, but was called for an offensive foul, her fifth and final. The crowd went ballistic as a result of the foul. Chibuogwu, however,  immediately gathered her teammates around her before exiting the court.
"I told them, 'It doesn't matter that I'm out. We have five minutes to win or lose. Believe in each other," said Chibuogwu.
Moments later, Serafina Balderas, Everett's starting point guard, picked up her fifth and final foul as well.
Despite losing two starters, the Trojans refused to go out without a fight.
Efforts from sophomore Chellyn Perea and freshman Alexis Biggerstaff allowed Everett to keep the score manageable.
The comeback reached its climax when Perea, who finished with six points and 8 rebounds, drove to the hoop and put in an and-one layup, cutting the Lower Columbia lead to just one point and capping off a 14 point comeback.
The Everett crowd was deafening.
The epic comeback and upset was avoided when Lower Columbia vamped up their defense and pulled away due to baskets off the fast break.
Lower Columbia went on to win 66-56, advancing to the Elite 8 and ending Everett's season.
When discussing the comeback, Associate Coach Zach Wilde said, "It's great for what we had. We had a lot of adversity, with Uju getting into foul trouble. We fought, we played hard and hopefully we can take some of that and bring it with us next year."
Everett drew Lower Columbia, a no. 1 seed in the tournament, despite being in a three-way tie for second place. As the final buzzer sounded, the Red Devils improved their winning streak to 13 games, but not before experiencing a scare of epic proportions.
When describing his team's season, Wilde said, "We had the most adversity out of anybody. We didn't have two starters for the first part of the year. We didn't have a point guard until January."
Wilde summed up the season by complimenting his team.
"They're resilient. They're warriors. And I'm honored to coach them."