Tension Stirs Over Learning Resource Center
The divide between students and staff is growing as the plans for a new Learning Resource Center are taking shape.
EvCC professors and ASB Senators met with EvCC President David Beyer to discuss the budget and Learning Resource Center at the end of 2016. Beyer said the meeting prompted a need for a place where students can be safe, educated, and helped for the upcoming year.
Beyer said the new Resource Center has some hurdles to go through and have some staff and students divided.
Jeanne Leader, the design leader and Learning Resource Center advocate, said professors and students would like a resource center near the middle of campus that can be easy to access.
Leader said, "Students and faculty outside of classes need a place to go with room and capabilities." The advocate would like to place the center that is now occupied by Index Hall. The ASB Senators and professors at the meeting supported her ideas of a three story, 70,000 square feet building.
Pat Sisneros, vice president of college services, disagrees that there is a divide with ideas for the Learning Resource Center. Sisneros said, "No decisions have been made for the actual plans of the center." The master planning committee is the headway of the project and only can go forward if there is proper funding.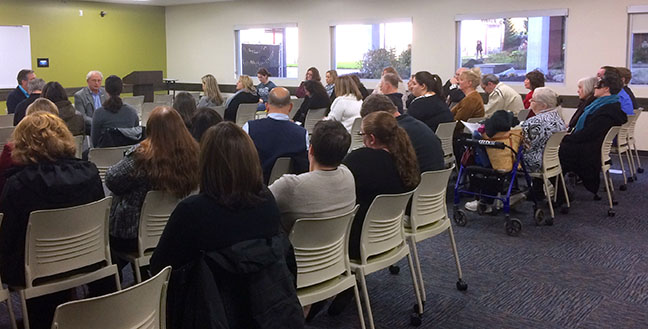 The places besides the Index Hall area are linking the WSU building with retail shops and new resource center that makes the campus expand.
Sisneros said, "The central point of EvCC today is going to be different tomorrow." He explained the new plans for the next 25 years are to help expand the campus, and he believes the access would be in the more populated areas by the new WSU building on the east side of Broadway Ave.
President Beyer said the building plans are going through phases and being looked at by SRG Partnership architecture firm.
"The original plans have the three story building host open classrooms and computer labs, education technology and tutoring center, and book stacks rooms," Beyer said.
The cost is also disputed based on the rank of college projects since the 2008 stock market crash in Washington State. According to Beyer, the total cost of the project will be $47 million.
As the campus grows, so does the need for more student access to books, restaurants, and tutoring and printing stations. Sisneros discussed making a wireless printing and computer access lounges around campus that connect students and it is being discussed with ASB to finalize locations for such.
Sisneros said "A new center should be a focus, but for later years, as of right now the campus staff and students need to have more access with better printing facilities."
** Please note: Edits have been made as of 2/3/2017