Listen Up!: The Dollyrots Drop "Mama's Gonna Knock You Out"
Katja Wahl, Managing Editor of Visual
February 4, 2016
Pop punk, hair to be jealous of, and a relationship you have only heard about in stories you made up as a teenager.
The Dollyrots are the epitome of a small pop punk band. Consisting of Kelly and Luis Cabezas, their tour dog Quito and their two year old son River, commonly referred to as the Dollytot, the Dollyrots are a family band pumping out albums, EP's, and even a live DVD.
Being the music junkie I am, there was no question I had to see them when they came to Seattle on tour with Ivory Tribes and Bowling for Soup last September. For such a small band, (a total of three members with various drummers depending on the tour) they sure do pack a punch.
Many bands, although they do appreciate their fans, don't recognize or interact with them often other than VIP ticket holders. Even then it's iffy as I learned while meeting Bowling For Soup.
Luckily, the Dollyrots always put their fans first, interacting with them from onstage and off. I was lucky enough to not only get recognized by Kelly from on stage due to a shirt I made and previously tweeted them, but also to meet both Luis and Kelly backstage after the show.
Kelly is a sweet hearted individual and Luis is a man of great hair and impressive doodling skills as seen on my ukulele, Tyrone. Talking about previous work, and the impression they have made on me throughout the years was an amazing experience I wouldn't trade for anything.
The newest EP they released, "Mama's Gonna Knock You Out"  includes three songs, which remind me quite a bit of their second to last album "Barefoot and Pregnant", which mind you, was recorded while Kelly was pregnant with the Dollytot.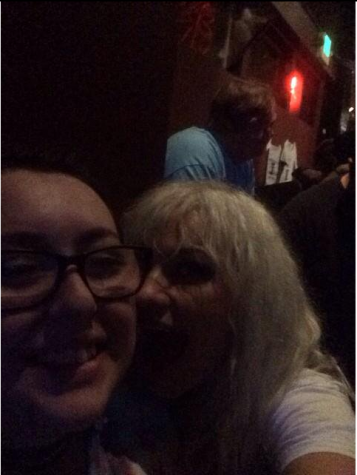 The three songs are catchy, and hold a nice beat throughout the entire song along with lyrics that make you smile, and laugh to yourself.
In "Little Medusa" there's a line "some silly high school boyfriend crush" which I think wraps up at least one crush we have all had.
Overall, the consistency and constant improvement as a band, and as a family, has impressed me to no end. The Dollyrots have no doubt captured my heart, earning a good ol' 4.
For someone new to the band, I would highly recommend "Hyperactive" from their album "Satellite" or "A Little Messed Up" from the album "A Little Messed Up".