The Dark Side
What It's Like Working for a Movie Theater Far Far Away
It seemed like everyone was excited for its arrival to theaters and was going to see it as soon as they could. But if you worked at a movie theater like myself, you were dreading "Star Wars" altogether.
"Star Wars: The Force Awakens" is the second highest grossing movie of all time in the U.S. according to TIME magazine.
The most dedicated fans attended the marathon. AMC Alderwood Theater offered a "Star Wars" marathon featuring all seven movies in order from 1 a.m. – 7 p.m., the day before the premiere, Dec. 16. With the purchase you also received a themed lanyard and Stormtrooper pin. People arrived as early as 10 a.m. and waited inside the theater until the first feature began at 1 a.m. That's 13 hours of waiting in a theater with a blank screen, plus the 18 hours it would take to run through all the movies. Two of our biggest theaters were sold out for this event. But that doesn't even compare to what hit us the following night.
Dec. 17, 2015 rolls around. Nearly every employee at AMC Alderwood Theater was scheduled to work that night. Only a few auditoriums out of 16 were not featuring "Star Wars" and any auditorium featuring "Star Wars" was sold out. Customers had bought their tickets weeks, if not months, in advance.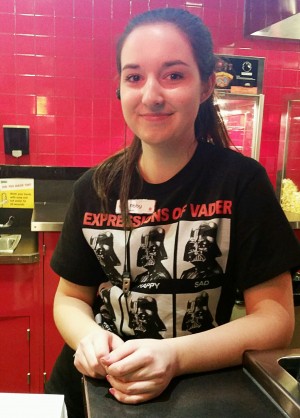 Popcorn is like gold to most movie-goer's, which means that my job in concessions that night was vital. With the combination of holiday shopping, 5 p.m. traffic, and finding parking, it took me an hour to get to work. Outside the theater, a giant line had already formed for several sold out 7 p.m. showings.  I ran inside, completely out of breath, and managed to get there one minute early.
I situated myself at my till, and looked at the hundreds of impatient people waiting to run and find the best seat. My coworkers and I looked at each other as if to inaudibly say, If we die, we die together."
Once the lines started forming at each till they never stopped. It was constant I'll have the number one, or where's the restroom? or could you hurry up? I'm gonna be late to my movie! or The soda machine isn't working!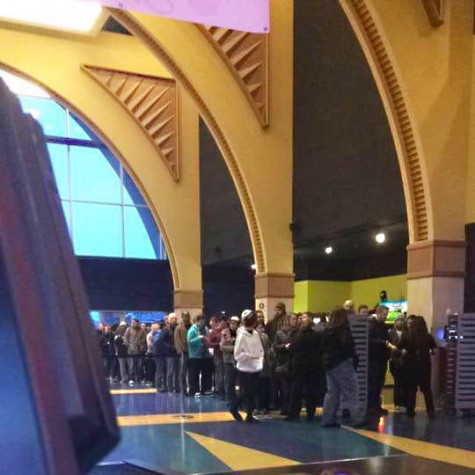 We anticipated it to be busy, but I think it was much worse. The floors were coated in popcorn and trash. Even if you tried to sweep it up, someone would spill popcorn right where you just swept. People who were waiting in lines for their movie would complain about how long it was taking to clean the theater after a showing, when they are the ones who make it so hard to clean. There would always be giant soda spills, popcorn spills, trash from any fast food joint you can think of, floss, lost coats and scarves, candy, I could go on.
All in all, our hard efforts are to ensure everyone has a good time. Finding the motivation is hard. But seeing everyone come in with excited looks on their faces, dressed up like Chewbacca, and ready to see a movie that would go down in history, makes me proud to work at a movie theater