Trojans ride 2nd half surge, Rout Sasquatch in NWAC Opening Round
Redshirt freshmen Tucker Molina and Jadin Penigar led the way in scoring as the EvCC men's basketball team beat the Spokane Sasquatch 86-58 in the sweet sixteen of the NWAC Tournament on March 10th. After being down by as many as ten early in the first half, The Trojans mounted a furious second-half rally, outscoring the Spokane Sasquatch 50-24. "The adjustments weren't really on my end, we just had to stop turning the ball over and stress getting offensive rebounds." Coach Trautman said.
The Trojans out rebounded the Sasquatch 49-29, including a game-high 17 rebounds from sophomore forward Leon Sayers. Sayers finished with 16 points on 6-8 shooting. Molina also finished with a triple-double, tallying 19 points, 12 rebounds and 10 assists.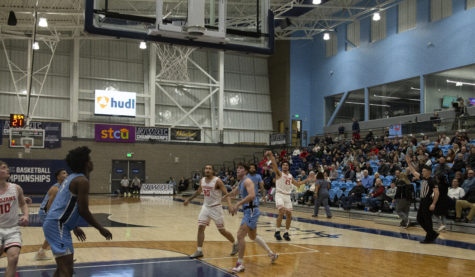 "We just continued to play hard and play team basketball." Molina said when talking about the second-half turnaround. Despite the early half deficit, Penigar helped keep the struggling Trojan's afloat, logging 19 points in the first half en route to a 28 point performance that also included 7 rebounds and 7 assists.
The Sasquatch (11-14,9-5), who finished 3rd in the West division, shot just 30% from the field on the night. Freshman guard Damarion Delaney led the team in scoring, posting 12 points on 5-10 shooting.
The Trojan's now look ahead to a rematch with the Lower Columbia Red Devils in the elite eight on Saturday at 4pm. The Red Devils bested Trautman's squad 72-62 in November. "They're a very strong team and they're going to try and slow us down. We're going to speed them up and play in transition." Trautman said.
Leave a Comment