Trojan Women's Basketball rally falls short, fall to 3-20 on season
The EvCC women's basketball team lost a nail-biter on Saturday, Feb 25 at the Walt Price Fitness Center to the Olympic Rangers 71-65. Head coach Jeannie Thomson saw her squad struggle to shoot the ball in the first two quarters, going a combined 5-33 on field goals while the Olympic Rangers, led by head coach Alyson Chandler, would go on a 14-4 run to end the half up 34-20.
The Trojans would rally in the second half, shooting 45% from the field in the third quarter, out scoring the Rangers 24-21. Sophomore forward Maddy Thoma would again provide a boost to Thompson's lineup, hitting a long two-pointer at the buzzer at the end of the third quarter to cut the Ranger lead to 11. Thoma finished the game with 15 points and a team-high 12 boards. "I'm proud of my kids today, I thought they fought back really well today." coach Thomson said when talking about her team's effort in the second half.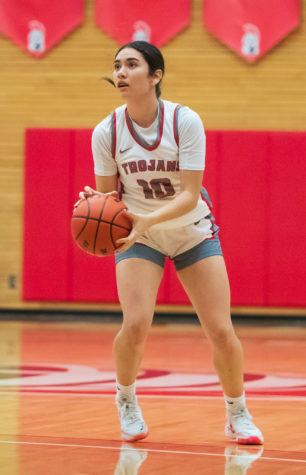 After a back and forth beginning to the fourth quarter, the Trojan's would cut the lead to 3, highlighted by a made layup, plus the foul by freshman guard Jayda Pittman. The Trojan's also got a big contribution from freshman guard Mia Jones, who had a game-high 22 points, including 6-13 from beyond the arc. Despite struggling from the field in the second half, shooting under 29%, Olympic would lean on their free throw shooting in the final 2 minutes of regulation, holding on for the victory.
The Rangers were led by freshman guard Missy May Valdez, who had a team high 19 points on 4-8 shooting, including 8-11 on free-throw attempts. Freshman center Ashley Olson served as the Rangers tone-setter underneath the basket, scoring 18 and gathering a game-high 14 rebounds in the win.
The Trojan's look to finish their season on a high note on Wednesday, March 1 at Peninsula at 5 pm. Thompson believes in their loss, her team has found some momentum heading into their finale, "Despite our team shooting so cold in the first half today, we kept that confidence and belief that we could crawl back into the game and we did so we have to keep that same confidence against Peninsula." Thompson said.
Leave a Comment