Trojan Men's Basketball Win Third Straight Game, Qualify for The NWAC Championship
Trojans Could End Up Either Second or Fourth Out of The North Division
The EvCC men's basketball team dispatched the Olympic Rangers on Saturday, Feb 25 at the Walt Price Fitness Center 94-80. Mike Trautman's Trojans led from start to finish, leading by as many as 19 in the second half en route to a 14 point victory in the team's home finale. "We really focused on attacking the rim, that was our biggest strength." coach Trautman said.
The Trojan's shot over 52% from the field, including out-scoring the Rangers 52-26 in the paint. Four of Trautman's starting five finished in double-figures while redshirt-freshman forward Tucker Molina posted his third double-double of the season and flirted with a triple-double, finishing with 11 points, 10 rebounds and 7 assists. Leon Sayers also provided the Trojan's with an efficient shooting night, going 9-11 from the field en route to 19 point, and 9 rebound performance for the 6 '8 sophomore.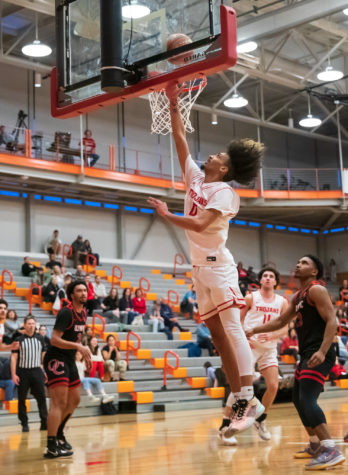 The Rangers (8-16, 4-9), struggled shooting the basketball the entire game at under 35% including 10-37 from beyond the arc. Head coach Ryley Callaghan's leading scorer on the night, sophomore guard Wayne Jamison shot just 4-16 from the field in an 18 point outing, going 9-10 from the free-throw line in the process.
The Trojan's look ahead to their regular season finale on the road against the newly-crowned North Division champs, the Peninsula Pirates. Trautman's squad looks to avenge an 84-81 early season home loss to the Pirates,a game which they led at halftime. Having locked up a spot in the upcoming NWAC tournament, the Trojans will just be fighting for seeding, Trautman thinks his team will put forward their best effort on Wednesday at 7pm, "Our guys are competitive, they're gonna want to win that game against a first place team. " Trautman said.
Leave a Comment