Trojans Secure Big Road Win, Stay Alive For NWAC Tournament Berth
Everett improves to 19-7 Overall, 6-5 In Divison
Sunday afternoon was arguably the EvCC men's basketball team's most important victory of the season as Mike Trautman's team downed the Bellevue Bulldogs 93-81 at the Courter Family Athletic Pavilion.
The Trojan's jumped out to an early lead in the first 11 minutes of action, going up 26-12 before going into the locker room with a 42-36 lead. Trautman's message was clear going into the second half, emphasizing his team's success in the post, "We made a lot of shots underneath the basket, we need to continue to attack."
Bellevue began the second half swinging, going on a 17-11 run ending with a long three to tie the game by freshman guard Owen Moriarty. Moriarty finished the game with 13 points on 5-14 shooting. The Bulldogs would also get a boost from fellow freshman guard Prophet Johnson, who had a game-high 28 points. Johnson is 2nd conference play in scoring, averaging 24.6 points per game.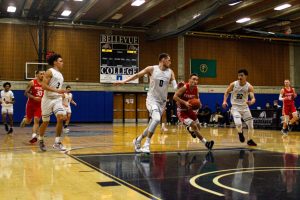 Trautman's timeout with 14:30 left in a tie game would prove pivotal for a Trojan's turnaround. After the fiery huddle, the Trojan's finished the game on a 40-28 run, including a forceful dunk in transition by redshirt-freshman Jadin Penigar that sent the Trojan bench into a frenzy. "We told our guys during that timeout to continue to attack the rim and good things are going to happen" Trautman said of the 2nd half adjustment.
The Trojan's finished the night with 46 points in the paint to the Bulldogs 30 and only turned the ball over 9 times. Trautman's squad also got a huge boost from freshman guard Jordan Medcalf, who shot a blistering 8-9 from the field, including 4-4 from three-point range, logging a 20 point game in just 18 minutes of action. Sophomore Leon Sayers and Jordan Penigar also both scored 18 in the victory.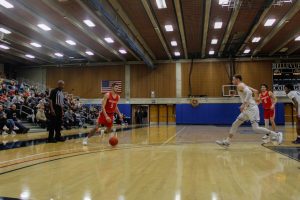 The Trojan's now pivot to a crucial matchup with the 2nd place Edmonds Tritons at home on Wed, Feb 22. The Triton's bested the Trojan's on Jan 25, 91-84 in a game the Trojan's led at the half 48-41. Trautman was adamant that the key to Sunday's victory and the Trojan's mindset going forward came down to a team meeting, "Some people called some people out about some negative energy which has really allowed us to focus on positive emotions these last few days. I think that was evident tonight." Trautman said.
Leave a Comment