Trojans Lose Big Halftime Lead, Drop Key North Division Game
The EvCC men's basketball team lost their fifth game in six tries on Wednesday, Feb 15 at the Walt Price FItness Center, losing 79-74 to the Shoreline Dolphins. The Trojan's started the first half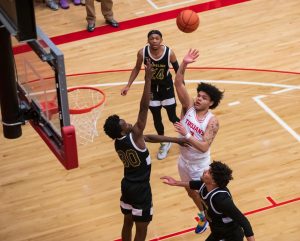 scorching, shooting 61% from the field before going in the locker room up 48-35 looking to secure their second straight home win. They were then outscored 44-26 in the second half, their fourth time losing after being up at the break. "We settled for way too many jump shots when we got tired in the second half." head coach Mike Trautman said of his team's effort.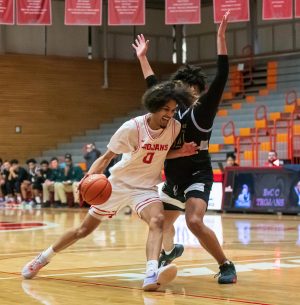 Trautman's team clung to a lead with 11:16 to play before the Dolphins went on a 14-5 run capped with an emphatic dunk by sophomore guard A.J Boyd Jr. Boyd had a big night for the now 14-9 (5-5) Dolphins going 10-17 from the field and a game-high 34 points including 20 in the first half. The Dolphins would hold on to the lead for the final 2:56 of the game, getting two huge free throws from freshman Jamikal Davis with 5.4 seconds left to secure the victory.
The Trojan's, who shot just 29% from the field in the second half, had all five starters in double figures, including redshirt-freshman guard Jadin Penigar who had a team high 15 points. "I need to get guys on the bench more minutes to help keep our starters a little bit more fresh. Our bench guys have stepped up before." Trautman said of the team's plans moving forward.
The Trojan's have four games left before a possible NWAC tournament bid, needing to win every game possible, starting with a pivotal game at the Bellevue Bulldogs, 16-8(6-4) on Sunday, Feb 19 at 2pm. "We are going to have to defend better. They (Bellevue) shoot the ball really well at home so we have to change up our coverages." Trautman said.
Leave a Comment