Trojan Men's Basketball lose 4th straight game, Fall to Skagit Valley 87-78
Will have a chance to bounce back vs Whatcom
Coach Mike Trautman and his EvCC men's squad lost their fourth consecutive game on Thursday, Feb 8 to the Skagit Valley Cardinals 87-78 at Steve Epperson Court. The Trojan's were without two starters in Colton Spencer (wrist) and Tucker Molina (quad), who played just 6 minutes, in another intense battle between NWAC foes. Despite the shorthanded efforts from Trautman's team, the Cardinals led wire-to-wire, leading by as many as 20 in the second half before a late surge put the Trojan's within striking distance.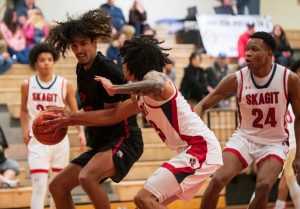 "We didn't play good enough defense and couldn't make shots in the first half." Trautman said of his team's efforts. The Trojan's shot just 32% from the field in the first half, including 3-13 from the three-point line while the Cardinals shot 53% from the field for the game.
After the Cardinals extended their lead to 58-39 with 15:30 left to play, The Trojans went on an 18-6 run capped by a long three-pointer by freshman guard Tyriq Luke to cut the lead to 64-57 in a span of 5 minutes. Luke finished the game 7-15 from the floor, including 4-6 from three-point range with 19 points. Sophomore forward Leon Sayers and redshirt freshman Jadin Penigar both added 22 points in the losing effort.
The Cardinals would pull away late, going up 78-64 with 2:50 left in the game on a lay-up by sophomore guard Omari Maulana.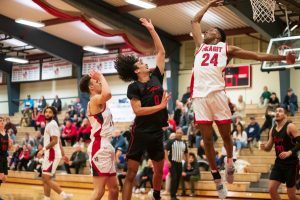 The Cardinals were led by sophomore guard Josiah Miller, who shot an efficient 11-12 from the floor with a game-high 24 points.
Trautman points to the Trojan's problems in their starting lineup as the main source of the team's recent struggles, emphasizing that health is a key factor to ending their 4-game skid, "We've got to get healthy. It's hard to have two starters out in this league and win a game against anyone." Trautman said.
The Trojans will look to get back on track against the Whatcom Orca's on Saturday, Feb 11 in Everett at 4pm.
Leave a Comment