Keith Hessler Looks to Continue EvCC's Tradition of Winning
The Former Pro Takes Over for Parker Guinn After Only One Season at The Helm.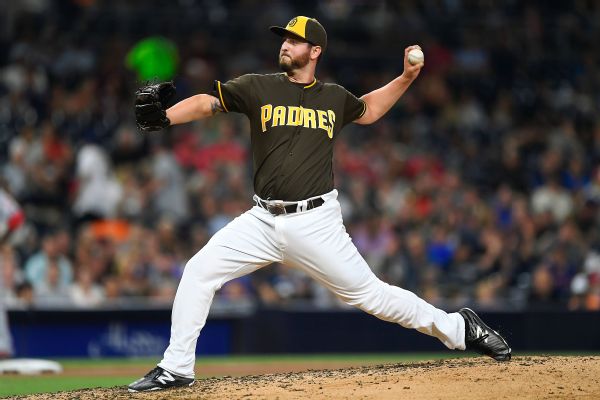 The EvCC men's baseball team will begin the 2023 season with a familiar face taking over the head coaching duties in Keith Hessler. Most notably a former big leaguer for the Arizona Diamondbacks and San Diego Padres, Hessler served as the team's pitching coach since 2021 in his first coaching stint. Hessler's impact was immediate, helping the Trojan's to a team 2.32 ERA in his 2022 campaign, which was second best in the NWAC. "I was definitely not nervous to become the head coach of this team", Hessler said when asked about the responsibilities in becoming the skipper. "It's definitely more of a managing position. I still really enjoy working with the pitchers but I also now facilitate our offense and defense more as well as the recruiting side of things. These are things I've learned a lot about doing in the last six months in preparation for this opportunity."
Hessler grew up outside of Washington D.C in Silver Spring, Maryland where his baseball aspirations began at an early age. Hessler recalls the difficulties he had when trying out for his local youth travel team at age twelve, "even at that age it's pretty cut throat, I had blisters on my feet from my new cleats so my tryout didn't go so well. My dad asked the coach for a second tryout and I did much better and ended up playing on that team for a few years." Hessler said.
Hessler would go on to compete for a local showcase team during high school, giving coaches from around the region an opportunity to see Hessler compete against the best in his age group. Hessler signed with Coastal Carolina University despite needing Tommy John surgery in the summer after his senior season in high school. "I knew I wanted to go somewhere south where it was warmer. It's Myrtle beach. As an 18 year old kid, there wasn't much to argue about," Hessler said with a grin. The beach wasn't the only thing that drew Hessler's attention. Coastal Carolina also provided a plethora of opportunities for the young pitcher to garner some professional attention as he worked with a seasoned staff around him, "they (Coastal Carolina) hired a new pitching coach named Drew Thomas my senior year of high school so I didn't know at first what I was walking into. I ended up talking to him during my official visit and we connected. When I wanted to get into coaching he's the first guy I called for advice." Hessler said.
After a rocky freshman campaign, Hessler would have an impactful second season with the Chanticleers where he would appear in 16 games with a 3.82 ERA while garnering interest at the professional level, "I had a decent year. I was getting interest and had meetings with a lot of teams." Hessler recalled. Hessler's sophomore success led to him receiving the call that he'd been drafted in the 28th round by the Arizona Diamondbacks, receiving the call while he was eating at Moe's Southwest Grill. "I was eating a burrito and a teammate texted me and said congratulations and I responded" "Thanks! It's a great burrito"" not knowing I'd just been drafted." Hessler said.
Although, the thrill of being drafted would quickly be overshadowed by the reality that Hessler couldn't pass a physical ultimately leading to him returning for his junior season hoping for a second chance from a ballclub down the road.
After a strong third year from the tall southpaw, Hessler would go undrafted in the MLB's yearly meeting, but to Hessler's surprise he received a call from a familiar club, "the same Bay Area scout who called me the first time called and offered me a free agent-signing opportunity. He told me the team needed to know within 24 hours if I accepted so I talked to the people I trusted around me", Hessler said. "I decided that it was time to go and packed a suitcase and signed for $1000 and a plane ticket to Phoenix."
Hessler's minor league journey as a 22 year-old, undrafted, raw prospect began in Missoula, Montana for the Diamondbacks Pioneer League affiliate, the Osprey where Hessler would post an impressive 2.89 ERA in 23 appearances in 2011. Hessler would work his way up the minor league system over the course of seven seasons before earning his shot at the big leagues, "when you're working your way through the system making maybe $2000 a month it's tough but I would not trade that experience for anything. I got to play baseball all across the country and it's an experience I am truly grateful for and would never take for granted." Hessler said of his experience grinding through the system.
Hessler's hard work and dedication would finally pay off on an August night in 2015 while playing for the Reno Aces against the Tacoma Rainiers. "I thought I was getting sent down (to double A) again. The game went into extra-innings and I still hadn't got my name called even though I was rested. After the game, my manager, Phil Nevin called me into the office and told me "Remember what I said last time? I told you to keep pitching and working at it and you'll be a big leaguer…well now you're a big leaguer Keith!.""
The Silver Spring product would see his first game action on August 8th, 2015 for the Arizona Diamondbacks who were hosting the Cincinnati Reds on the night the organization retired Randy Johnson's number 51. Hessler would see game action in the 8th inning of a 3-1 game in which he faced 2010 NL MVP Joey Votto, eventual home-run derby champion Todd Frazier and veteran slugger Jay Bruce. "When the eighth inning rolled around sure enough the bullpen got the call",Hessler recalls. "Warming up I distinctly remember not being nervous". Hessler would retire the side in order with a long flyout to the wall in left field by Votto and a pair of strikeouts of Bruce and Frazier.
After finishing the 2015 season with the Diamondbacks, Hessler would bounce around the minor leagues before being claimed off waivers by the Padres in 2016. Hessler finished his major league career after the 2018 season going 1-1 with a 5.56 ERA over 35 appearances.
Hessler's Major league experience brings a unique perspective to the EvCC men's baseball team, a point EvCC Athletic Director Garet Studer was adamant about when searching for a new coach, "having Keith onboard, he's somebody who has not only made it all the way to Major League Baseball but has now transitioned into a coaching role where he does a phenomenal job teaching kids about how to be successful in baseball but also in life which I think he's learned from his own experiences." Studer said. "Off the top of my head I can't think of any coach in the NWAC who has the professional playing experience that Keith has on his resume and I think that will translate very well into coaching."
Hessler is taking over for former head coach and newly hired University of Washington assistant coach Parker Guinn, who led the Trojan's to a 34-16 record in 2021 including an 18-5 conference record. Hessler has set his sights on what he feels should be the only goal every year for his squad, bringing the NWAC tournament trophy back to Everett where he feels it belongs, "If we focus on team goals first instead of individual goals then things will fall into place for us. The goal is to win the NWAC's. That's all Parker (Guinn) cared about and that's all I care about. Nothing else matters."
Leave a Comment